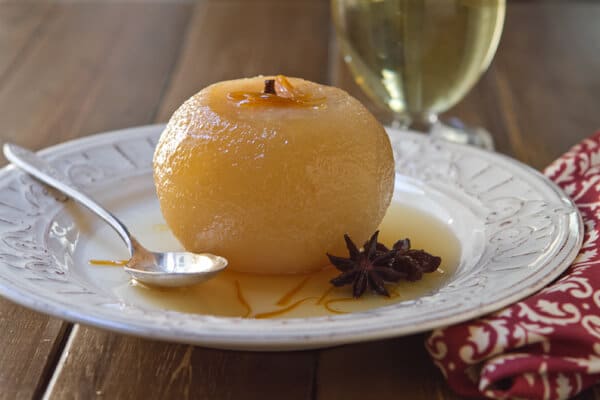 After all the cheese and charcuterie (and we are NOT  even going to talk about  all the bread and wine….) I am trying to keep things a little lighter here at the Table for the next couple of weeks – more vegetables and fruit, less cheese ( 😥  and less meat. So, when these gorgeous Korean Pears arrived from Melissa's Produce... well, I knew exactly what to do with them.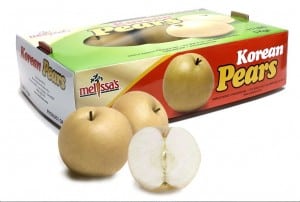 Poach them. In Wine.
In the fall and winter, one of my favorite desserts is poached pears. After a hefty meal, they make the perfect dessert – they are easy to make, they look gorgeous and and they taste rich enough to balance heavier fall and winter meals.  I usually poach Bosc pears  in red wine… but somehow that didn't seem quite right with the Korean Pears. If you've never tried a Korean Pear, you really should. Unlike european  pears (bosc, comice, bartlett, etc.) Korean pears are firm and crisp – not to mention incredibly juicy and refreshing. They are just beginning to come into season so check with your grocer to see if they are carrying Melissa's Korean Pears! If they aren't, don't hesitate to contact Melissa's to find a store that carries them in your area!
So after "sampling" one (ok, it was more like three, but research is important, right?) I thought a riesling would be perfect  for poaching the pears and would complement the sweet and clean flavor of the pears. Asian spices including ginger, star anise and cinnamon seemed like a natural pairing with just a little hint of orange to bring everything together.
I am happy to report that I was thrilled with the results – the pears and poaching liquid tasted exactly as I had hoped they would! This dessert would be perfect with any asian influenced dish or following any type of braised dish. Because you can make these ahead of time, they make a perfect "party" dish… just gently re heat them and you are good to go!
As you can see in the photos, I didn't garnish them with ice cream or creme fraiche but they would be delicious with a little vanilla ice cream or with some ginger cookies… or both!!!
These would even be great at Thanksgiving if all things pumpkin and pie  aren't your thing!!!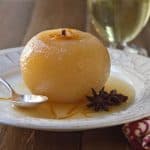 Riesling Poached Korean Pears
Ingredients
4

fresh Korean Pears

1 750

ml

bottle late harvest riesling

1

cup

sugar

4 - 6

cups

water

2

cinnamon sticks

3

whole star anise

1/4

inch

piece of fresh ginger

peeled and sliced

1

orange
Instructions
Using a vegetable peeler, peel and the pears and cut a small amount from the bottom of each pear so that stands up straight. Set aside. Using the same peeler, remove the zest from the orange in large strips, being careful to include as little of the white pith as possible. In a large (3 quart) pot combine the riesling, sugar, cinnamon sticks, star anise , ginger and orange zest. Over medium heat, stir until the sugar is dissolved. Add the pears and then enough water to barely cover the pears. Bring liquid to a simmer and simmer for 1 to 1 1/4 hours until the pears are easily pierced with a cake tester (I use a cake tester so that I can test the tenderness of the entire pear). When pears are tender, remove from the poaching liquid and set aside. Bring poaching liquid to a boil and boil until reduced by 1/2 and liquid has thickened to a light syrup consistency. Taste. Depending upon how sweet your riesling is you may wish to add additional sugar - add by tablespoons, stirring to dissolve. Pears can be made 1 day ahead - refrigerate pears and syrup in a covered container. Warm pears and syrup before serving. To serve, place a pear on each plate and drizzle with the syrup. You can remove the orange zest and cut into small slivers for garnish if you like.
Nutrition Facts
Riesling Poached Korean Pears
Amount Per Serving
Calories 467
% Daily Value*
Sodium 2mg 0%
Potassium 276mg 8%
Total Carbohydrates 89g 30%
Protein 1g 2%
* Percent Daily Values are based on a 2000 calorie diet.