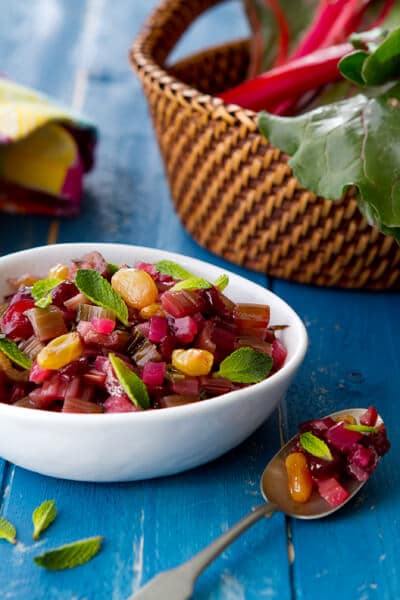 Sometimes, it seems a bit like Christmas when you write a food blog. Last week, Melissas Produce shipped me one of their new organic produce  boxes to play with – WOOT! Inside were lots of organic goodies – kale, collard greens, rainbow chard,romaine lettuce, italian parsley, carrots, celery pears, apples and oranges – and I lost no time in putting them all to work in my kitchen. After cutting up the chard for a soup, I was left with these beautiful stems which were just too pretty to throw away (and I um, planned to have photos of said box and stems but ahem, I accidently deleted them:-(). Since those stems were simply too gorgeous to toss,  I decided to try this  Rainbow Relish. I know, I know, chard stems? Really? Yes, really. I was skeptical as well, but let me tell you, these little stems make a terrific relish that is great with roasted pork, chicken or a meaty fish like swordfish.. As  they say,  "waste not, want not" – but in this case, you are definitely going to "want" this relish!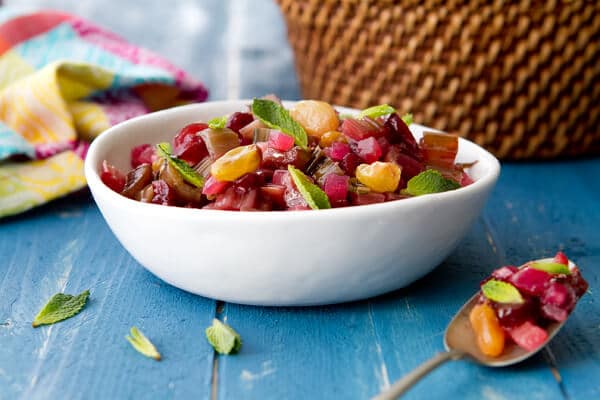 So, what exactly is this produce box from Melissas Produce? Genius, I tell you, genius! Between 7 – 11 lbs of organic produce shipped right to your door – you can choose a 50/50 box (50% fruit and 50% vegetables) a green juice box and an all vegetable box –  and since the folks at Melissas are experts at shipping fresh  produce, everything arrives fresh and ready to eat! I love these boxes for a couple of reasons  – each Melissas box has a wide  assortment of fruits and vegetables unlike some CSA boxes. Of course the contents will change from week to week depending upon on what is in season – and to me that is one of the best parts.  These  Organic Mixed Vegetable and Fruit boxes encourage me to think outside the box – to try a new vegetable or a new preparation – like using the chard stems in this Rainbow Relish. As I have always told my boys "you weren't born knowing you liked chocolate – you had to try it to figure that out"! Well, the same applies to vegetables! Who knows what treasures await you inside one of these Organic Mixed Vegetable and Fruit boxes!  Right now, the boxes are available from Melissas for $25.00 each for delivery within Southern California! Live outside Southern California? You can still order a box – however, shipping charges will be higher.
So what did I do with the rest of the fruit and vegetables – read on for some inspiration!
Carrot Salad with Moroccan Spices
Pickled Celery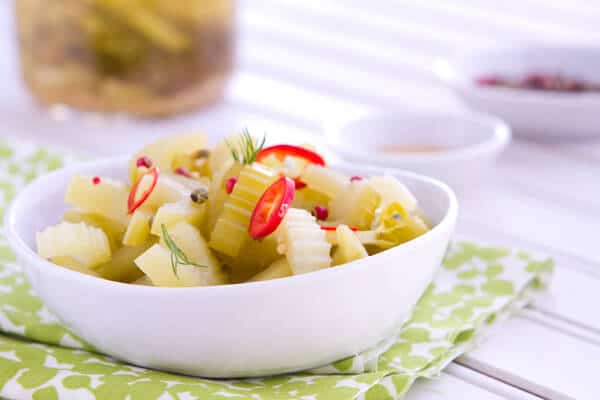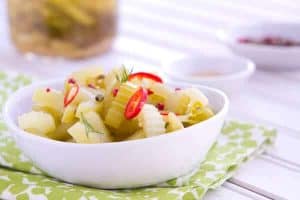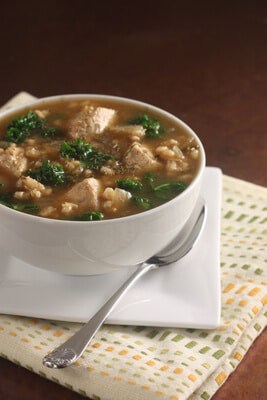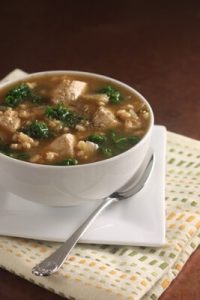 Rainbow Relish
Adapted from Food and Wine Magazine. This relish goes wonderfully with roasted pork (loin or tenderloin), sauteed pork chops or roasted chicken. It would also make a great appetizer served on crostini with some good goat cheese!
Ingredients
2

Tbsp.

olive oil

2

garlic cloves

mincd

2

cups

rainbow chard stems

cut into 1/4 inch dice

1/2

cup

finely chopped red onion

1/2

cup

dried fruit mix

I used sultana raisins, dried cranberries and dried cherries

3

Tbsp.

cider vinegar

1

Tbsp.

honey

1/4

cup

chopped mint

pinch

of salt

pinch

of white pepper
Instructions
In a medium saucepan heat the olive oil over medium heat. Add the onion, chard stems and garlic. Cook for 4 minutes. Add the fruit mix,vinegar, honey, 1/2 of the mint and salt and pepper. Cook and cover for 1 - 2 minutes until chard is crisp/tender. Uncover pot and remove from heat. Cool. Taste and adjust seasonings. Garnish with remaining mint.