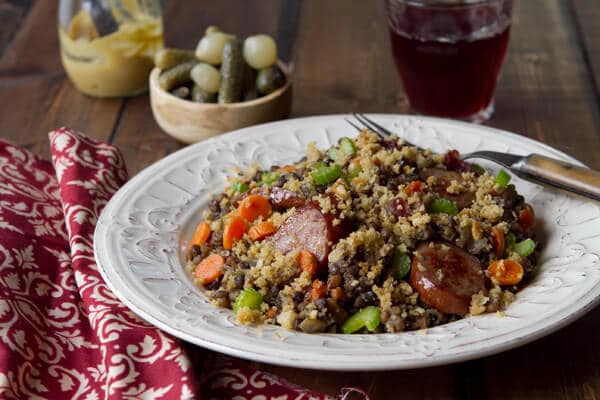 I hope you all had a wonderful Thanksgiving and have recovered! Between Thanksgiving and my son's birthday, I think I have finally emerged from the food coma I was in and am ready and raring to go for the next leg of the holidays! But that requires fuel, and so I  have a  rustic, quick and easy cassoulet dinner to share with you – perfect for those nights when you want something filling, nutritious and quick! But before we get to that, let's talk about…shopping.
If you've been reading this blog for a bit, you know that I am not talking about clothes, electronics or any of that "stuff". Nope, I am talking about FOOD – which is my favorite kind of shopping!! With all of the holiday celebrations coming up, I need to restock the larder,    and I find that that means trips to multiple different stores for different ingredients. Or at least it did.
Recently, I attended the grand opening of Lazy Acres, a new grocery store that is dedicated to natural and organic, farm fresh foods. Combining the best aspects of Whole Foods, Bristol Farms and Sprouts, Lazy Acres has it all – beautiful fresh and organic produce, meats and seafood, artisan and gourmet cheeses,  a coffee and juice bar,   and made to order wood fired pizzas and sandwiches – and all at a competitive price point!!!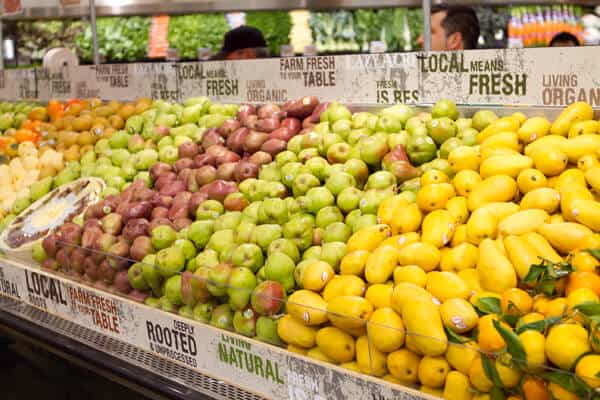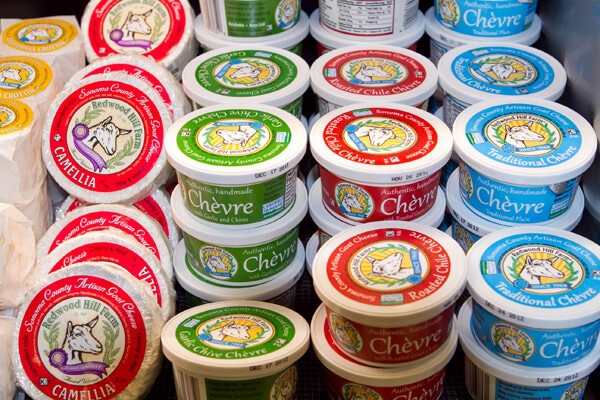 As I cruised the aisles I realized that I had finally found what might just be the perfect grocery store since it carried just about everything I need and use… like my new favorite goat cheese from Redwood  Hill Farms.. Of course, I needed bread to go with it and guess what I found? Another favorite… bread from  La Brea Bakery!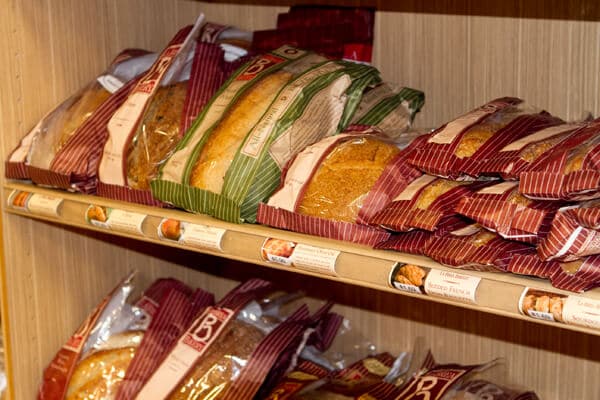 Seeing all of this beautiful and nutritious food definitely inspired me … not to  mention made  me hungry!!  This Quick and Easy Cassoulet Dinner truly hit the spot and has become one of my new "go to" dinners and with Melissa's Produce Ready to Eat Steamed Lentils, this Quick and Easy Cassoulet dinner is an easy weeknight meal!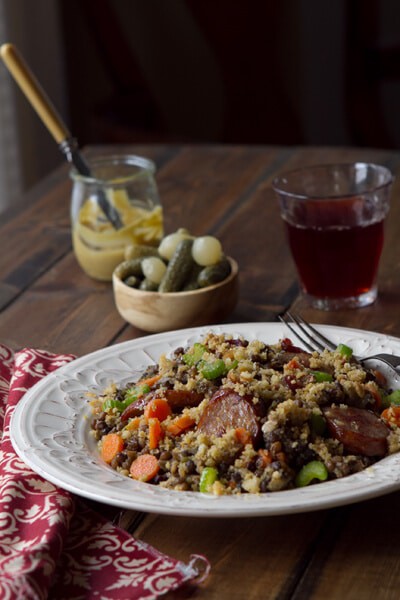 Yields 4 - 6 servings
Quick and Easy Cassoulet Dinner
Cassoulet can be made a day ahead - if making ahead, do not top with the breadcrumbs until ready to serve.
30 minPrep Time
30 minCook Time
1 hrTotal Time
Ingredients
1 - 17.63 oz. package Melissa's Ready to Eat Steamed Lentils OR 2 1/2 cups cooked green lentils
4 slices thick cut bacon cut into 1/2 inch pieces
1/2 lb. beef or turkey keilbasa, sliced into 1/2 inch rounds
4 garlic cloves, minced
1/2 cup peeled diced onions
1 cup peeled carrots, cut into 1/2 inch dice
1 cup celery, cut into 1/2 inch dice
1 tsp. smoked paprika
1 Tbsp. chopped fresh sage (or 1 tsp. dried)
1 Tbsp. chopped fresh thyme (or 1 tsp. dried)
1/2 tsp. ground black pepper
2 cups low sodium chicken stock
2 cups fresh breadcrumbs
1 Tbsp. olive oil
2 Tbsp. chopped fresh italian parsley (optional)
Salt and pepper
Instructions
Pre heat the oven to 375 degrees. In a large skillet, cook the bacon over medium heat until the fat is rendered and the bacon is crispy. Drain on paper towels. Pour off all but two tablespoons of bacon fat. Return pan to heat and add the keilbasa, cooking until nicely browned on both sides. Remove keilbasa from pan and set aside. Add the garlic, onions, carrots and celery to to pan and cook until onions are translucent and vegetables are tender. Add in paprika, sage, thyme and pepper and stir to combine. Add lentils and two cups of stock and stir to combine. Add cooked bacon and keilbasa to the pan Taste and adjust seasonings. Place pan in oven and cook for 25 - 30 minutes or until the stock has evaporated.
While cassoulet is cooking, heat 1 Tbsp. olive oil in a small, non stick pan. Add the breadcrumbs and cook, stirring contantly, until the breadcrumbs are golden brown. Remove from heat.
Remove cassoulet from oven and sprinkle with breadcrumbs and fresh parsley if using. Serve on plates or in low, shallow bowls.
7.6.4
165
https://www.acommunaltable.com/quick-and-easy-cassoulet-dinner/