Last updated on March 26th, 2018 at 01:55 pm
A few month's ago, I got a call from Patti Londre of  Worth the Whisk and the genius/mastermind behind Camp Blogaway. Patti was working with the Idaho Potato Commission on a Valentine's project  to celebrate Potato Lover's Month and wondered if I would be interested.
I think I said "YES"!! before she even completed the question.
All I needed to do was create a salad featuring Idaho Potatoes and show up in pink at Patti's house with my salad. Oh, and I'd also have to hang out with some of my favorite food bloggers and pose for the camera.
I know, it's tough being a food blogger.
So what exactly was this project? A full page spread that newspapers across the country could use in their Valentine's Day food section.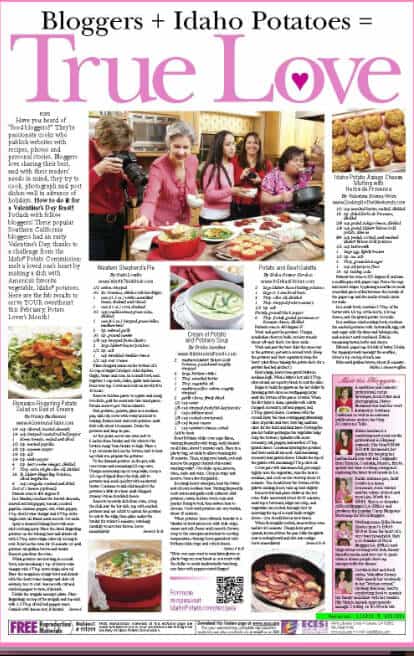 As you can see, they got my good side – right behind the camera which is my favorite place to be!
So, if you come across this in your local paper, let me know!!!
Now, onto the best part.. the food!!
It's no secret that I love salads so it's no surprise that I chose to make one with one of my favorite ingredients – Idaho potatoes! I decided to use fingerlings in it because I not only love the flavor but the firm texture of fingerlings  is perfect in salads and makes this one perfect for a buffet or a potluck dish!
Needless to say, EVERYTHING was delicious … check out my fellow bloggers recipes and get yourself into the kitchen – you and your Valentine will be happy you did!
Western Shepherd's Pie by Patti at Worth the Whisk
Cream of Potato and Poblano Soup by Ericka at Nibbles and Feasts
Potato and Beet Galette by Erika of In Erika's Kitchen
Idaho Potato Asiago Cheese Muffins with Herbs de Provence by Valentina at Cooking On the Weekends
Potato Lover's Month with Idaho Potatoes: Romesco Fingerling Potato Salad
Ingredients
1/4

cup

slivered

toasted almonds

1/4

cup

chopped

roasted red bell pepper

1

roma tomato

seeded and diced

1/2

tsp.

smoked paprika

1/8

tsp.

cayenne pepper

1/4

tsp.

salt

1/4

tsp.

white pepper

4

tsp.

sherry wine vinegar

divided

7

Tbsp.

extra virgin olive oil

divided

1 1/2

lbs.

Idaho Fingerling potatoes

sliced lengthwise

6

cups

arugula

washed and dried

zest of 1 lemon

optional
Instructions
Pre heat oven to 400 degrees.

In a blender combine the toasted almonds, paprika, cayenne pepper, salt, white pepper, 3 tsp. sherry vinegar and 4 Tbsp. extra virgin olive oil. Blend until smooth. Set aside. Spray rimmed baking sheet with cooking spray. Place the sliced fingerlings potatoes on the baking sheet and drizzle with 2 Tbsp. extra virgin olive oil, tossing to coat. Roast in the oven for 15 minutes until the potatoes are golden brown and tender. Remove pan from the oven.

While potatoes are roasting, in a small bowl, mix remaining 1 tsp. sherry wine vinegar with the 1 Tbsp. extra virgin olive oil. Place the arugula in a large bowl and drizzle with the sherry wine vinegar and olive oil mixture, toss to coat. Season with salt and cracked pepper to taste, if desired.

Divide the arugula among 6 plates. Place fingerlings on top of the arugula and top each plate with 1 -2 Tbsp. of the red bell pepper sauce. Garnish with lemon zest if desired.