Sometimes my eyes are bigger than my stomach.
Especially when it comes to fresh produce.
I just can't help myself – those gorgeous mounds of cute little persian cucumbers call to me and somehow end up in my shopping basket along with creamy heads of cauliflower, and bright green bunches of celery almost all on their own. In terms of "shopping addictions" this isn't a bad one to have – produce is good for you and is generally cheaper than a new pair of shoes.
But shoes last…. and fresh produce doesn't.
So what is a "shopoholic" like me  to do? Fortunately there is a better solution than joining a 12 step program.
Refrigerator pickles.  No water baths required and you can make them in small batches.  All you need is a few clean jars, some vinegar, produce (think I've got that one covered) and your imagination… oh,  and about 15 minutes!!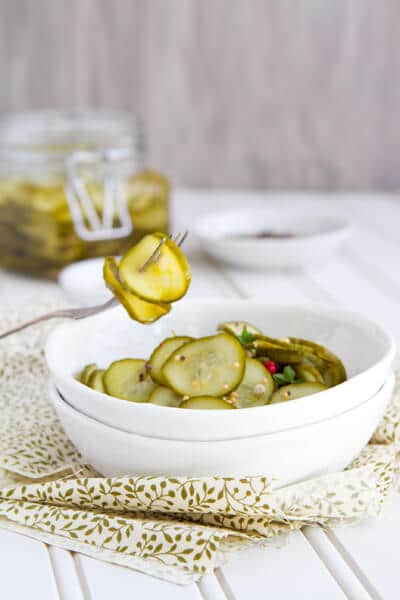 And they will surpass just about anything you can buy off a supermarket shelf!!! You can pickle just about any firm vegetable – celery, carrots, cauliflower, peppers, zucchini, green beans, mushrooms, radishes, onions and beets. You can make jars of individual vegetables or pair them. You can make them sweet or more savory -spicy or not… it's really up to you and your taste buds!
There is of course, only one problem with all these choices…  I may just have another addiction to deal with…
Always make sure that your prep and cooking area and utensils are clean. Make sure the jars and lids you are using are clean (wash in very hot, soapy water or run through the dishwasher) and free of chips, cracks, etc. Although this recipe is for celery, the basic "brine" can be used for any vegetable: the ratio is for every 1 pound of vegetables use 1 cup vinegar, 1 cup water, 1/2 cup sugar (for sweet pickles) and 2 Tbsp. sugar for more savory pickles and 1 Tbsp. salt.
Ingredients
1 bunch celery, cleaned
1 cup white wine vinegar
1 cup water
2 tbsp. sugar
1 Tbsp. salt
1 small red chile, sliced
2 tsp. mustard seeds
1 tsp. peppercorns
4 large sprigs fresh dill
Instructions
Slice celery into 1/4 inch thick slices.
Place in a clean 1 quart mason jar.
Add dill and some of the celery leaves if you have them.
In a small saucepan combine the vinegar, water, sugar, salt, chile, mustard seeds and peppercorns.
Bring mixture to a simmer and stir until sugar and salt and completely dissolved.
Carefully pour contents over the celery in the jar.
Let mixture cool, uncovered, then place the lid on and refrigerate.
Pickles will be ready to eat in 24 hours.
If properly refrigerated, pickles should last up to one month.
Copyright A Communal Table - www.ACommunalTable.com
Yields 1 quart pickles
Pickled Cucumbers
10 minPrep Time
5 minCook Time
Ingredients
5 or 6 small persian cucumbers
1 cup cider vinegar
1 cup water
1 Tsp. mustard seed
½ cup sugar
4 or 5 sprigs fresh tarragon
1 tsp. peppercorns
1 Tbsp. salt
Instructions
Thinly slice cucumbers and place in a clean, 1 qrt mason jar - you can either use a knife or a mandoline to cut the cucumbers. Place the tarragon into the jars.
In a small saucepan combine the vinegar, water, sugar, salt peppercorns and mustard seeds. Bring mixture to a simmer and cook until sugar and salt are completely dissolved.
Pour the mixture over the cucumbers.
Let the mixture cool and then place the lid on and refrigerate.
Cucumbers will be ready to eat in 24 hours. If kept refrigerated, pickles will last about 1 month in the refrigerator.
7.6.4
88
https://www.acommunaltable.com/pickled-celery/