When your family doesn't like pie (and that  definitely includes pumpkin pie) figuring out dessert for Thanksgiving can be a bit "challenging".  To be honest, as much as I love pie, after all the turkey, potatoes, cranberries, green beans, squash, rolls and other assorted side dishes a heavy dessert really doesn't do it for me. While my boys are thrilled to have this  Pumpkin Bourbon Bundt Cake for dessert, I crave something a little lighter – preferably with fruit.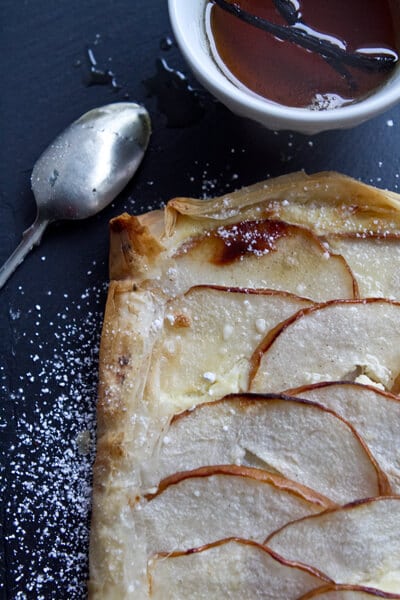 So, when Melissa's Produce offered to send me a case of Korean Pears, well, I couldn't say "yes please!!" fast enough!! I am a bit of a pear fanatic – during the winter months when they are in season it is not unusual for me to eat at least one pear (in addition to an apple) everyday.  I first discovered Korean Pears a few years ago  and have been hooked ever since. But I had never cooked with them and I couldn't wait to try them in some of my favorite recipes – and in some new ones!!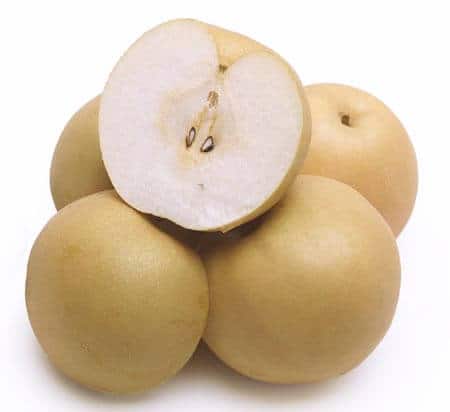 The first thing I made was this  Pear Tart with Ginger and Vanilla  that I'd been wanting to try – it features a phyllo dough crust with a light filling of ricotta and I thought that the firmness of the Korean Pears would be perfect in it – and I was right!! This is, hands down, one of the BEST tarts I've ever made and for me it's the perfect ending to Thanksgiving – or just about any other meal!!!
If you've never tried a Korean Pear (also known as an Asian Pear) well, I'll be blunt. You should. They are crisp and have a beautiful, light almost floral flavor to them and are truly perfect not only for baking in tarts but are also amazing in salads – toss some baby greens with a little white balsamic vinaigrette and top with thinly sliced Korean Pears, a little blue cheese and some toasted pecans!!
But before you make that salad, well you've got to make this tart!!!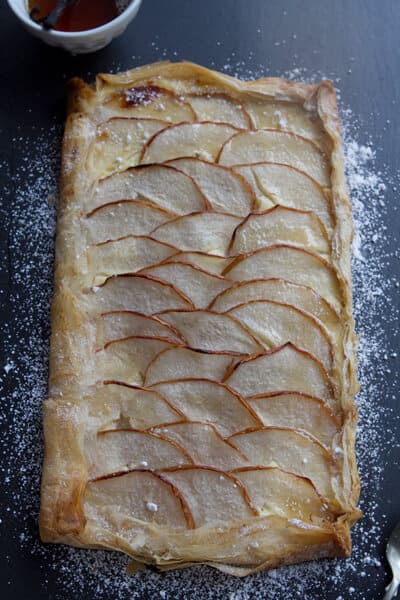 Pear Tart with Ginger and Vanilla
Adapted from Donna Hay. For this recipe I used Athen's Phyllo dough and the sheets are approximately 9 x 14 inches. If you use another brand, you can either cut the sheets in half (to approximately 9 x 14) or you can make a larger tart - if you choose to do that, double the filling ingredients and increase the pears to 4! Also, this tart should be eaten the day it is made to preserve the crunchiness of the phyllo. You can assemble the filling ahead of time and make the honey ahead as well. Then all you need to do is assemble the tart which goes together very quickly.
Ingredients
1 - 16

oz

pckg. of phyllo dough

thawed according to mfg's instructions

1

cup

good ricotta cheese - preferably home made

zest from 1 lemon

1

Tbsp.

minced candied ginger

1/4

cup

superfine sugar plus 2 Tbsp.

1

tsp.

vanilla extract

1

egg

1

stick unsalted butter

melted

2

Korean pears

sliced into 1/8 inch thick slices

powdered sugar (for dusting

Vanilla Honey:

1/4

cup

good quality honey

1/2

vanilla bean

split and seeds scraped OR 1 tsp. vanilla bean paste
Instructions
Pre heat the oven to 400 degrees. Grease a sheet pan and set aside. In a medium bowl, combine the ricotta, lemon zest, ginger, 1/4 cup sugar, vanilla and the egg. Whisk to combine. Set aside.

Place one sheet of the phyllo dough ont he sheet pan and brush with the melted butter. Top with another phyllo sheet and brush with butter. Repeat until you have 8 sheets of phyllo stacked. Using a spoon, dollop the ricotta filling down the center of the phyllo, leaving a 1 1/4 inch border all around. Place the pear slices on top of the ricotta, overlapping the slices. Fold the edges of the phyllo up and over the pear slices. Brush the pears and phyllo with the remaining melted butter and sprinkle with 2 Tbsp. of the superfine sugar.

Bake for 20 - 25 minutes until the phyllo is golden brown. Remove from oven and cool.

While the tart is baking, in a small saucepan combine the honey with the vanilla bean or vanilla paste and warm over low heat for a few minutes. Remove the vanilla bean.

To serve, slice the tart and place on plates. Dust with a little powdered sugar and drizzle with the vanilla honey.