I've always considered myself to be fairly knowledgeable about food – I've  been to culinary school, cooked professionally for over 12 years and recently accepted a position at our local community college to teach  a class on cultural foods.
But as I've recently discovered, I still have a lot to learn – which is perhaps why food holds such a fascination for me – it not only feeds my body and my  soul, but also the eternal student within me – there is always something new to learn, to explore and to taste!
This weekend I furthered my education –  I had the opportunity to join Melissa's Produce on a tour of the Central Valley to meet some of the growers who work with Melissa's Produce. In the course of two days, I not only  learned more  about how our food is raised but also about some exciting new varieties of fruits that some of these farmers are developing and growing.  I also had the opportunity to see first hand the  fields and orchards … and at the Masumoto farm, to actually work in an orchard!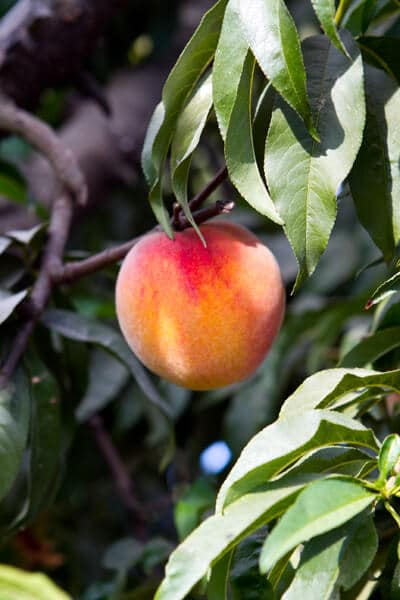 David "Mas" Masumoto is a second generation farmer who raises  grapes, peaches and nectarines. He is a man who is not only passionate about farming but  also about peaches .. about saving heirloom varieties that have lost their place in the commercial world of produce. This weekend event  represented Masumoto's quest to not only save these beloved peaches, but to share his love of farming and his passion for peaches with a larger community. Seeking to further the connection between people and the food they eat, Masumoto has taken the concept of the CSA to a whole "nother level" by allowing individuals (or small groups of people!) to "adopt" a peach tree and then, when the peaches are perfect for picking, invite them to the farm to pick their peaches! Melissa's has "adopted" a few trees and so I, along with my fellow food bloggers  Dorothy, Priscilla, Louise and Giselle  had the privilege of picking peaches and nectarines from Melissa's trees!
Early on Saturday morning we headed out to the Masumoto farm.  As I got out of the car  the aroma of the orchards enveloped me in a sweet, earthy and floral fragrance unlike anything I'd ever smelled before. Like Ferdinand the Bull, I think I would have been quite content to lean up against one of the peach trees and simply spend the morning smelling the peaches.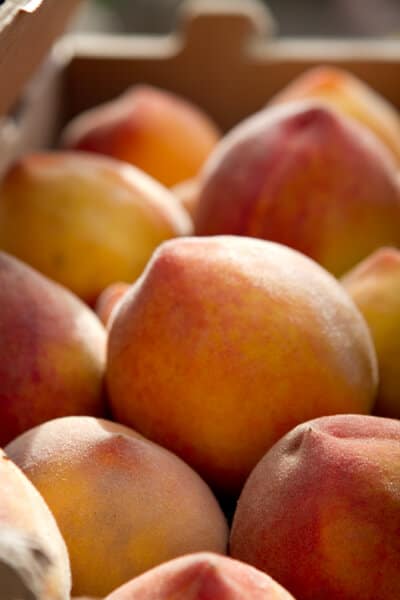 But there was work to be done… and peaches to be eaten!! After a brief introduction by Masumoto and his daughter Nikiko, we were off to the trees with  ladders and buckets on a veritable treasure hunt for the the luscious globes of yellow and red blushed peaches.  A harvest festival spirit filled the air as the  old and the young, families and couples – strangers and friends filled bucket after bucket with peaches   – a  diverse community  brought together by their love for these extraordinary fruits.
And  these Elberta peaches are extraordinary –  although I would be quite happy eating them as they are, the creative cook in me simply couldn't be restrained – I had to do something with them! On the way back home my mind was whirling with all the possibilities- pies, crisps, crumbles and shortcakes were all running through my head but I decided to go with something a little different… cranachan.
In case you haven't heard of it (and I wouldn't be surprised if you haven't :-)) it's a Scottish dessert that today is most often served at Burns Night celebrations but was originally served at harvest celebrations. Since I am Scottish and had a hand in harvesting these peaches (ok, a really, really small hand) I thought it was the perfect dessert to showcase this gorgeous fruit. I've altered the traditional version a little bit – substituting peaches for the traditional raspberries, adding  caramel and toasted almonds  to the toasted oatmeal and using a good Bourbon instead of Scotch in the whipped cream. The key to this dessert  though is the fruit – use the best fruit you can find since it's really the fruit that is the star here!
And speaking of fruit now is the perfect time to get fabulous peaches and nectarines – if you can't find peaches and nectarines by Melissa's feel free to call their 800 number and they can tell you where to find them in your area!!
Interested in what my fellow bloggers have to say? Read on!
Geez Louise – A Farmer and a Peach
Disclaimer: Melissa's Produce paid for my transportation, lodging and meals on this trip.  However the opinions expressed here are my own!!
Ingredients
4 - 6

ripe peaches

diced into ¾ inch pieces

Oatmeal Topping:

1

cup

pinhead oats

I used Coach's Oats

⅓

cup

sliced almonds

¼

tsp.

kosher salt

¼

cup

water

½

cup

granulated sugar

Whipped Cream:

1

cup

chilled heavy whipping cream

2

Tbsp.

honey

orange blossom or any floral type honey works great!

1

Tbsp.

good quality Bourbon

optional - if not using feel free to add 1 tsp. vanilla instead
Instructions
To make the oatmeal topping:

In a large skillet, toast the oatmeal over a medium heat until light brown and fragrant, about 5 minutes. Remove from heat and transfer to a small bowl. In the same skillet, add the almonds and toast until light brown and fragrant, about 2 - 3 minutes. Add to the oatmeal. Sprinkle the oatmeal with the salt and stir to combine.

Spray a sheet pan with cooking spray and set aside. In a small saucepan, add the sugar and the water and heat over medium high heat until the sugar dissolves and begins to turn gold - about 3 - 5 minutes.. Do not stir - if some areas are turning golden brown faster than others, lift the pan from the heat and swirl the contents. When the syrup is a nice golden brown color (about the color of honey) pour the syrup over the oat mixture. Using a heat proof spatula, stir the oats into the syrup (you will have clumps of nuts and oats - that's ok). Spread mixture onto the prepared sheet pan and let cool. When cool, use your fingers to break up the clumps.

To make the whipped cream: Whip the cream in the bowl of a mixer on medium high speed - slowly drizzle in the honey and add the bourbon or vanilla. Continue to beat the cream until soft peaks form - about 3 minutes.

To assemble: Using 4 small glasses with wide mouths divide half the peaches between the glasses. Top each glass with ¼ cup of the whipped cream (I used about 2 Tbsp. but I am not a huge fan of whipped cream). Top with ¼ cup of the oatmeal mixture. Divide the remaining peaches between the glasses. Top with another ¼ whipped cream and sprinkle another Tbsp. of the oatmeal topping on top to garnish. You will probably have a little extra of the oatmeal topping - place it in a airtight container and use as a topping for ice cream or fruit and yogurt!

This can be made about 1 hour ahead of time - keep refrigerated and let warm slightly before serving.