Last updated on March 26th, 2018 at 01:55 pm
Today I have another book review for you all… and I'm feeling a bit sheepish about it since in my last post I reviewed "The Plant Powered Diet" by Sharon Palmer – honestly, you all must think all I do is sit around and read… which isn't the case unfortunately but oh, how I wish it were!!
Last week I was invited by Melissa's Produce to a luncheon to celebrate the release of Nathan Turner's new book "Nathan Turner's American Style – Classic Design and Effortless Entertaining"  with some of my favorite bloggers and celebrities  – Valentina from Cooking on the Weekends, Lana from Bibberche and Priscilla from She's Cookin'  and the always fun and stylish Jamie Gwen and Lana Sills! Walking into Melissa's test kitchen, we were greeted with a first hand look at Nathan's style  – which is classic, casual and definitely within the reach of anyone – even if you don't think you have a creative bone in your body! I absolutely loved the table setting  – simple, beautiful but not fussy with lots of fun and easy details that I could easily see myself copying.. and yes, Nathan not only recommends "copying"  but encourages it!
I thought the centerpieces were truly brilliant – even if you don't own these beautiful stands from Pottery Barn, you could use cake stands or make your own from terra cotta pots and saucers. Wouldn't those be pretty with seasonal gourds and leaves tucked into them? Hmmm… think I am going to have to experiment with that for Thanksgiving!
Over an  an absolutely delicious lunch (Chef Tom, you seriously rock!!) we "chatted" with Nathan about decor  – ok, I'll be honest, it was more like "grilled" – and Nathan graciously answered our questions and had lots of great ideas to share with us – some of which I will definitely be sharing here at the Table over the next couple of months!!!
Each of us received a signed copy of "Nathan Turner's American Style" and I couldn't wait to get home and dive in – and dive in I did! Now, to be honest, most "entertaining books" scare me a little bit – I look at these gorgeous settings and think I could never do that or even afford that – and that is perhaps what I loved most about Nathan's book. I could truly see myself incorporating many of his ideas and tips into my parties and into my home – there were so many great ideas that I have "ahem" already planned a couple of parties ….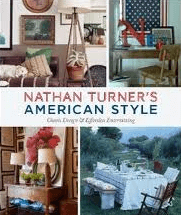 Speaking of which, today's recipe is inspired by Nathan's book – Pan Roasted Nuts. Nathan advises roasting up a bunch of nuts in a skillet and serving the nuts straight from the pan!! I think these are going to the perfect appetizer snack for a Sunday Supper Party that I am going to share with you next week!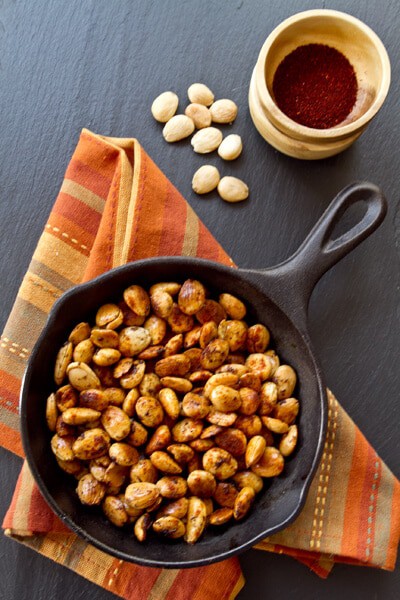 Pan Roasted Nuts
Ingredients
2

cups

marcona almonds

or blanched whole almonds

2

Tbsp.

canola oil

1/2

tsp.

chile powder

1/2

tsp.

smoked paprika

1

tsp.

sugar

1/2

tsp.

kosher salt
Instructions
In a cast iron skillet, heat two tablespoons of canola oil over medium high heat. Add the nuts and stir to coat with the oil. Continue stirring until the nuts are toasted. Reduce the heat to medium and add the chile powder, smoked paprika, sugar and salt and stir until the sugar begins to caramelize. Taste and adjust seasonings. Serve in the skillet with a large spoon for scooping and a large pile of napkins!
Recipe Notes
If you like a spicier kick to your nuts, add some chipotle powder. If you like your nuts a little sweeter, add a bit more sugar.