Walking by, I  never glanced their way.
And I am not alone. All too often, we pass them by, our eyes eagerly searching for some  arugula or meslun or perhaps some lascinato kale –  the frumpy darling of foodies everywhere.
Despite its ruffled loveliness and outstanding  nutrition cred,  the lowly mustard green  sits by in relative obscurity – a wallflower among greens.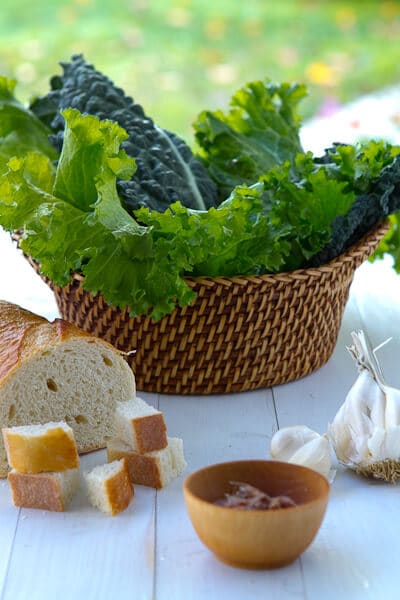 This is just plain wrong – and shameful.
How big a shame I didn't realize until just recently when I picked up a bunch for a salad I was going to try.
After wolfing down a huge plate of this salad (and snitching pieces from the bowl before I served it)  all I can say is… "why in the world did I not discover them sooner"?They are tender with a little spicy bite and pair wonderfully with all kinds of greens and will be a regular addition to my salad green repertoire.
It appears I have  a lot of catching up to do – and after the Superbowl spread yesterday, a lot to make up for as well – and what better way to start off my road to redemption than with a salad – especially this salad. Mustard greens, lascinato kale (yeah, its a darling for a reason), homemade croutons and a little grated gruyere all  glossed with a simple white wine vinaigrette.
Redemption  has truly never tasted so good.
Mustard Greens with White Wine Vinaigrette and Homemade Croutons
Love Kale salad? Then you will love this mustard greens and Kale version with the BEST croutons ever!!!
Ingredients
1

bunch washed mustard greens

stem and center ribs removed and leaves torn into 1 1/2 inch pieces

1

bunch lacinato kale

stem and center ribs removed and leaves torn into 1 1/2 inch pieces

1

cup

shredded gruyere or parmesan cheese

1

baguette cut into 1 inch cubes

For vinaigrette:

3

Tbsp.

white wine vinegar

3

garlic cloves

minced

1/4

tsp.

anchovy paste

5

Tbsp.

extra virgin olive oil

salt and freshly ground pepper
Instructions
To make vinaigrette: In a small bowl, combine the anchovy paste, white wine vinegar and with a large pinch of salt and pepper. Whisk to combine. While whisking, slowly drizzle in the olive oil. Taste and adjust seasonings. Set aside to make the croutons.

To make croutons:

Pre heat the oven to 400 degrees. Spray a sheet pan lightly with cooking spray. Drizzle 3 Tbsp. of the dressing over the croutons and toss. Bake in the oven for 15 minutes and then stir the croutons. Bake for another 10 minutes or until the croutons are golden brown. Remove from the oven and cool.

For the salad:

Stir the garlic into the vinaigrette. In a large bowl combine the mustard greens and kale. Drizzle 3 Tbsp. of the dressing over. Toss the greens and taste. Add more dressing if needed and season with salt and pepper. Add the cheese and the 3 cups of the croutons (you will probably have extra croutons left). Toss again. Divide salad among plates and serve.
Notes
Recipe adapted from Bon Appetit.
Anchovy paste can be found in most large grocery stores. If you can't find the paste, just use canned anchovies and mash well with a fork!
Refrigerate the extra anchovies. I omitted the garlic from the dressing that coats the croutons since garlic tends to burn.
If you want more garlic flavor in the croutons, add a large pinch of garlic powder to the 3 Tbsp. of dressing that you drizzle over the croutons. The croutons and the dressing can be made up to two days in advance. Refrigerate the dressing and store the croutons in an airtight container.
Nutrition
Calories:
438
kcal
|
Carbohydrates:
33
g
|
Protein:
15
g
|
Fat:
27
g
|
Saturated Fat:
7
g
|
Cholesterol:
17
mg
|
Sodium:
798
mg
|
Potassium:
114
mg
|
Fiber:
2
g
|
Sugar:
1
g
|
Vitamin A:
9.4
%
|
Vitamin C:
4.8
%
|
Calcium:
35.3
%
|
Iron:
12.2
%