Mustard greens are one of the unsung heroes of salad ingredients and give a spicy kick to this classic salad of kale, parmesan, and homemade croutons. Dressed with my favorite white wine vinaigrette this simple salad is crisp and zesty – and the perfect partner to fall and winter dishes!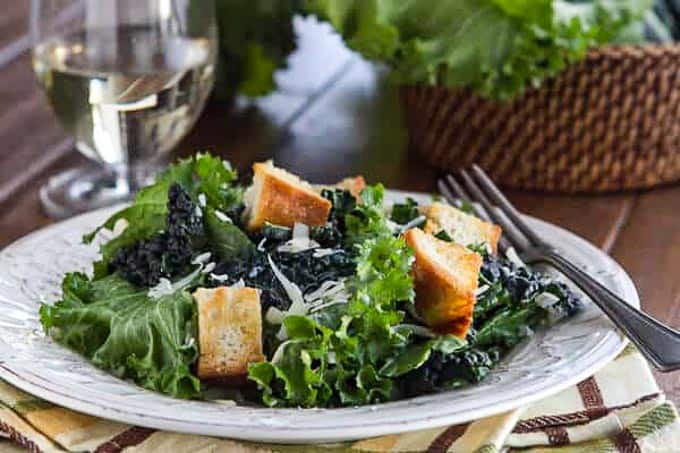 First Published: November 2015 Last Updated: September 2019
Simple salads of greens dressed with a zippy vinaigrette are the perfect partner to hearty winter dishes and this mustard greens salad kicks that concept up a notch! Spicy greens are the perfect side for richly flavored dishes like this French Onion Stew or this Provencale Top Round Roast.
Mustard Greens Salad Recipe
Here's what you'll need to make the salad and the white wine vinaigrette:
Mustard greens
Lacinato kale – you can substitute regular kale as well.
Parmesan cheese – gruyere is also delicious if you can't find parmesan!
Baguette – for the homemade croutons!
Ingredients you'll need for the White Wine Vinaigrette:
Olive oil – use an olive oil that you enjoy the taste of. I am currently smitten with California Olive Ranch oil!
White Wine Vinegar – Vilux White Wine Vinegar is my standard white wine vinegar and what I used. Use whatever white wine vinegar you enjoy the flavor of.
Fresh Garlic – fresh garlic imparts amazing flavor.
Anchovy Paste – yes, anchovy paste! I PROMISE you won't taste the anchovies – they give the dressing a rich, umami flavor and extra body! If you can't find anchovies (or simply can't bear the thought of them!) substitute Dijon mustard.
Salt and Pepper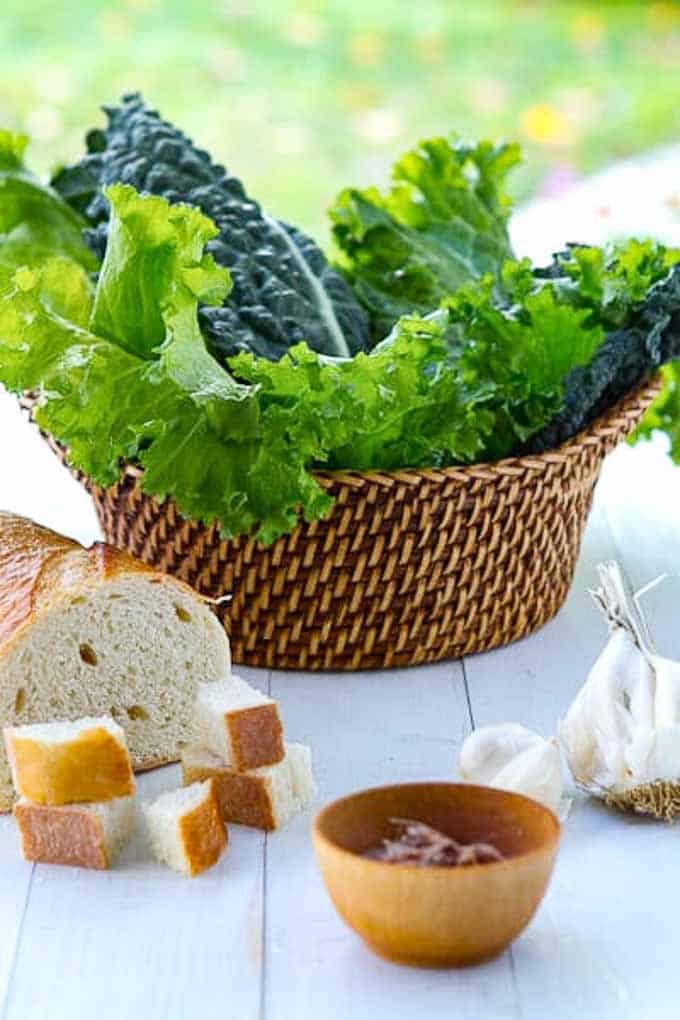 About these Spicy Greens
Here's a little more info about these spicy mustard greens!
Can you eat raw mustard greens?
Yes, absolutely! The leaves are surprisingly tender but they do pack a peppery punch! I like to add them to salads with other greens to give them a punch of flavor. You can also cook them as you would other greens as well as adding them to soups, stir-fries and stews!
What do mustard greens taste like?
Mustard greens have a peppery and slightly bitter flavor. The inner leaves tend to be a bit more tender and milder in flavor. vinegar dressings, like this white wine vinaigrette, tames the spiciness!
Are mustard greens good for you?
Yes, mustard greens are good sources of Vitamins A, C and K as well as a good source of fiber.
What can I substitute for Mustard Greens?
Kale, escarole, and Swiss Chard can all be substituted for mustard greens. For this salad, kale and escarole would be my two top choices.
What to serve with this Mustard Green Salad :
Other Salad Recipes I think you'll love!
If you enjoyed this recipe, I would LOVE for you to give it a 5-star rating! Cheers! Nancy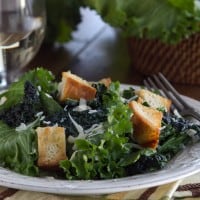 Ingredients
1

bunch washed mustard greens

stem and center ribs removed and leaves torn into 1 1/2 inch pieces

1

bunch lacinato kale

stem and center ribs removed and leaves torn into 1 1/2 inch pieces

1

cup

shredded gruyere or parmesan cheese

1

baguette cut into 1 inch cubes

For vinaigrette:

3

Tbsp.

white wine vinegar

3

garlic cloves

minced

1/4

tsp.

anchovy paste

5

Tbsp.

extra virgin olive oil

salt and freshly ground pepper
Instructions
White Wine Vinaigrette
In a small bowl, combine the anchovy paste, white wine vinegar and with a large pinch of salt and pepper. Whisk to combine. While whisking, slowly drizzle in the olive oil. Taste and adjust seasonings. Set aside to make the croutons.

While whisking, slowly drizzle in the olive oil. Taste and adjust seasonings. Set aside to make the croutons.
Homemade croutons
Pre heat the oven to 400 degrees.

Cut the baguette into 1 1/2 inch size cubes.

Spray a sheet pan with cooking spray.

Add the bread cubes to the sheet pan.

Drizzle 3 Tablespoons of the vinaigrette over the bread cubes and toss to coat.

Season with salt and pepper.

Bake for 15 minutes and then stir the croutons.

Bake for an additional 10 minutes or until the croutons are golden brown and crunchy.

Remove from the oven and let cool.
For the Mustard Greens Salad
Stir the garlic into the vinaigrette.

In a large bowl combine the mustard greens and kale. Drizzle 3 Tbsp. of the dressing over.

Toss the greens and taste. Add more dressing if needed and season with salt and pepper.

Add the cheese and the 3 cups of the croutons (you will probably have extra croutons left). Toss again.

Divide salad among plates and serve.
Recipe Notes
ANCHOVY PASTE: can be found in most large grocery stores. If you can't find the paste, just use canned anchovies and mash well with a fork! Store the extras in a covered container in the refrigerator.
CROUTONS: If you'd like a more garlicky flavor for the croutons, add a large pinch of garlic powder to the 3 Tbsp. of dressing that you drizzle over the croutons.
MAKING AHEAD:The croutons and the dressing can be made up to two days in advance. Refrigerate the dressing and store the croutons in an airtight container.
DRESSING THE SALAD:You can dress the salad up to a 1/2 hour before serving! If dressing ahead of time, add the croutons just before serving so they stay crisp!
Nutrition
Calories:
438
kcal
|
Carbohydrates:
33
g
|
Protein:
15
g
|
Fat:
27
g
|
Saturated Fat:
7
g
|
Cholesterol:
17
mg
|
Sodium:
798
mg
|
Potassium:
114
mg
|
Fiber:
2
g
|
Sugar:
1
g
|
Vitamin A:
470
IU
|
Vitamin C:
4
mg
|
Calcium:
353
mg
|
Iron:
2.2
mg