Despite not having a drop of cranberry juice, this Lychee Cosmopolitan is just as delicious as the original! A surprising ingredient highlights the lychee's floral notes. Paired with good vodka, you'll be making this cosmopolitan recipe all spring!!!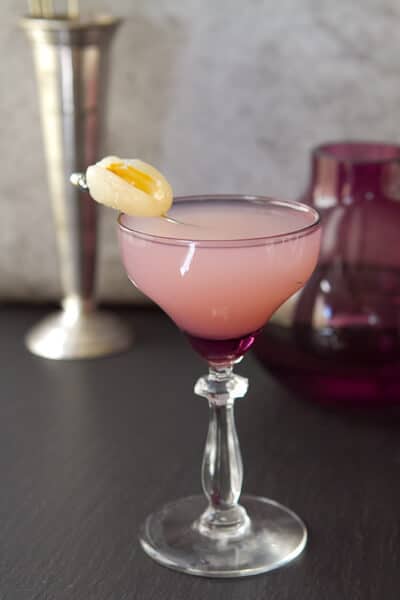 Nope, there isn't a drop of cranberry juice in this cocktail - so, just wanted to put that out there first thing.  So, how in the world can I possibly classify this Lychee Cosmopolitan as a  Cosmopolitan?
Good question - and we'll get to that in a moment.
But first I want to talk about San Francisco - and no I haven't had even so much as a  drop of this Lychee Cosmopolitan while writing this post and yes,  the two topics are related - sort of.
Ahem.... ok, so a couple of weeks ago my DH and I had  quick getaway to San Francisco - a  very last minute getaway which left me with very little time to plan - not what I was going to wear of course, but the far more important, nay critical part  - where were we going to eat??? and then the far more challenging task of making dinner reservations - in San Francisco and with less than  week's notice - ha! Good one!!!
So, armed with the SF Chronicle's list of top 100 restaurants and my own rather quirky list, I got to work..... first up, AQ restaurant.
And here, finally, is where we are going to start getting back to answering the question.
If you haven't been to AQ, I highly recommend you visit the next time you are in San Francisco - but be prepared. The restaurant only offers a 4 course prixe fix menu or a chef's tasting menu - and by that, you will literally get whatever has inspired the kitchen and there is no menu to peruse. Which I really wish more chefs would do!  My advice? Absolutely the chef's tasting menu and the wine pairing (which should go without saying, but I'm always surprised how many people don't do this when doing a tasting menu!) I won't go into detail about the menu and wine pairings, except to say it was fabulous. If I had to summarize the entire meal the word "craftmanship" comes to mind - both the cuisine and the wine pairings were inventive, unusual and creative - and yet all were firmly grounded and perhaps even driven by a  craftmanship ethic.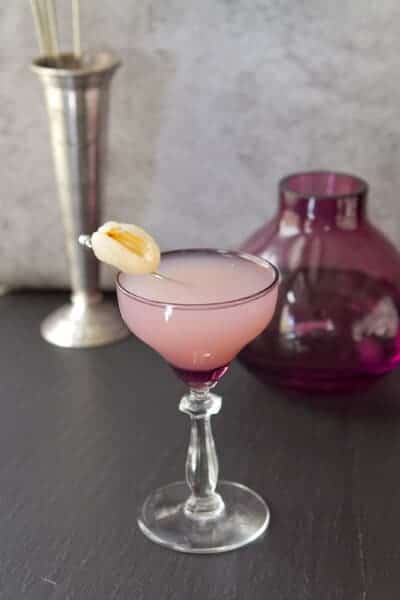 So, what exactly does that have to do with this Lychee Cosmopolitan? Well, after coming home and being immersed in the "craftsman" food vibe of San Francisco,   I was intrigued to start experimenting with "handcrafted cocktails" and, since Melissa's Produce had sent me a lovely bag of lychee fruit, I had the perfect specimens to begin my experiments. Starting with  fresh lychee juice I wanted to really keep the flavor of the lychees intact - which meant my base spirit of choice would be vodka. Instead of Cointreau, I added a little mint simple syrup to round out the flavor and mouthfeel, and a few dashes of Peychaud's bitters for balance.
The result? A truly delicious cocktail - ah, but what to call it?
Being somewhat of a purist, I simply couldn't call it a Martini - because  in my book Martini's are made with gin. No lime juice, so it wasn't even a gimlet.... ah, but what about the Cosmopolitan? Hmmm.. well, no cranberry juice in sight.... but, what about that cranberry juice? Well, after doing a bit of research on the history of the Cosmopolitan, it turns out that one of the earliest versions only used a few dashes of cranberry juice to give the cocktail a slight blush color but was not an integral part of the drink as it is today. So, in keeping with that practice, I added a few dashes of bitters for color and to add a little complexity to the drink.  So, you can call it a Cosmopolitan, or not - but whatever you call it, this is a lovely cocktail!!!
📖Recipe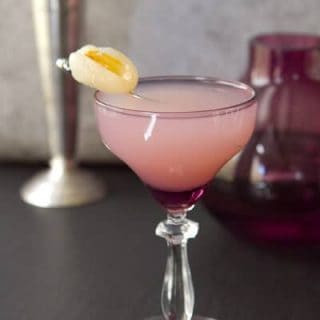 Ingredients
1 ½

oz.

Chopin Vodka

1

oz.

fresh lychee juice

about 8 lychee fruit

¼

oz.

fresh mint syrup

4

dashes Peychaud's Bitters
Instructions
To make the lychee juice: - peel and pit 6 - 8 lychee fruit over a medium sized bowl. Using a muddler (or a potato masher!) crush the fruit to extract the juice. Strain.

For the mint syrup: Combine ½ cup sugar and ½ cup water in a small saucepan. Bring to a simmer and cook until the sugar is dissolved. Remove pan from the heat and add ¼ cup fresh mint leaves. Stir and let infuse for approximately 30 minutes. Strain. Cover and refrigerate.

For the Lychee Cosmopolitan: Add the vodka, lychee juice, simple syrup and bitters to a cocktail shaker. Add 6 large ice cubes. Cover and shake for 45 seconds - until the shaker is frosted over. Remove the cap and strain into a small cocktail glass.
Recipe Notes
The mint simple syrup can be made a week or more ahead of time. To extend it's life, you can add ¼ oz. vodka to the syrup - or you can freeze it as well.
Nutrition
Calories:
155
kcal
|
Carbohydrates:
11
g
|
Protein:
0
g
|
Fat:
0
g
|
Saturated Fat:
0
g
|
Cholesterol:
0
mg
|
Sodium:
4
mg
|
Potassium:
48
mg
|
Fiber:
0
g
|
Sugar:
9
g
|
Vitamin C:
20.3
mg
|
Iron:
0.3
mg