Wallet feeling a bit light from the holidays?? I have just the thing.. a new giveaway! Yes, I've got a $50 gift certificate to CSN Stores. So whether you are looking to spruce up your home with some modern dining room furniture or you are looking for some new dishes or  kitchenware, CSN stores are  a great place to start!  Details on the giveaway are at the end of the post!!
Ok, I am not one to "toot my own horn" as they say, but I just had to post this! My beautiful friend, Mary Ann of Classic Casual Home nominated me for a Stylish Blog Award!! How wonderful  is that? Speaking of wonderful, if you haven't visited her blog you absolutely must – it is gorgeous!!! In accepting  this award, I am supposed to reveal 7 things about myself (gulp!) AND I get to nominate some of my new blog finds!!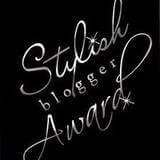 Alright, here is the tough part ..
I am  a voracious, eclectic reader.
I love  Jimmy Buffett… and U2.
I have never been comfortable being tall.
I definitely prefer  being behind the lens to being in front of it.
I love cats and have a sign on my forehead (that only dogs can read)  that says " I give great belly rubs" – either that or every dog I meet is propositioning me.. but  I'm going with the former.
I don't like watching golf.
I am middle aged but my brain doesn't agree… my body however, reminds me of this fact daily.
that's 7, right?? Phew.
Ok, now the fun part – new blog finds that I love!!! There honestly isn't enough band width for this one but… here we go!
Last, but certainly not least… a recipe!! One of my New Year's resolutions was to spend a bit more time with kale. If you've been reading this blog for a while, you know we haven't had the closest  of relationships – which is  a shame because kale is really a very likable vegetable and is incredibly good for you – it's an excellent source of vitamins A,C and K and is also a good source of both potassium and calcium and, like all greens low in calories – 35 for 1 cup!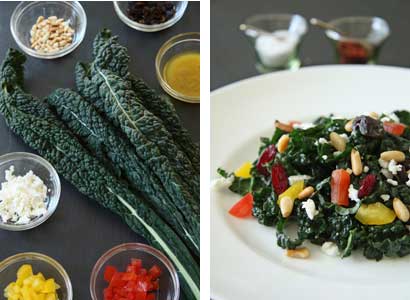 [print_this]
Kale Salad with Dates, Pine Nuts and Feta
I tasted a similar salad at a potluck and it was so good, I decided I had to come up with a recipe!! I've used all kale in this salad but you could easily add some romaine. Also, I made this with lucinato (aka cavalo nero) kale. If you can find it I recommend trying it –   it has  a toothsome texture and a bit of  a minty taste with notes  of citrus –  and so it's perfect in a salad. Also, I've used tomatoes in the salad – if your tomatoes are less than stellar you could easily substitute red bell pepper – roasted or raw!
(Serves 4 as a side salad)
1 large bunch kale – washed
1/4 cup chopped dates
1/4 cup dried cranberries
1/4 cup diced yellow bell pepper
1/4 cup seeded and diced tomato
1/4 cup toasted pine nuts
1/4 cup crumbled feta cheese
Dressing:
1/4 cup white balsamic vinegar
1 Tbsp. dijon mustard
1/2 cup extra virgin olive oil
Salt and pepper to taste
Directions:
In  a small bowl combine the vinegar and dijon mustard and whisk to combine. Drizzle in the oil and whisk to combine. Season with salt and pepper. Taste and adjust seasoning. Set aside.
Cut the inner rib of the kale out and cut the Kale into strips 1/2 inch wide and  cut strips into 1 inch pieces. Place in a large salad bowl.
Add dates,  cranberries, peppers and tomatoes to the kale. Toss to combine.
Drizzle  about 1/2 of the  dressing over the salad and toss – taste a piece of kale to see if the salad needs more dressing and if so, add more dressing and toss.
Divide salad among 4 plates. Sprinkle with pine nuts and feta. Serve.
[/print_this]
To enter the giveaway!! It very easy!! You can enter 3 ways!!
1. Sign up for my RSS feed – just leave me comment  that you've signed up (if you already are signed up, just leave me a comment that you are!)
2. Follow me on Twitter – again just leave a comment that you are following me or if you already are, just leave a comment letting me know.
3. Like me on Facebook!! Just leave me a comment that you've liked me on Facebook!!
Winner will be announced on Thursday, January 20th. Winner will be chosen via the Random Number Generator.