Say what?? No, I haven't had a "wee dram" as my Gran would say but I realize this  title perhaps needs a bit of explanation.  For those of you who aren't Scottish, a brief introduction. "Hogmanay" is the scottish term for New Year's and in Scotland New Year's is "the" holiday. Christmas is for church and family – but New Year's… NEW YEARS!!!!! – well that is the time the scots cast off their dour demeanor and kick up their kilts heels!
Growing up, we always had a huge New Year's Eve party and my mother would make  sure the bar was stocked with plenty of good scotch,that the living room furniture was pushed back for dancing and she would make platters of appetizers.. and yes, in that order. The guest list would always include a tall, dark man since, as tradition holds,  if a tall, dark man is the "first foot" over the threshold on New Year's good luck and good fortune will follow.  So, at midnight, Mike  (one of my father's BFF's and our token TDM) was ceremonially escorted out the door and ceremoniously "welcomed" back in with a glass of Glenlivet for his troubles.
Well, times have changed and we don't always have a large New Year's Eve party – some years we opt for a smaller, more intimate gathering (but always with a tall, dark man on the guest list since my husband doesna qualify!). This roasted veal chop with polenta is a perfect New Year's Eve dinner -a little extravagant and a little rich but simple to make because most of it can be done in advance – yes, I know, no surprise there!!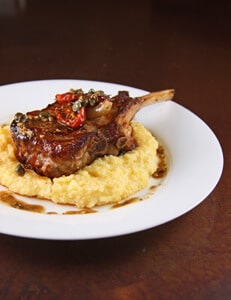 Intimate New Year's Eve Dinner Menu
Endive with Blue Cheese and Pecans
Crab and Wild Mushroom "Cheesecakes"
Roasted Veal Chop with Roasted Tomatoes, Shallots and Olives
Roasted Veal Chop with Roasted Tomatoes, Shallots and Olives
(Adapted from  Gourmet Magazine)
Note: The recipe calls for "frenched" chops. You can have the butcher do this or you can do this yourself – it is very, every easy. To "french" the chops, use a small sharp knife and cut away the fat and meat from the narrow, bone end of the chop. When most of the meat and fat is cut away, use the knife to scrape the bone.
Serves 4
4 cloves garlic
1  tsp. kosher salt
2 Tbsp. fresh rosemary leaves, chopped
2  Tbsp. fresh thyme leaves, chopped
1 tsp. freshly ground black pepper
1/4 cup olive oil
four 12 – 14 oz. veal chops, about 1 1/2 inches thick, bones frenched
6 shallots, peeled
6 plum tomatoes, cut in half
2 tsp. herbs de provence
1/3 cup sliced kalamata olives
1 cup dry white wine
1 cup low sodium chicken stock
1 Tbsp. unsalted butter
Directions:
Mince garlic cloves. Add salt and mash into a paste. In a small bowl combine the garlic paste, rosemary and thyme leaves and pepper. Set aside.
Pre heat the oven to 350 degrees. In a medium sized casserole dish, place the plum tomatoes and shallots. Drizzle with 2 Tbsp. olive oil and the hebs de provence. Season with salt and pepper.
Place casserole dish in the oven and cook, uncovered for 30 – 40 minutes or until tomatoes and shallots are soft.   Remove from the oven and stir in the olives. Set aside.
Dry chops between sheets of paper towels and then season with salt and pepper. This is critical to achieving a good sear on the chops.  In a large skillet (do not use nonstick) heat 1 Tbsp. olive oil over medium heat until it is hot but not smoking – oil should shimmer. Add 1 of the chops and cook for approximately 3 minutes until bottom is nicely browned. NOTE: If you can't release the chop from the pan, don't panic! If the chop is sticking, wait – when the chop is properly seared it will release from the bottom of the pan. Turn chop over and sear the other side. Remove chop and reserve. Repeat with remaining chops, adding additional oil as necessary.
When all the chops have been seared, heat the pan over medium high heat. Add the wine, stirring constantly and scraping up all the browned bits on the bottom of the pan. Reduce the heat to medium and add the chicken stock and the garlic herb mixture. Bring to a boil and reduce to a simmer. Cook until the liquid is reduced to about 3/4 of a cup – about 10 – 15 minutes.
Remove sauce from heat and set aside.
Pre heat oven to 400 degrees. Place chops on a rack set over a rimmed baking sheet. Roast chops until chops reach an internal temperature of 155 degrees – about 20 – 25 minutes.
Re warm the sauce over medium heat and add the butter, stirring until butter has melted. Taste and adjust seasonings.
If serving with polenta, place polenta in middle of the plate. Place the chop on top and then spoon some of the tomatoes, shallots and olives on top.  Drizzle with the sauce.
Notes: The recipe can be prepared through step 6 the day before. Cover and refrigerate the sauce, vegetables and chops separately. Bring to room temperature before proceeding with the recipe.