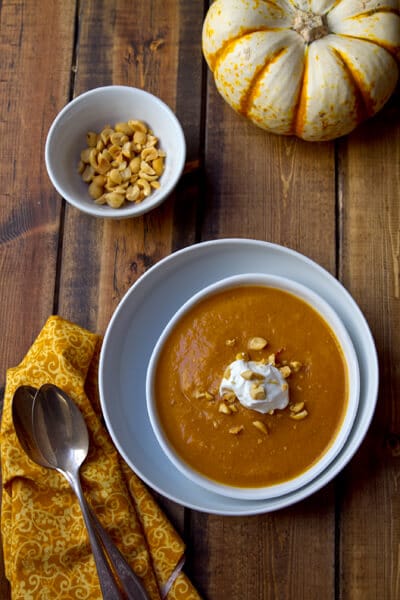 This Healthy, Creamy  Pumpkin and Peanut Soup is what I'm currently craving. Although it may seem like  I've fallen off the face of the planet, the truth is I haven't… although there have been  moments  in the last couple of weeks when I truly wish I had.
Re entry to the world after a terrific vacation  is never easy… and this time it has been especially tough. Besides all the usual craziness (laundry, groceries, 4 inches of papers that needed grading and oh, BTW, the  router is out and my printer is giving me fits) I was greeted by the news that not one but two people who are very near and dear to me are facing life threatening illnesses…
It's enough to send a girl right back on a plane to France where the biggest concerns of the day were  where to  have a "sit and sip" and "hmm… should I have white or red?"
To say that "food and cooking" hasn't been the first thing on my  priority list would be an understatement… and for me to say that.. well, you know things are seriously out of whack.
But a girl has gotta eat… comfort food. Roast Chicken and Mashed Potatoes, Meatloaf.. and Pumpkin Peanut Soup.  I know, I know your are thinking "Healthy, Creamy Pumpkin Peanut Soup" comfort food? Really?"
Yes, Really.
Healthy, Creamy  Pumpkin Peanut Soup is rich, soul satisfying and ridiculously easy to make (no measuring!!) as well as  nutritious  (because ahem after all those "sit and sips" the system needs a nutritional boost, y'know?).  Did  I mention it would make a great little starter for  Thanksgiving? … which brings me to my next point (getting up on the soap box here).
In case you missed it, Thursday is Thanksgiving.. a day where we, as a nation, focus on food.. and football. For foodies, it becomes a near obsession   – and normally I'd be right there in the thick of it with them… my head whirling with all the new dishes I'm going to make while still keeping enough "classics" to please everyone.
But not this year.
Never fear… I will still be cooking. The turkey and gravy and all the trimmings will all be there. But the emphasis won't be on the food… it will be on those who are gathered around my table.. and how much I truly have to be thankful for. So for those of you who are stressing about your turkey, or are worrying about having lumpy mashed potatoes… relax.  Be thankful that at this moment, if that is your biggest concern  you are truly, truly blessed. Take the time to fully  enjoy the day, hug your family and your friends… and count your blessings.. and that I think, is the best recipe of all for Thanksgiving.
So, from my Table to yours, I wish you all a truly happy Thanksgiving!
Pumpkin and Peanut Soup
Creamy, sweet and salty, this African Peanut Soup is a deliciously easy twist on that fall standard - pumpkin soup! Using canned pumpkin, this peanut soup recipe can be ready and on the table in under 30 minutes. Even better, you can make this fall soup ahead of time so it's perfect for tailgating, bagged lunches and of course... Thanksgiving!
Ingredients
2

red skinned sweet potatoes

aka "yams"

1 - 30

oz.

can of Libby's canned pumpkin

1

cup

natural style smooth peanut butter

1

Tbsp.

garam masala powder

6

cups

vegetable or chicken stock

salt

white pepper

6

Tbsp.

plain greek yogurt

optional

6

Tbsp.

chopped peanuts

optional
Instructions
Pierce both sweet potatoes with a fork and cook in the microwave until they are very soft. If you don't have/use a microwave, place the pierced sweet potatoes on a foil lined sheet pan and cook in a 400 degree oven for 45 -60 minutes until very soft. Cool.

Scoop sweet potato flesh into the bowl of a food processor and add 1 cup stock. Puree.

In a large soup pot, combine the pumpkin puree, sweet potato puree, the garam masala and the stock. Stir to combine. Bring to a boil over medium high heat. Reduce heat to a simmer and add the peanut butter. Stir until well combined. Taste and season with salt and white pepper. Ladle into bowls and garnish with a dollop of greek yogurt and chopped peanuts if desired.
Notes
Although I don't normally specify brands, I have tried this soup with other canned pumpkin purees and it wasn't as good - Libby's still has the best flavor. However, if you have homemade puree or another brand that you love, absolutely use it!
I have also called for garam masala, an Indian spice blend. If you don't have it, use 1/2 tsp. ground coriander, 1/4 tsp. ground black tellicherry pepper,1/4 tsp. ground cardamon, 1/2 tsp. cinnamon, 1/2 tsp. ground caraway seeds, 1/4 tsp. ground cloves, 1/4 tsp. ground ginger and 1/4 tsp. ground nutmeg.
Soup can be made 2 days ahead of time. Cool and refrigerate.