We are almost there.. the end of the week – WOO HOO!!  If your week has been anything like mine, it's been a "flying by the seat of your pants" kinda week. Which means virtually no time to plan meals let alone dessert.
But I have a solution for  that. This cake.
It's simple…. and simply delicious.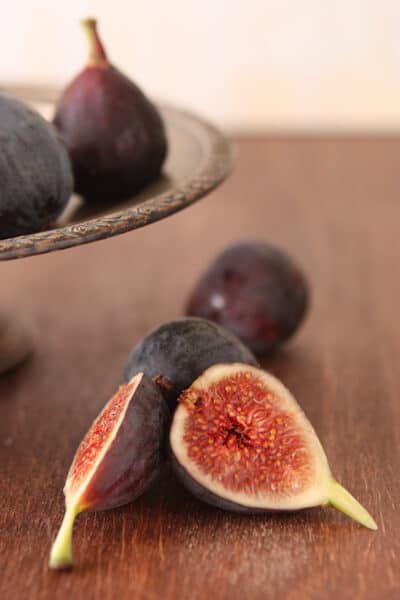 It's the kind of cake that everyone should know how to make since it can be made from pantry staples and topped with just about any fresh fruit you can think of. Since I had some beautiful figs to use up, I used those. But it would be delicious with plums, apricots, peaches, berries, pears, apples.. well, you get the idea. Brushed with a little infused simple syrup (I liked ginger for this, but the vanilla syrup would work beautifully too) it has just the right balance of fruit, cake and sweetness. Left plain or "gussied up" with either whipped cream or ice cream, its the perfect ending to an evening meal or a perfect "snack" to have in the afternoon with a cup of coffee or tea. Or a late night snack… (but we won't talk about that, ok?).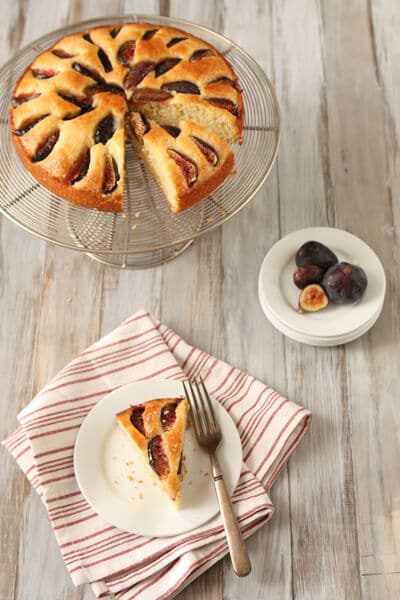 So throw a steak or two on the grill, toss a big salad and roast some potatoes… and then bring out this cake. Your family will wonder how, after a week like this, you pulled this off. They will think you are amazing… and they would be right!!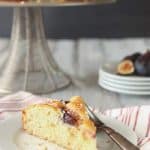 Fig Cake with Ginger Syrup
This cake is best served the day it is made.
Ingredients
1 1/2

cups

flour

2

tsp.

baking powder

1/2

tsp.

salt

3/4

cup

sugar

1/2

cup

whole milk

1/4

cup

vegetable oil

1

tsp.

vanilla

1

egg

1

pint

fresh figs

stemmed and quartered

2

Tbsp.

cold

unsalted butter, cut into 1/4 inch cubes

2

Tbsp.

ginger syrup

optional
Instructions
Pre heat the oven to 375 degrees. Butter a 10 inch springform pan. Set aside.

Whisk together the flour, baking powder and salt. In a second bowl, combine the milk, oil, egg, vanilla and sugar. Fold the liquids into the flour mixture. Pour the batter into the prepared pan. Arrange the cut figs on top of the cake in a decorative pattern. Dot the top of the cake with the cubes of butter. Bake for 30 -35 minutes until top is golden brown and a cake tester inserted in the middle comes out clean. When cake is warm brush the figs with the ginger syrup.

Let cool. Run a thin knife around the edges of the pan and then release the pan.