I couldn't let this season pass without posting about one of the hallmarks of the season.
Yes, Eggnog.
Are you making a face as you read this? If you are I understand. That thick, sickly sweet stuff that is sold in the market is… well, it just is NOT Eggnog! And if that is your only experience with it, I can definitely understand why you would shudder at the mere mention of the word.  In fact, I will bet that many of you have never had homemade eggnog.. and if you haven't, well its something that once you've tried it you'll wonder WHY you haven't before.
But I know why… or at least I have a pretty good idea. Because it's the same reason I've not made my own.
Drinking something with raw eggs that could potentially make me and anyone else who drinks it sick, and at Christmas?I think not.
You might remember that I posted before about my issues with raw eggs and why I am so glad to have found Safest Choice Eggs! Since these eggs are pasteurized in the shell, there is no risk of salmonella! Since discovering these amazing eggs, I've been happily making mayonnaise, aoili, ice cream and sabayons with abandon. So  when Safest Choice Eggs approached me to develop a recipe using their eggs in eggnog, I did not hesitate for a moment. it was no stretch to venture into the world of homemade eggnog.
But it was a revelation. A delicious revelation.
Not too sweet and not too heavy, it is smooth, silky  and a little bit rich. Adding a little of my homemade "spike" with  just a touch of freshly grated nutmeg to the top makes a beverage truly worthy of the season!!
And easy. Did I mention that? Took me all of 10 minutes to whip up a batch.. 10 minutes!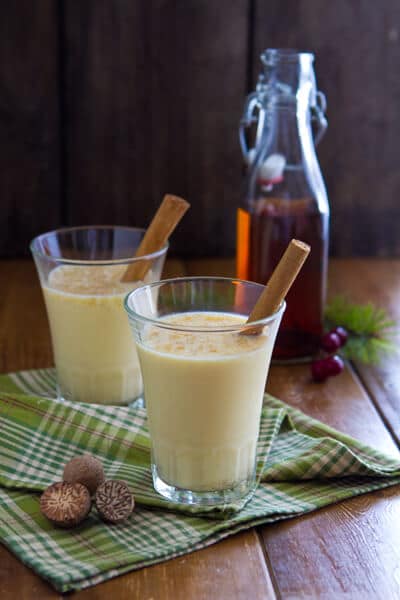 And if you don't finish it all? That is truly one of the best parts. You can make all kinds of things with it! Like an eggnog strata flavored with tangerine and cranberries for breakfast. Which you make ahead of time.
Of course – remember Holiday house rule #1?
So, there is absolutely no reason not to make this. None. And trust me.. you will be SO glad that you did!
And as part of my "gift" to you I have two recipes for you!!
Yields 10 servings
Eggnog with Winter Spike
10 minPrep Time
1 hr, 10 Total Time
Ingredients
12 Safest Choice Eggs
1 cup powdered sugar
2 Tbsp. vanilla extract
4 cups half and half
1 tsp. freshly ground nutmeg
1 cup Winter Spike
Instructions
In a large bowl, combine the eggs, powdered sugar, vanilla and half and half. Beat with a whisk or a mixer on low speed until thoroughly combined. Chill in the refrigerator for an hour or overnight. Whisk before serving into glasses and top with a little ground nutmeg. Add a Tablespoon of Winter Spike if desired!
7.6.4
110
https://www.acommunaltable.com/eggnog-strata-with-tangerine-and-cranberry/
Eggnog Strata with Tangerine and Cranberry
This is the perfect make ahead breakfast dish! Assemble this the day before you plan to serve it and store in the refrigerator. Remove the casserole from the refrigerator 30 minutes prior to baking. Pre heat the oven and bake the casserole!
Ingredients
1 1/2 day old sourdough baguettes, cut into 1 inch pieces
4 cups [eggnog[http://www.safeeggs.com/recipe/light-eggnog-recipe]]
2 safest choice eggs
juice and zest of 2 tangerines
1 cup dried cranberries
1/4 tsp. ground cardamon
1/4 tsp. ground nutmeg
1 tsp. vanilla
Instructions
Pre heat the oven to 350 degrees. Grease a 9 x 13 inch casserole dish and set aside. In a large bowl, combine the eggnog, eggs, tangerine zest and juice, cardamon, nutmeg and vanilla. Whisk to combine. Add the bread and cranberries and stir. Let mixture sit for about 30 minutes so the bread has a chance to absorb the egg mixture. Stir and pour into the prepared casserole. Bake at 350 degrees for 35 - 45 minutes or until egg mixture is set.
Copyright A Communal Table - www.ACommunalTable.com