The sea, the sun … and salad!
Last week I attended the Dole Salad Summit in beautiful Monterey, California.  Along  with 19 other fabulous bloggers I  spent t 1 1/2 days  immersed in a true "farm -to -table" experience.
There is so much I want to tell you about this trip so be warned, this post is a bit longer than usual! So, grab a snack (a salad would be a great idea, don't you think? 🙂 and settle in!!!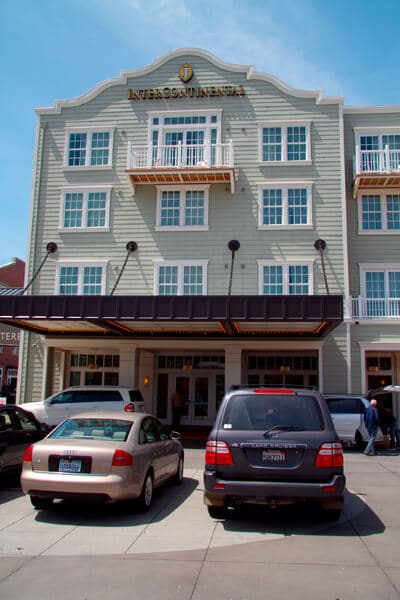 Our  adventure began at the beautiful The Clement Monterey  located right on the  historic Cannery Row – just steps from the Monterey Bay Aquarium.  After a fun and  filling dinner at the iconic Sardine Factory we returned to hotel to rest up for our big day of "Salad 101"!!!
The day began with a trip to the administrative offices for Dole Fresh Vegetables where we got a brief introduction to Dole and to the world of Dole Salads. Like many people, when I think of "Dole" I think of bananas and the The Tiki Room at Disneyland – but there is so much more to Dole than that – like the fact that  Dole is the largest supplier of fruits and vegetables in the world,  employs 76,000 people, works with over 9.000 farmers and has operations in over 90 countries. Who knew? I know I didn't, did you?
Over  a taste testing of three new salad blends we had a great round table discussion about… you guessed it –  salads (!!)  -a subject that is, as you know, near and dear to my heart! We talked about the challenges Americans face incorporating more vegetables into their diets and everyone from Dole  eagerly listened to our ideas and observations – their focus and desire about  how to accomplish this goal set the tone for the rest of the day.
We stopped in Carmel for an amazing lunch at La Bicyclette... and I'm going to be posting about this experience in a future post. By then I hope to have stopped obsessing about this carrot risotto… and hoping that Paula from Bellalimento has figured out the recipe!!
On the bus from  Carmel into Salinas we had a chance to talk with Terry Foley, the commodities director for Dole Fresh Vegetables who answered a ton  of questions  about the farms, harvesting, planting, water  and  pesticides -thank you Stephanie from Recipe Renovator for all of the great questions!!!   What interested me the most however was Dole's relationship with the farmers -( ok, and to be honest, I loved all the technology too since I am kind of a geek that way!). I was surprised to learn that Dole has been working with many of these farms for  several generations and that the relationship is truly a  collaborative one. Upon reaching the fields, we had a chance to talk with Mark Pisoni , a third generation farmer whose family has worked with Dole for over 40 years. I asked Mark about his relationship with Dole and what I learned may surprise you.  According to Pisoni, it is his relationship with Dole that allows him to keep his family farm. When I asked him to elaborate, he pointed to the harvesting operation that was going on in the field. Since Dole handles all the harvesting, processing and distribution,  the farmers that work with Dole have access to all the latest technology in harvesting , processing and food safety –  thus maximizing the value of the crops that they grow.   For farmers like Pisoni, this is a huge advantage since Dole is able to provide this services at a much lower cost than most of these farmers could on their own.  Pisoni concluded our conversation by saying that because of his relationship with Dole he is able to achieve his goal of providing  consumers with produce that is not only as fresh as possible but also safe to eat  – and as he said, "there is nothing better than that!"
I couldn't agree more.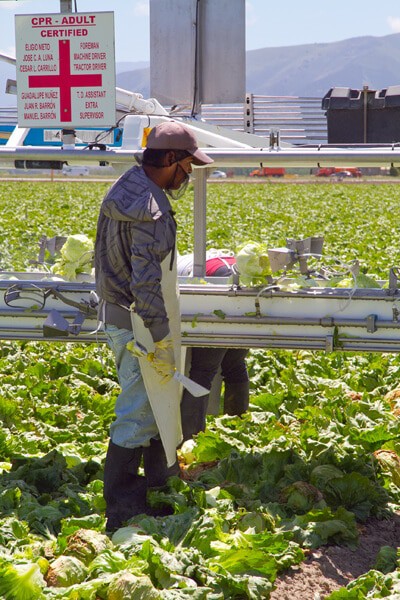 From the fields we headed to the processing plant, a short drive from the fields. First up was an introduce to the "food lab" where Gil Oetzel, Director of New Product Development had a little quiz for us – matching the lettuces displayed on the table with their names! As an added incentive the person with the most correct answers would win a prize that they would announce that evening at the salad party!  It was not only fun, but was a great way to see all the different lettuces and vegetables  that Dole works with – from large heads to small baby lettuces – all in all,  Dole offers 30 different salad blend varieties and 10 salad kits – enough variety so that you could eat an entirely different salad every day of the month! So be warned folks… there WILL be salad!!!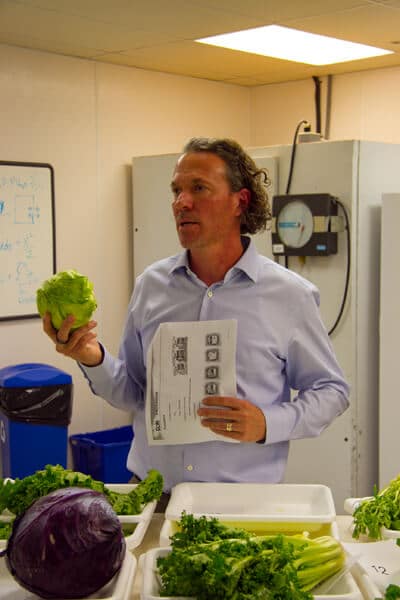 After completing the quiz (with great hints from Gil!) We headed to the observation deck of the processing plant. We saw the entire process – washing, drying, bagging, etc. It was fascinating and impressive – the emphasis on quality and safety was evident at each step of the process.  It's truly amazing that within the space of only a  few days, a head of lettuce can be harvested, cleaned and packaged  in California and be on the shelves of a market in New York – ready to eat. 20 years ago that simply wouldn't have been possible – so a huge "shout out" to food technologists everywhere – you guys rock!
After our immersion in Salad 101 we headed back to the hotel and prepared to feast on …. salads!!! Since a certain "someone" was too  busy talking and eating (and not necessarily in that order!) I don't have any photos of our party to share with you. Suffice it to say, it was all delicious and some of those recipes will be making an appearance here at the Table! Oh, and the salad quiz?? I won! So it's official… I am now a certified Salad Geek!!!
On the trip home,  I thought back over all I had seen, the conversations I'd had, and what my "take aways" from the trip were. In a nutshell,  this trip was about "passion."  In every presentation, every discussion, and every conversation it was there –  the people at Dole are truly  passionate about providing the highest quality vegetables  to their customers and are dedicated to helping Americans incorporate more of them in their diets – a worthy goal and one that I am only too happy to support. So get ready folks, we are gonna be getting our "Salad'tude" on!!
Disclaimer: Dole provided transportation, lodging and meals for this trip. All opinions however, are my own based upon my experience.