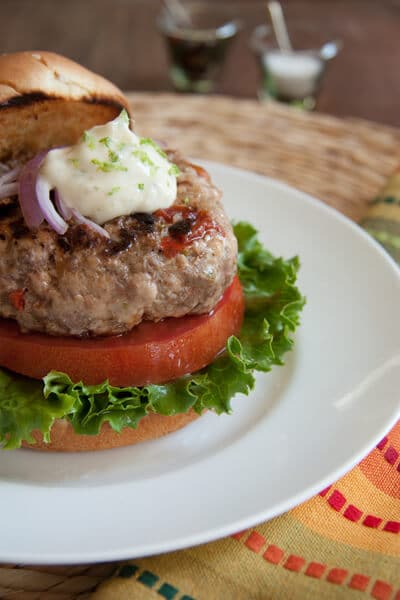 It's finally here!!!!
Memorial Day Weekend. A time when we reflect upon the tremendous sacrifices so many Americans have made  in the defense of freedom. It also marks the start of Grilling Season – and personally I can think of no better way to honor those who have sacrificed so much then by engaging in a truly American tradition – the backyard barbeque.
I thought I'd kick off  grilling season  with -what else?  A burger!! But not just any burger – a Cuban Burger with Lime Mayonnaise – flavored with sofrito and is finished off with a tart and tangy mayonnaise. Recently the kind folks at Old Havana Foods sent me a sample pack of their products – Sofrito, Frijoles Negro and their fabulous Chili Cubano and I have been having a blast playing with them all! Over the last few weeks, I've found myself constantly reaching for the jar of Sofrito – happily spooning it  out  to add to all kinds of dishes – eggs, sauces, marinades … and this Cuban Burger with Lime Mayonnaise.  Now, in case you aren't familiar with it, Sofrito is   the "mirepoix" of Cuban cuisine – a mixture of onions, peppers, tomatoes, herbs and spices. The recipes for it vary and every Cuban  family has their own particular version –   but they all have the same thing in common – they all add an amazing depth of flavor to whatever they are added to!!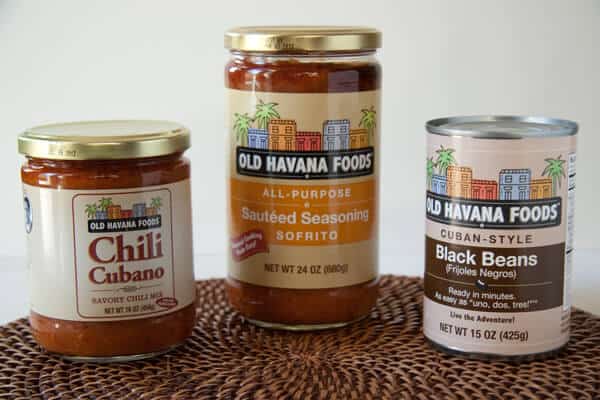 For this burger I started  out with a mixture of half ground pork and half ground beef with a generous helping of Sofrito mixed in. Fresh slices of tomato,  crisp green lettuce and thin slices of red onion are topped with mayonnaise flavored with lime and garlic – a perfect counterpoint to the rich flavors of the meat.
So, here's hoping  that you all have a wonderful Memorial Day weekend grilling up your favorite foods…. let the grilling begin!!! I posted this as part of the Get Grillin' with Family Fresh Cooking and Cookin' Canuck, sponsored by Ile de France Cheese, Rösle, Emile Henry, Rouxbe and ManPans. Stop on by for your chance to win!

Cuban Burgers with Lime Mayonnaise
(serves 6)
3/4 lb. ground pork
3/4 lb. ground beef
6 Tbsp. sofrito
1 tsp. salt
1 tsp. pepper
6 slices of tomato
6 loose leaf lettuce leaves
1 red onion, cut into 1/4 inch slices, rings separated
6 hamburger buns or Cuban rolls
Lime Mayonnaise
1/2 cup mayonnaise
juice and zest of 1 lime
2 garlic cloves, mashed to a paste
salt and pepper to taste
Directions:
Pre heat the grill.
In a medium bowl combine the pork, beef , sofrito and salt and pepper.
Using your hands, knead mixture together until thoroughly combined. Form into 6 (4 oz. ) patties and set aside.
To make the mayonnaise, combine the mayonnaise, juice, zest and garlic in a small bowl. Taste and adjust seasonings.
Grill burgers over medium high heat until cooked through – about 4- 6 minutes per side.
Toast buns on the grill and spread both cut sides with mayonnaise. Add lettuce, tomato, onion, meat patty and the bun top.
Eat!!!