It's still Superbowl week here at the Table and now we are talking about … desserts – which in my house typically means "cookies". Yep, my husband and teenage sons  are certified "cookie monsters" and can polish off 3 dozen cookies in a single evening. So, for the Superbowl  the choice of what "dessert" to have on hand was easy  – cookies!! But not just any cookie. Nope, no dainty little shortbread numbers or decorated sugar cookies for this soiree. No sirree.  This event demands  something a bit more substantial… and I came up with what I think(?) is the perfect cookie.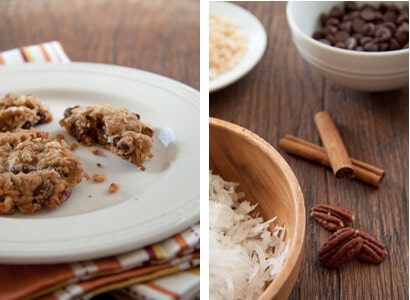 Based on a traditional Ranger cookie I "tweaked" it  a little here and there – I added a little cinnamon, pecans and chocolate chips which resulted in a higher "goodies to dough" ratio – the cookies aren't as dense as a traditional chocolate chip and have a decided "snap and crackle" from the puffed  rice cereal.  The coconut provides a little additional moisture and chewiness and the chocolate and pecans… well, they are just in there because I love them!!!! If chocolate isn't  quite your "thing" you could easily substitute dried cranberries, cherries, dates or apricots. You could also add crushed potato chips or pretzels  instead of the rice cereal – after all, it's the Superbowl and substitutions are allowed!!!
[print_this]
Crispy Chocolate and Coconut Cookies
Because of the high "add in" to dough ratio of these cookies, this  dough is going to be crumbly – that's ok, it's how it is supposed to be! Unlike regular chocolate chip cookies, you can't drop these with just a teaspoon,  it won't work – use a 1 oz. (that's a #30) scoop. If you don't have a scoop, wet your hands and form the dough into balls and place on the cookie sheets.
(Makes 3 dozen)
1/2 cup unsalted butter, softened
1/2 cup dark brown sugar
1/2 cup granulated sugar
1 egg
1 1/4 cup flour
1/2 tsp. baking powder
1/2 tsp. baking soda
1 tsp. salt
1 tsp. vanilla
1 tsp. cinnamon
2 cups crisp rice cereal
1 cup shredded coconut (sweetened or unsweetened)
1 cup chocolate chips
1/2 chopped pecans
Directions
Pre heat the oven to 350 degrees and line 3 sheet pans with parchment paper.
In a medium bowl sift together the flour, baking powder, baking soda, salt and cinnamon. Set aside.
In the bowl of a mixer (or a large bowl if using a hand mixer) add the butter for one minute.
Add both sugars and beat until light and fluffy.
Add in the egg and the vanilla and beat until thoroughly combined.
Add the flour mixture and beat until incorporated.
Stir in the cereal, coconut, chocolate chips and pecans.
Using a 1 oz. scoop, pack the dough into the scoop and drop onto a sheet pan lined with parchment in, spacing about 2 inches apart.
Flatten mounds slightly with your hand.
Bake in a 350 degree oven for approximately 10 minutes or until the edges are golden brown.
Cool on a rack. Store in an airtight container.
[/print_this]