Last updated on March 26th, 2018 at 01:55 pm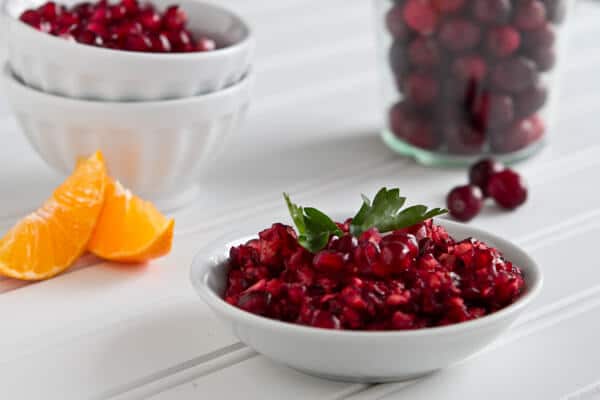 It's T – 23 hours until the Big Day!!
And of course, you are working like a maniac to get it all done right? Yes, I know – "been there, done that".
Looking at your list (cuz of course you've got one, RIGHT??) you see "cranberry sauce" and think – "nope, I am not cooking  one more thing" and eye that can of cranberry sauce sitting on the counter with your pen poised eagerly over the "done" portion of the list.
But don't do it – really.
You (or someone else) has spent time and money to make a fabulous turkey so it makes no sense to muck it up with a canned sauce.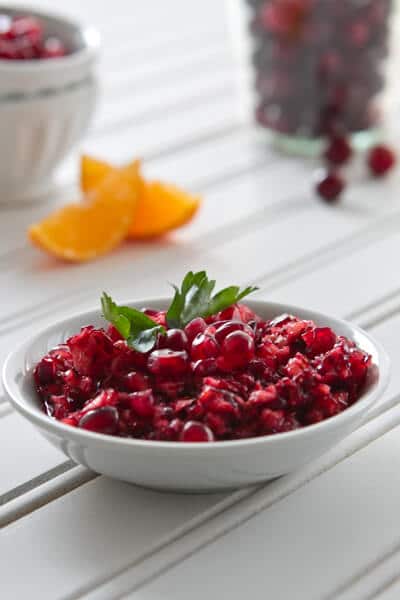 But you don't want to cook anything and believe me, I understand that. So, here is an easy relish that you can whip up in 10 minutes and only dirty one bowl – the one in your food processor.
And for those of you who like to "wing it" ( meaning you haven't even really thought about what to cook for the big day) – I've gone through the archives and have a list of recipes for Turkey day… just in case you need them!!
Starters and Sides
Greens with Pomegranate Braised Figs
Easy Cheese and Herb Bread Pudding
Butternut Squash and Cranberry Pilaf
Desserts
Pear Tart with Ginger and Vanilla
And finally, I want to wish you all a happy and joyous Thanksgiving and may you "gobble till you wobble!"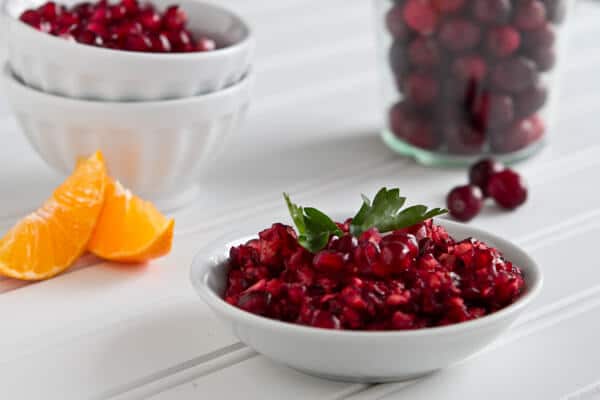 Cranberry and Pomegranate Relish
If you don't have pomegranate molasses, you can boil down 1/2 cup of pomegranate juice to 3 Tbsp. If time is really short, just substitute the pomegranate juice for the orange/tangerine juice and add the zest of the orange or tangerine!
Ingredients
3

cups

cranberries

1

cup

pomegranate arils

3

Tbsp.

sugar

3

Tbsp.

fresh orange or tangerine juice

3

Tbsp.

pomegranate molasses
Instructions
Combine the cranberries, sugar, orange juice and pomegranate molasses in the bowl of a food processor. Pulse until the cranberries are coarsely chopped into pieces about 1/4 inch in size. Scoop out of the processor and stir in the pomegranate arils.