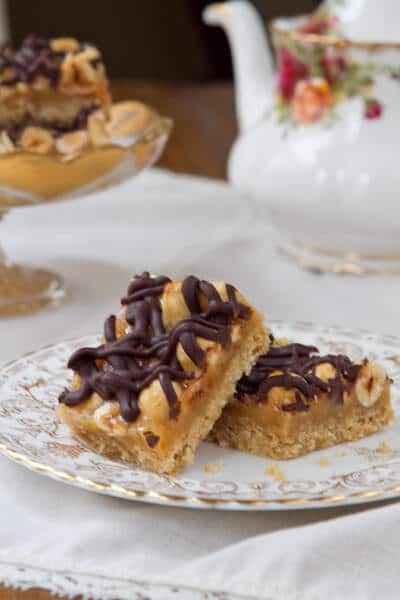 "Tis the season for… baking!!!
And this year I am starting ahead of time… which means I have a little time to experiment with new and different treats while still leaving plenty of time for baking the seasonal standards in our house – decorated sugar cookies, gingerbread cookies, spritz cookies, etc. etc.  I came across this recipe  for Chocolate, Hazelnut and Orange Cookie Bars a couple of years ago and had bookmarked it to try – I adore chocolate and orange together and the addition of the hazelnuts? Well, let's just say that that pretty much sealed the deal for me… oh, and the fact that is no rolling or scooping required for these Chocolate, Hazelnut and Orange Cookie Bars!!!
The result? These were amazingly good and surprisingly easy to make and because they are so rich the recipe makes a lot so they are perfect for bringing to a cookie exchange or as an addition to your cookie platter!
In the interests of full disclosure, I admit that you will need a candy thermometer for these bars and  I know that might be a bit scary – yes, I know "easy" and "candy thermometer" are generally not included in the same sentence. But seriously,  don't let this scare you!! A candy/deep fryer thermometer (l like this one from OXO) makes the process very, very easy… and pretty much foolproof.  No, the only problem is going to be not eating these Chocolate, Hazelnut and Orange Cookie Bars  all by  yourself!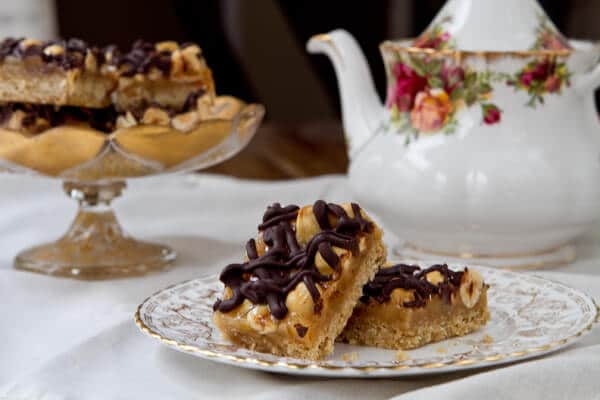 Chocolate, Hazelnut and Orange Bar Cookies
Adapted from Bon Appetit.
1 hrPrep Time
40 minCook Time
1 hr, 40 Total Time
Ingredients
2 cups flour
1 cup (packed) golden brown sugar
1/4 tsp. salt
3/4 cup plus 6 Tbsp. unsalted butter, cut into 1/2 inch cubes
2/3 sugar
6 Tbsp. heavy whipping cream
1/4 cup orange blossom honey
zest of 1 orange
1/4 tsp. salt
5 oz. toasted and husked hazelnuts, coarsely chopped
1/4 cup candied orange peel, chopped
1/2 cup semi sweet chocolate chips
Instructions
Pre heat oven to 350 degrees. Line a 13x9x2 metal baking pan with foil and set aside. Combine the flour, brown sugar and salt in the bowl of a food processor. Process for 5 seconds. Add 3/4 cup of butter and, using on and off turns, process until the mixture resembles coarse meal. Transfer to foil lined pan. Press the mixture evenly onto the bottom of the pan ( I found a small offset spatula works great for this!) Bake for approximately 20 minutes until the crust is golden brown.
Bring the remaining 6 Tbsp. butter, 2/3 cup of sugar, honey and orange peel to a boil in small saucepan, stirring until sugar dissolves and the butter melts. Boil the mixture for approximately 6 minutes until the candy thermometer registers 230 degrees. Stir in the nuts and the candied orange peel. Pour the hot mixture over the crust evenly. return the pan to the oven and bake until the nut mixture is bubbling, approximately 10 minutes. Remove pan from the oven and let cool for 20 minutes.
Place the 1/2 cup chocolate chips in a small ziploc bag. Heat in the microwave at 40% power for 30 seconds. Turn bag over and microwave for another 30 seconds. Continue to microwave until the chips have melted. Let cool for a few minutes until cool enough to handle. Snip a small bit from the corner of the bag and drizzle chocolate over the nut mixture. Place pan in the refrigerator until the chocolate hardens, approximately 30 minutes. Remove pan from the refrigerator and, using the foil, lift the bars from the pan and place on a cutting board. Using a sharp knife, cut the bars into 1 1/2 inch squares. Cookies can be made up to 3 weeks ahead. Store in an airtight container in the freezer. Bring cookies to room temperature before serving.
7.6.4
166
https://www.acommunaltable.com/chocolate-hazelnut-and-orange-cookie-bars/