I am going rogue.
This Valentine's there won't be any rich, decadent and intense chocolate desserts to finish off the evening – I honestly don't think I could manage it after feasting on this luscious Champagne Fondue. However, there will be chocolate involved since it simply wouldn't be Valentines Day without a little chocolate so you can rest easy on that score. Now some might argue that after that fondue, who needs dessert?
I would not be one of them. Uh uh…not in this lifetime.
But I do know that after a rich dinner, I want something a bit lighter,  which isn't always easy to do if it involves chocolate. So, when I came across this recipe in Amanda Hesser's "The Essential New York Times Cookbook" I knew I'd found the perfect dessert – a light chiffon cake flavored with chocolate and hint of orange and vanilla that you bake in a loaf pan.  This was everything I was looking  for -light, flavored with chocolate and citrus and  not too big – perfect!!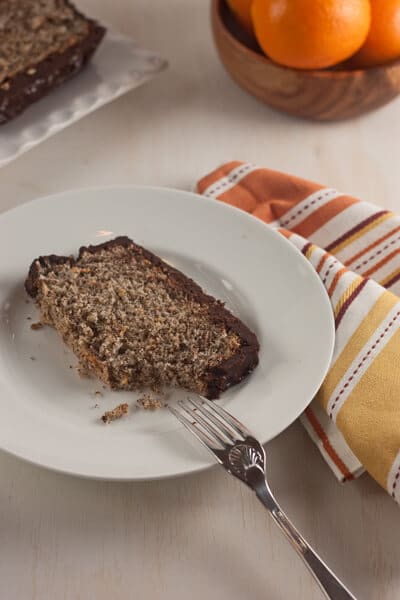 I'd received this cookbook as a gift this year and when I sat down to read through  it I thought I'd find a few recipes I would enjoy.
I was wrong.
I found dozens.
After attaching about 50 or 60 sticky notes (in the first 100 pages!!) I knew this cookbook was a  winner. Ms. Hesser's instructions are clear and concise  and the headnotes are as informative and interesting as the recipes!! So, if you are looking to expand your collection of cookbooks or are looking for a good cookbook to give as a wedding, shower or graduation gift, this one would make an excellent choice! (Note: this is not a paid review – I really like this cookbook and so I wanted to share it with you all!)
Valentine's Menu
Pomegranate Royale (pomegranate liqueur and Champagne)
Chocolate and Orange Chiffon Cake
[print_this]
Chocolate and Orange Chiffon Cake
(Serves 8)
This recipe is from Amanda Hesser's "The Essential New York Times Cookbook, Classic Recipes for a New Century" and titled" Allegretti Chiffon Cake" . I made one small adaption by changing the the frosting. Instead of the vanilla buttercream with chocolate drizzle called for in the recipe, I made a basic ganache flavored with Grand Marnier and topped it with a sprinkle of sparkling sugar and some candied orange peel.
Cake:
1 cup plus 2 Tbsp. cake flour
3/4 cup plus 2 Tbsp. sugar
1 1/2 tsp. baking powder
1/2 tsp. salt
1/4 cup vegetable oil
2 large egg yolks
6 Tbsp. cold water
1 tsp. vanilla extract
1 1/2 Tbsp. grated orange zest
1/2 cup egg whites (about 4 eggs)
1/4 tsp. cream of tartar
1 1/2 oz. bittersweet chocolate, grated
Ganache:
4 1/2 oz. bittersweet chocolate, chopped
1/2 cup heavy cream
1 Tbsp. Grand Marnier (optional)
Garnish (optional)
1 tsp. sparking white sugar
2 Tbsp. chopped candied orange peel
Directions for Cake:
Pre heat the oven to 325 degrees. Grease a 9 x5 inch loaf pan and line the bottom with parchment paper. To line the bottom of the pan, place the pan on the parchment paper and trace along the bottom with a pencil. Cut out with a pair of scissors, cutting inside the line you drew. Set pan aside.
Sift the first four ingredients (through salt) into a large bowl. Make a well in the center of the flour and add the oil, egg yolks, water, vanilla and orange zest and beat with a whisk until the mixture is smooth.
In another large bowl, beat the egg whites with the cream of tartar until stiff peaks form (about 3 minutes).
Gently fold in the flour mixture until it is just combined. Sprinkle the chocolate in and fold gently a few times to distribute the chocolate.
Pour the batter into the prepared pan and place in the oven.
Bake for approximately 50 to 55 minutes or until the top is golden and springs back when lightly touched.
Remove from oven and turn the pan upside down to cool, resting the cake between the edges of two other pans.
When cool, run a thin knife around the sides of the pan to loosen the cake. Turn the pan over to release the cake, rapping the bottom of the pan to loosen it if needed.
Peel off the parchment paper,  turn the cake right side up and place on a serving platter.
Make the ganache:
In a small saucepan, combine the chocolate and the cream. Heat over medium low heat, stirring occasionally until the chocolate is melted and the mixture is smooth. Stir in the Grand Marnier if desired.
Let mixture cool slightly until it reaches a spreading consistency. Cut 3 strips of parchment paper 10 inches long by 2 inches wide. Cut one strip into (2) 5 inch lengths. Place the strips under the cake to catch any drips from the ganache and frost the cake with the ganache ( I find a using a thin offset spatula works really well for this).
When ganache has firmed up, gently remove the strips. Sprinkle with sparking sugar and candied orange peel if desired.
Serve and enjoy!!
[/print_this]
Other Chocolate Orange Cakes you might like –
Smitten Kitchen –  Chocolate Chunk Orange Cake
Baking Bites – Chocolate Orange Cupcakes
The Wednesday Chef – Nigella Lawson's Chocolate Orange Drizzle Cake