Ditch the Velveeta in favor of this Chili Con Queso! Made with real cheese and flavored with roasted tomatoes and hatch chiles, you will never make Chili Con Queso any other way again!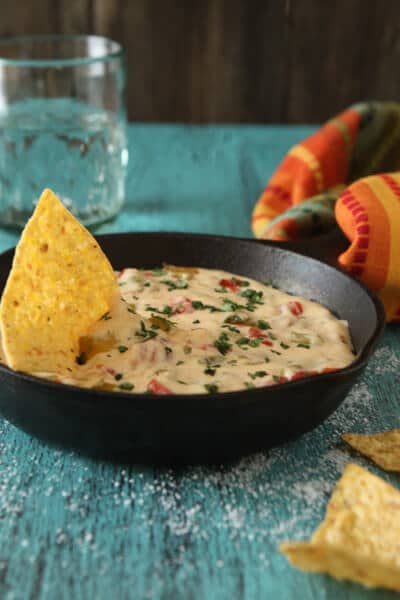 This week, we've been having a bit of a "fiesta" around here… the occasion being the arrival of an ENTIRE case of Hatch chiles from Melissa's Produce!
If you haven't become acquainted with Hatch chiles, let me introduce you….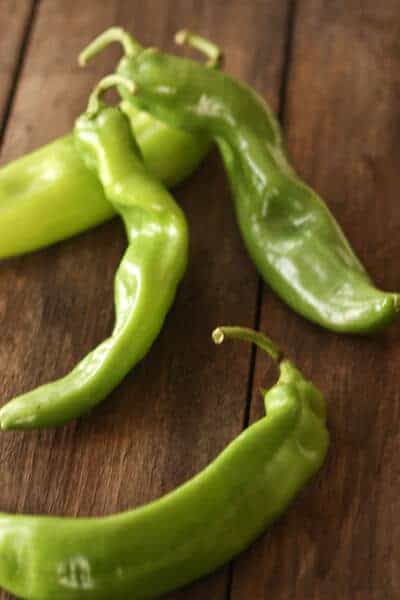 These my friends are Hatch chiles. Now, you might not think these are the most beautiful things you've ever seen – but remember, looks can be deceiving. These  famous southwestern chiles  are named after the original growing area of Hatch, New Mexico and are prized not only for their meaty flesh but also for their typically mild- medium heat. When roasted, they have an almost floral aroma and a touch of sweetness to them – and let me tell you they are the BEST roasted chiles you will ever have.
End of discussion.
So, why all the fuss and bother now? Well, these chiles are only in season for a very short time – and so "those in the know" buy up a bunch, gorge themselves on them and, if they are smart, freeze some of the roasted chiles for later.
Which is exactly what I did – in that order.
Now, if the idea of roasting a caseload of chiles is NOT on your top 10 Favorite Things to Do in the World list well… you are going to love me for this one… there are  "chile roasts" going on all over the place where you can buy already roasted Hatch chiles.The wonderful people at Melissa's Produce have even put together a list of various "chile roastings" around the country for your convenience.
Uh huh, you heard that right – you can buy FRESHLY ROASTED Hatch chiles and then can get right down to the best part – the cooking and eating!!!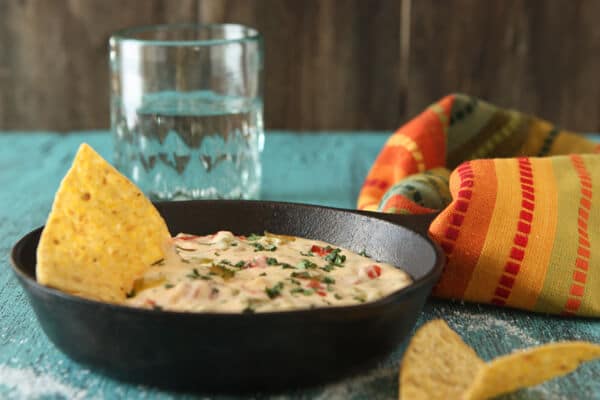 I decided to start with the classics – or in this case Chile Con Queso – which to my mind is one of the best ways to start off any fiesta. But this is NOT your Velveeta and canned tomato version. No siree. These chiles deserve something much better – and that is exactly what they got. This just "might" be the best Queso I have ever made and although it requires a few more steps then cutting up some cheese, opening a can and nuking it in the microwave I can promise you it is worth the effort.
Really.
Chili Con Queso
Ditch the Velveeta in favor of this Chili Con Queso! Made with real cheese and flavored with roasted tomatoes and hatch chiles, you will never make Chili Con Queso any other way again!
Ingredients
1

cup

finely chopped onion

2

Tbsp.

canola oil

2

Tbsp.

flour

1

tsp.

cumin

1

cup

whole milk

2

cups

grated sharp cheddar cheese

do not use pre shredded

3

roma tomatoes

3

Hatch chiles

3

Tbsp.

minced cilantro

optional

Tortilla chips or fresh tortillas for scooping and eating
Instructions
Pre heat the broiler.

Line a sheet pan with foil.

Cut the tomatoes in half lengthwise and place cut side down on foil lined pan.Place chiles on pan and place pan under the broiler.

Broil for 5 - 7 minutes until skin is blackened. At this point the tomatoes will probably be done. If so, remove them and place them in a ziploc bag. Turn the chiles over to roast on the other side.

Roast for an additional 5 - 7 minutes or until chiles are dark brown and the skin has blistered.

Remove chiles and add to the ziploc to steam.

When the tomatoes and chiles are cool enough to handle, remove them from the ziploc.Skin and de seed the tomatoes and chiles and cut into bite size pieces. Set aside. (This can be down a day ahead. Refrigerate chiles and tomatoes separately(.

In a medium saucepan heat the canola oil over medium heat.

Add the onions and cook - if onions start to brown lower the heat. Cook for 4- 5 minutes or until the onions are softened and translucent

Increase the heat to medium high and add the flour and cumin, stirring until a paste forms.

Reduce heat to low.Add the grated cheese a tablespoon at a time stirring to melt the cheese. When the cheese has melted, add another tablespoon of cheese. Don't add the cheese all at once - the key to a smooth, luxurious queso is cooking it over low heat and adding the cheese gradually.

When all the cheese has been incorporated, add the chiles and tomatoes.Taste and add salt and pepper if desired. If the queso is too thick, add a little milk to thin it out.Serve hot with tortilla chips and/or fresh corn tortillas.
Nutrition
Calories:
1591
kcal
|
Carbohydrates:
72
g
|
Protein:
72
g
|
Fat:
114
g
|
Saturated Fat:
54
g
|
Cholesterol:
261
mg
|
Sodium:
2002
mg
|
Potassium:
1537
mg
|
Fiber:
11
g
|
Sugar:
30
g
|
Vitamin A:
145.3
%
|
Vitamin C:
79.4
%
|
Calcium:
203.6
%
|
Iron:
43.4
%