A Silver Palate classic, Chicken Marbella is made with boneless thighs and is the perfect make-ahead meal. Easy enough for a weeknight, but impressive enough for a party – you just mix, marinate and bake!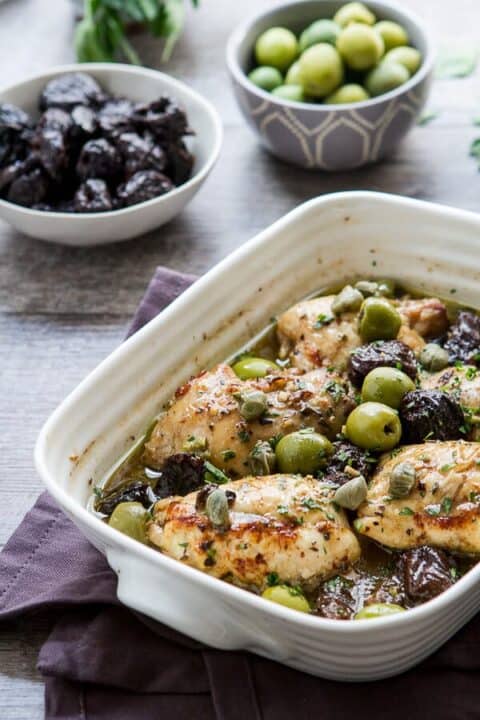 Like my Moroccan Chicken, this chicken Marbella recipe combines chicken and olives but adds a sweeter note in the form of earthy prunes. It's salty, sweet and a little sour – and utterly delicious!
Why this recipe works
The entire dish can be assembled up to a day ahead of time -which makes it perfect for parties or for busy weeknights.
This chicken dinner recipe has stood the test of time.
Substituting boneless thighs for a cut-up chicken allows for quicker cooking and makes this dish easier to eat and serve!
This is truly a "dump and go" recipe!
It's pretty!
What you will need: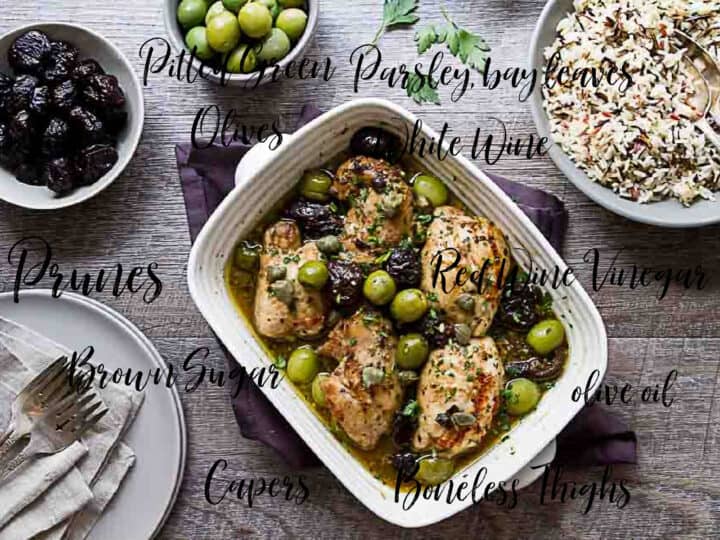 Chicken – I used boneless, skinless thighs but you could substitute bone-in thighs, breasts, and/or drumsticks.
Olives – I used pitted Castelvetrano olives for their buttery flavor and lush texture, but any pitted green olive will work. Just avoid the pimiento-stuffed ones!!!
Capers – the recipe will turn out just fine if you omit these, but if you have them, definitely add them – they add another dimension of flavor!
White wine – if you don't consume alcohol, you can leave this out and replace it with water. If you do decide to add the wine, a dry Sauvignon Blanc or Chardonnay works well.
Tip: Do NOT use "cooking wine" that is sold in most grocery stores in the same area where you find vinegar. And there is a reason for that – this stuff tastes terrible and will ruin whatever you are cooking!
How to make it!
In a large bowl ( I use a large Ziploc bag!) combine the chicken (pricked with a fork), garlic, oregano, salt, pepper, red wine vinegar, olive oil, prunes, olives, capers and bay leaves.
Stir it all together so the chicken is covered by the marinade ingredients. If using a Ziploc bag, just seal the bag and smush it around with your hands!
Stash it in the refrigerator overnight. No need to stir it – just let it sit!
Pull it out of the refrigerator about ½ hour before you plan to cook it.
Preheat your oven to 350 degrees.
Dump the marinated chicken in an 7 x 11 casserole dish. Arrange the chicken in a single layer in the baking pan.
Sprinkle the brown sugar over the chicken and pour the white wine around the chicken.
Bake for 30 – 45 minutes or until the chicken reaches an internal temperature of 165 degrees.
Remove from the oven. Using a slotted spoon, remove the chicken to a serving platter and spoon the olives, capers, and prunes around the chicken. Garnish with fresh parsley and serve.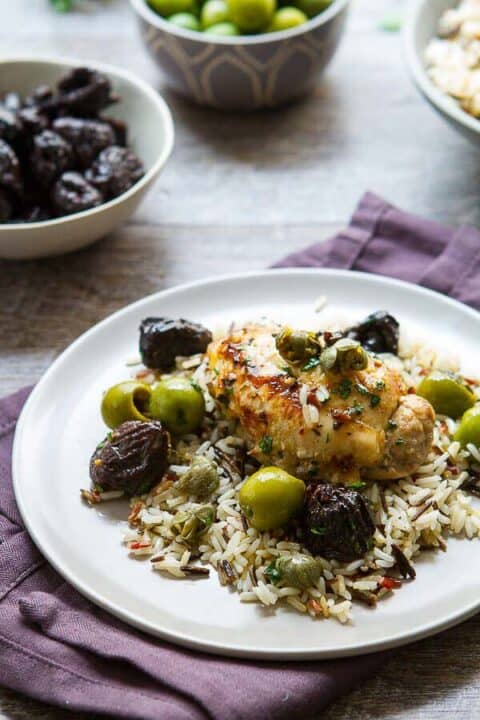 What is Chicken Marbella?
This recipe pretty much defined cooking in the late 1980s and is still the number one recipe from the Silver Palate Cookbook by Sheila Lukins and Julee Rosso.
Drawing on the Moroccan tradition of combining meat with fruit and olives (or in this case, prunes, olives, and capers. The dish has a sweet/sour and salty flavor that dances across your palate and appeals to just about everyone.
What to serve with this recipe
The wonderful thing about this recipe is that it is so flavorful you only need simple sides to complete the menu! A tossed salad, steamed green beans or broccoli make perfect additions. Round out the meal with….
Vodka Martini – this classic cocktail is the perfect start!
Stuffed Mushrooms – these lemon and parmesan flavored mushrooms are so simple and so light, they are always are the first appetizer to go!
Rice Pilaf with Orzo – an easy side dish for soaking up that sauce!

Can you freeze it?
Yes, you can easily freeze this recipe. Let it cool and then transfer to a freezer-safe container. Tip: try and find a container that is "just big enough" to hold it – you want to minimize the amount of air space in the container to prevent freezer burn.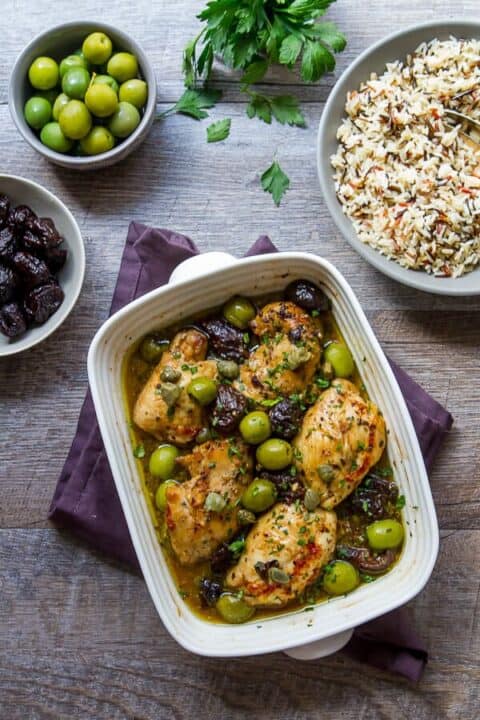 Craving more?
Get my newsletter and follow along on Pinterest and Facebook for more fabulous recipes and tips from A Communal Table!
Ingredients
1 ½

pounds

boneless chicken thighs

4

cloves

garlic

peeled and smashed

1

Tablespoon

dried oregano

1

teaspoon

salt

½

teaspoon

pepper

¼

cup

red wine vinegar

¼

cup

olive oil

½

cup

pitted prunes

½

cup

pitted green olives

I used Castelvetrano olives

1

tablespoon

capers

drained

2

bay leaves

1

Tablespoon

brown sugar

½

cup

dry white wine

¼

cup

minced italian parsley
Instructions
Prick the chicken all over with a fork. In a gallon-sized Ziploc bag combine the chicken, garlic, oregano, salt, pepper, red wine vinegar, olive oil, prunes, olives, capers and bay leaves.

Seal the bag and squish everything around for a a minute or two to mix all the ingredients.

Refrigerate overnight.

To cook:

Adjust an oven rack to the upper third of the oven.

Pre heat the oven to 350 degrees

Transfer the contents of the ziploc bag into a 10 x 7 casserole dish.

Sprinkle the brown sugar on top of the chicken.

Pour the white wine around the chicken.

Bake the chicken for 35 – 45 minutes or until the chicken is cooked through. (165 degrees on a meat thermometer placed in the thickest part of the thigh).

Serve the chicken, spooning the sauce and the prunes and olives over the top and garnish with the parsley.
Recipe Notes
I tweaked the original recipe to yield more sauce (since it's sooo good) and significantly decreased the sugar.
In my oven, the chicken browned nicely when the rack was placed on the upper third of my oven. If your oven is a bit finicky, check the chicken after about 15 minutes. If getting too brown, place the chicken on a lower rack and continue cooking.
STORAGE: After cooking, Chicken Marbella can be stored in the refrigerator for up to 2 days. 
REHEATING: To reheat chicken marbella, cover the casserole with foil and re heat in a 350 degree oven until heated through.
FREEZING: Yes, you can freeze it! Just place the chicken and sauce in a freezer safe container, seal and label. To defrost: place in the refrigerator overnight and re heat as instructed above.
Nutrition
Calories:
819
kcal
|
Carbohydrates:
27
g
|
Protein:
38
g
|
Fat:
59
g
|
Saturated Fat:
13
g
|
Cholesterol:
222
mg
|
Sodium:
1382
mg
|
Potassium:
749
mg
|
Fiber:
3
g
|
Sugar:
15
g
|
Vitamin A:
915
IU
|
Vitamin C:
7.9
mg
|
Calcium:
60
mg
|
Iron:
2.6
mg
Save
Save