Happy 2012!!
I wish each of you a truly happy, healthy and joyous 2012!!
2011 was a big year for me – I hit a milestone birthday and completed  my degree in Dietetics!
Like most people I ended 2011 reflecting upon what I'd accomplished and what I wanted to pursue in  2012 – and it's  no surprise that "food" figured pretty heavily in my plans! One of my resolutions was to include more vegetarian fare in my diet. Looking around the web I discovered that I am not alone in vowing to  "eat better "  in the coming year.
In fact, this goal always ranks in the top 5 New Year's Resolutions! Maybe that's because just about everyone is feeling a little guilty about all their holiday indulgences or because their pants are feeling just a bit tighter than they did in October. But whatever the reason, it seems everyone is looking for a nutritious and healthy start to the New Year… so I decided to start it off with this unusual Celeriac and Lentil Salad with Hazelnuts and Mint. The recipe comes from "Plenty – Vibrant Recipes from London's Ottolenghi" by Yotam Ottolenghi – and the recipes in this book definitely live up to the title.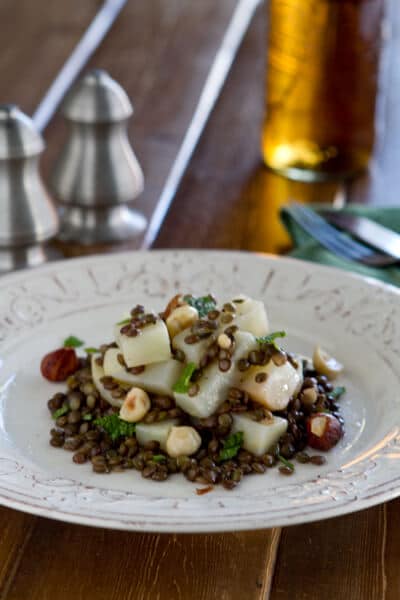 The combination of celeriac and lentils isn't one  I would  have thought of… but it works.. deliciously. I served it warm with a simple green salad and my Green Goddess Dressing. It was simple, it was easy … and deliciously nutritious!!
Yields 4 servings
Celeriac and Lentil Salad with Hazelnuts and Mint
This salad is terrific either warm or at room temperature. If making ahead, let the salad come to room temperature before serving.
30 minPrep Time
35 minCook Time
1 hr, 5 Total Time
Ingredients
1/3 cup hazelnuts
1 cup Puy lentils
3 cups water
2 bay leaves
4 fresh thyme sprigs
1 - 11/2 lb. celeriac, peeled and cut into 3/8 inch sticks
3 Tbsp. olive oil
3 Tbsp. hazelnut oil
3 Tbsp. high quality red wine vinegar
4 Tbsp. chopped fresh mint
salt and black pepper
Instructions
Pre heat the oven to 275 degrees. Place the hazelnuts on a sheet pan and roast in the oven for about 15 minutes until lightly toasted. Cool. Chop coarsely and set aside.
In a medium saucepan, combine the lentils, water bay leaves and thyme sprigs. Bring to a boil and reduce to a simmer. Cook for 15 to 20 minutes or until the lentils are tender but still firm.
While lentils are cooking, combine the olive oil, 2 Tbsp. hazelnut oil and vinegar in a large bowl. Season with salt and pepper and whisk to combine.
When the lentils are cooked, drain them, removing the bay leaves and thyme sprigs. Add the lentils to the oil and vinegar dressing while the lentils are hot. Stir to combine.
Fill the same saucepan with water and bring to a boil. Add the celeriac and cook for 8 - 12 minutes until the celeriac is tender but still firm. Drain celeriac and add to the lentils. If serving immediately, add 1/2 of the hazelnuts and mint, toss and divide evenly among 4 plates. Drizzle with the remaining hazelnut oil and garnish with the remaining hazelnuts and mint.
If making ahead, reserve all of the hazelnuts and mint and stir in just before serving. You may want to add a bit more vinegar to the lentils and celeriac just before serving.
7.6.4
115
https://www.acommunaltable.com/celeriac-and-lentil-salad-with-hazelnuts-and-mint/