WOOT!! We are celebrating over here at the Table!
I know, I know… things have been REALLY quite around here haven't they?? But there was a reason, a very good reason! Over 8 years ago, I decided to go back to school.  Hundreds of hours later (ok, closer to 1200 but who's counting??) I am happy and relieved!!) to say that I am FINALLY DONE!!! Although I finished my degree requirements in May  I still had one more hurdle … passing the registration exam.
And  as of this week I passed my registration exam and  now have my DTR credential (aka Dietetic Technician, Registered).
YEE HAW!!!!
But lest you worry, things around here won't be changing… I 've not given up saturated fat, sodium, sugar or any of the other "causes de jour". My "food philosophy" (if you can call it that) remains unchanged.   So what will change? I will be posting on a more regular basis for starters –  I have a backlog of things I can't wait to share with all of you !!! Also, if you have nutrition questions, feel free to ask!!!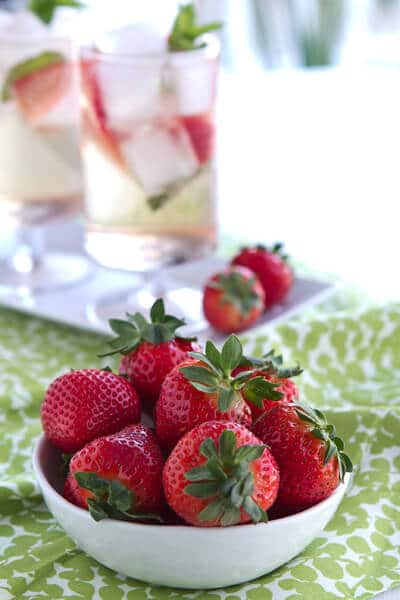 So, since I can't celebrate with you all in person, I have a little "virtual" Strawberry Faujito for you! So why "faujito"? Well, this little cocktail (or mocktail if you prefer) seems such a departure from the traditional mojito I just didn't feel right calling it that… and after all the studying I've been doing over the past several weeks my brain is a little fuzzy… and it's not because of the "faujito's"!
Cheers!!!
Strawberry Faujito
This recipe is more of a "guide" than a specific recipe. You can easily make a non alcoholic version by omitting the rum so it's perfect for parties where you have non drinkers! I used agave nectar and really liked the added dimension of flavor it imparted to the drink but feel free to use simple syrup if you like.
Ingredients
6

large strawberries

hulled and cut in half

8

large fresh mint leaves

2

mint sprigs

optional

2

Tbsp.

agave nectar OR simple syrup

3

oz.

Bacardi Razz Rum or white rum

8 - 12

oz.

sparkling water

ice
Instructions
Place 6 strawberry halves in the bottom of two (8 to 12 ounce) glasses. Add 4 mint leaves to each glass. "Muddle" the strawberries with the mint (i.e. lightly crush the strawberries and mint). Add 1 Tbsp. agave nectar or simple syrup to each glass. Add 1 shot (1.5 ounces). Add ice. Pour about 4 ounces (or less depending upon size of ice cubes and glass) into each glass. Stir briefly. Garnish with mint sprigs if using.