Last updated on October 21st, 2018 at 10:37 am
Like most people, during the summer I like to keep it simple. Given the overwhelming abundance of fresh fruit and vegetables there is really no need to make things complicated and there are hundreds of dishes that don't require an oven when the the temperature rises.
Ah, but then there's dessert.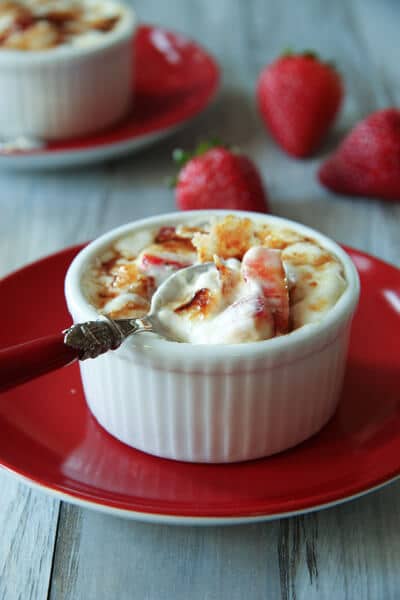 I love tarts, pies, cakes  and shortcakes during the summer – but sometimes, when the temperature heats up, the thought of turning on the oven is about as appealing as a two mile walk during mid August in Dallas (yes, I did it – and no, I won't ever do it again!!) So, besides ice cream, sorbet and fresh fruit dishes like  Fresh Peaches in Vanilla Syrup with Amaretto Sabayon my repertoir of no cook summer desserts is rather short, so I am always looking for new ideas that are easy, don't require an oven and make the most of summer's fruit bounty.
This is one of those desserts.
Every so often I come across a recipe and think "why didn't I think of that?" Well, this is one of those recipes.
Fresh fruit, cream and caramelized sugar.
So simple… and so perfect.
So, when I ran across this in the Los Angeles Times, I had to try it.
And I loved it…. and my family loved it.
Even the cat loved it (but that will be our little secret, ok?)
So try it.. I think you will love it too.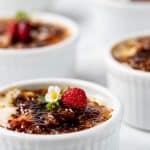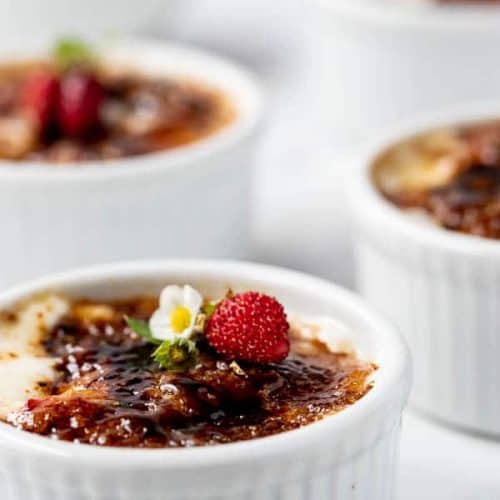 Bruleed Strawberries with Cream
This could also be made with fresh raspberries, or fresh peaches or even frozen fruit if you don't have fresh.
Servings
:
6
- 4 oz ramekins
Ingredients
1 1/2

lbs.

fresh strawberries

hulled and sliced

1

cup

heavy whipping cream

1/3

cup

turbinado sugar
Instructions
In a medium sized mixing bowl, whip the cream until stiff peaks form.

Gently fold in the strawberries.

Divide strawberry and cream mixture among 6 - 4 oz. ramekins.

Sprinkle generously with sugar, making sure to to heavily cover some areas of the top.

Using a torch, brulee the sugar until it melts and caramelizes. The cream will melt but don't worry - it's supposed to.

Refrigerate ramekins for a few minutes until the sugar hardens. Serve immediately.