As the days grow shorter and the weather grows cooler heartier dishes start making their appearance on menus around the country and my menus are no different. I am a huge fan of braised dishes – especially  those featuring short ribs. Over the past couple of years this humble cut has gained in popularity as more and more chefs ,in  search of lower priced cuts, rediscovered their meaty and satisfyingly beefy taste. Not only are they delicious, but they are also ideal for entertaining since they  are actually better if made ahead.  This recipe for short ribs is one of my favorites – tomatoes, garlic and herbs de Provence subtly infuse this dish with Mediterranean flavors  that pair  beautifully with any number of accompanying dishes.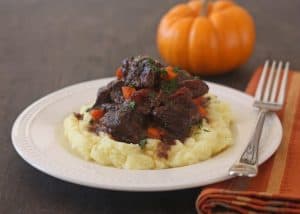 [print_this]
Braised Provencale Short Ribs with Creme Fraiche Mashed Potatoes
2 Tbsp. olive oil
6 lbs. meaty boneless beef short ribs cut into 1 1/2 inch cubes
1 large onion, finely chopped
1/2 cup finely chopped carrots
1/2 cup finely chopped celery
12 garlic cloves, peeled
2 Tbsp. all purpose flour
1 Tbsp. herbs de Provence
1 bay leaf
2 cups dry red wine
2 1/2 cups beef stock
1 – 141/2 oz. canned diced tomatoes in juice
1/2 cup water
Directions:
Pre heat oven to 325 degrees. In a large dutch oven heat the 2 Tbsp. olive oil over medium high heat. Season the ribs with salt and pepper.
Working in batches, add short ribs to pot and brown well on all sides. Remove ribs from pan and set aside.
Pour off all but 2 Tbsp. of the drippings (if needed add more oil if needed to equal 2 Tbsp.) and add the onion, chopped carrots, celery and garlic  and cook over medium high heat until the onion is translucent and vegetables are tender.
Add flour and herbs de Provence and stir. Add the wine and stock and bring to a boil, scraping up the browned bits on the bottom of the pan.
Add the tomatoes and bay leaf and return ribs to the pot along with any accumulated juices. Make sure the liquid is sufficient to barely cover the ribs. If short, add additional water.
Cover pot and place into the oven. Bake until the ribs are very tender, about 2 1/2 hours.
Remove pot from oven. If sauce appears thin, remove ribs from sauce and bring sauce to a boil , uncovered, over medium high heat until sauce thickens. Return ribs to sauce to heat through.
Serve over Creme Fraiche Mashed Potatoes.
Creme Fraiche Mashed Potatoes
3 1/2 lbs. Yukon Gold potatoes, peeled and cut into chunks
2/3 cup creme fraiche
1/4 cup butter, cut into chunks
Directions
In a large pot, place the potatoes  in the pot and cover with water and season generously with salt. Bring potatoes to boil.
Boil potatoes until tender and drain, returning potatoes to pot.
Heat potatoes over medium heat until dry.
Turn off heat and add butter, stirring until absorbed.
Add the creme fraiche and season with salt and pepper. Stir creme fraiche.
Taste and adjust seasoning.
Notes: Drying the potatoes over medium heat after draining results in fluffier potatoes. Potatoes can be made up to 2 hours ahead of time. Re warm over low heat, adding a bit of water if necessary.
[/print_this]