If you've been reading this blog for a bit, you've probably noticed that I don't use a lot of packaged food. Unlike many people, I am not "anti packaged/processed food" – it definitely has it's place. No, my  main reason for not using a lot of processed food is (1) I didn't grow up with it, and (2) there aren't many processed foods that I find are worth the convenience/flavor trade off.
But I am ALWAYS willing to try new things.
Like these beets from Melissa's Produce. Now these aren't really a "processed food" per se. The only ingredient is… beets. Ah, but beets that are already cooked AND Peeled. And delicious.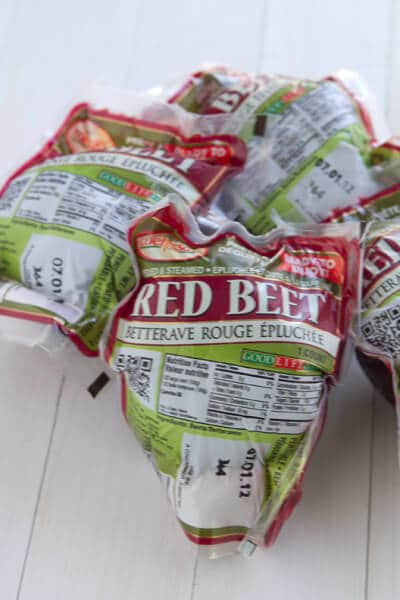 And if you aren't aware, I LOVE beets. But I am not in love with the whole "roasting/cooling/peeling" part – "been there, done that" as they say . Although my love of beets generally "beets" (ok, couldn't resist that one!!) my dislike of the whole roasting/peeling part it doesn't happen often enough.
But that  is going to change with these beauties – and they are beautiful – firm and luscious with a true "beet" flavor and nothing like those pantry staples – canned beets.
Through the miracle of modern technology (and yes, it truly is miraculous!!) these beets are not only cooked and ready to go but have an amazing shelf life – they can happily live in my refrigerator for months… ready and willing to participate in whatever bit of  culinary whimsy that comes into my head.
Which brings me to today's recipe. Beet Carpaccio.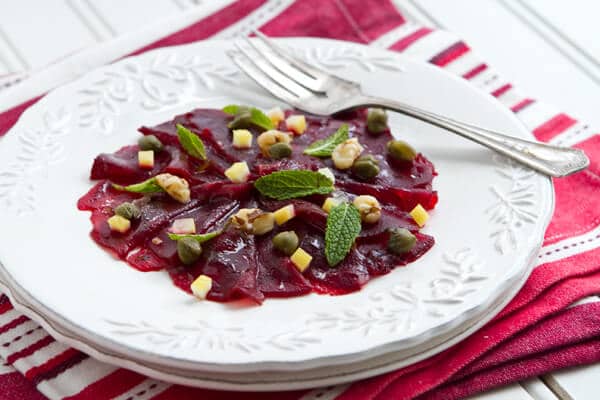 I first tasted beef carpaccio when I was in my early twenties and I was smitten – every time I saw it on a menu I had to order it and became somewhat of a carpaccio snob if you will – and as a result, came up with my own favorite version . But these days, with so many people cutting down or eliminating beef in their diets, it isn't a dish that I make very often.
So I thought," hmmm… why not try it with these beets?" With a couple little tweaks I had a plate of carpaccio ready in about 15 minutes. Yep, 15 minutes. Magic.
Which is good. Because this may become habit forming .. in a good way.
I ate a whole plate for lunch… and then went to work clearing out some space in the refrigerator for one of my new "staples".
Beet Carpaccio
Ingredients
4

Melissa's Produce Red Beets

1/4

cup

toasted walnut pieces

2

Tbsp.

preserved lemons cut into 1/4 inch dice

1/4

cup

fresh mint leaves

torn if large

1

Tbsp.

capers

Dressing:

2

Tbsp.

walnut oil

3

Tbsp.

white wine vinegar

1 1/2

Tbsp.

fresh lemon juice

salt and pepper
Instructions
Using a mandoline or food processor, slice the beets into 1/16th inch slices. (you can also do this with a knife but make sure your knife is extremely sharp!). Set aside.

In a small bowl, whisk together the white wine vinegar and the lemon juice and season with salt and finely ground pepper. Continue to whisk while slowly drizzling in the walnut oil. Set aside.

Fold slices of beet in half and place, slightly overlapping each other on an individual plate or serving platter. Scatter the walnuts, preserved lemon, mint leaves and capers over the beets. Drizzle with the dressing. Serve!