What's your favorite sandwich??
For me, it's got to be a good BLT – thick, applewood smoked or pepper bacon, REAL mayonnaise, crisp lettuce and of course, a luscious tomato.
And then of course, there is the bread.
And that is what this post is focusing on with this sandwich… the bread.. or a version of it at least, french toast to be exact.
Uh huh… you read that right, f-r-e-n-c-h t-o-a-s-t. But not the sweet, maple syrup drenched version but a savory version.
I have no idea where this idea came from, but I had a pan out and eggs cracking almost as fast as this idea crossed my mind.
And it tastes just as good as it sounds. Now, I'd be the first to argue that with the BLT, the bread is not the star of the show.. at best it's a great supporting actor – and that holds true for this sandwich as well. But what a supporting actor!!! Crispy, chewy, eggy, creamy… it all works beautifully with bacon, lettuce and tomato.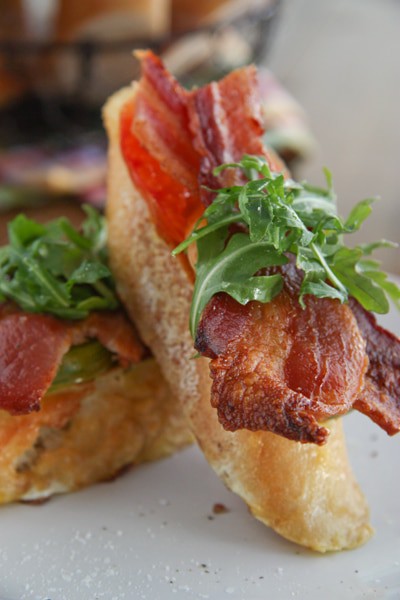 Don't forget, to enter the giveaway for the Ille de France cheese… the winner will be announced on Monday, October 17th so you have until Sunday to enter!
Bacon, Lettuce and Tomato French Toast
If your tomatoes are small, use 3 or 4. I did not spread the baguette slices with mayonnaise but this would be a wonderful addition! These open faced sandwiches are great for breakfast, brunch, lunch or dinner.
Ingredients
1 baguette, sliced into 1 inch thick slices
2 eggs
3/4 cup half and half or whole milk
2 Tbsp. grated parmesan cheese
1/2 cup grated gruyere or fontina cheese or a mixture of both
large pinch of freshly grated nutmeg
2 large tomatoes, cut into 12 slices
1 1/2 cups arugula
2 Tbsp. olive oil
1 Tbsp. fresh lemon juice
Salt and freshly ground pepper
Instructions
In a large bowl, combine the eggs and the half and half or milk. Beat together until eggs are thoroughly incorporated. Season with salt, pepper and the nutmeg. Add the cheeses and mix.
Add the baguette slices and turn to coat. Let sit for 30 minutes or overnight.
Pre heat the oven to 200 degrees. Line a sheet pan with foil and set aside.
In a medium bowl, toss the arugula with the olive oil and drizzle with the lemon juice. Season with salt and pepper. Set aside.
In a large saute pan, cook the bacon over medium heat until crisp. Remove and drain on paper towels.
Pour off all but 1 Tbsp. of the bacon fat. Heat the pan over medium high heat. Add several of the baguette slices and cook until browned and crisp on the bottom (don't crowd the pan) Flip the slices over and cook on the other side until golden brown. Remove baguette slices and place on the sheet pan and put into the oven to stay warm until all the baguette slices have been cooked.
Continue cooking the remaining baguette slices until they are all cooked.
Remove pan from the oven and place two baguette slices on each of 6 plates. Top with a tomato slice, 1 slice of bacon and a small mound of the arugula. Serve!
Copyright A Communal Table - www.ACommunalTable.com