What's your favorite sandwich??
For me, it's got to be a good BLT – thick, applewood smoked or pepper bacon, REAL mayonnaise, crisp lettuce and of course, a luscious tomato.
And then of course, there is the bread.
And that is what this post is focusing on with this sandwich… the bread.. or a version of it at least, french toast to be exact.
Uh huh… you read that right, f-r-e-n-c-h t-o-a-s-t. But not the sweet, maple syrup drenched version but a savory version.
I have no idea where this idea came from, but I had a pan out and eggs cracking almost as fast as this idea crossed my mind.
And it tastes just as good as it sounds. Now, I'd be the first to argue that with the BLT, the bread is not the star of the show.. at best it's a great supporting actor – and that holds true for this sandwich as well. But what a supporting actor!!! Crispy, chewy, eggy, creamy… it all works beautifully with bacon, lettuce and tomato.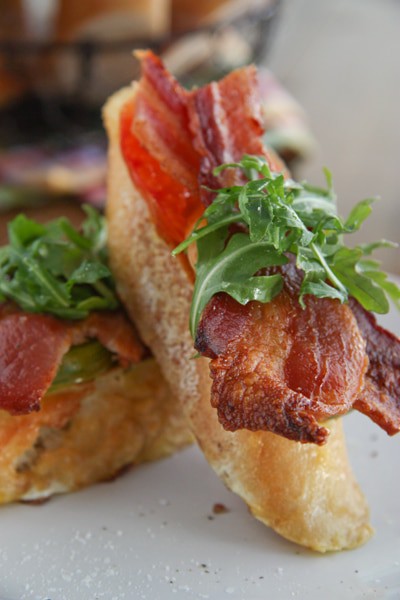 Don't forget, to enter the giveaway for the Ille de France cheese… the winner will be announced on Monday, October 17th so you have until Sunday to enter!
[amd-zlrecipe-recipe:19]