""From good people come good things".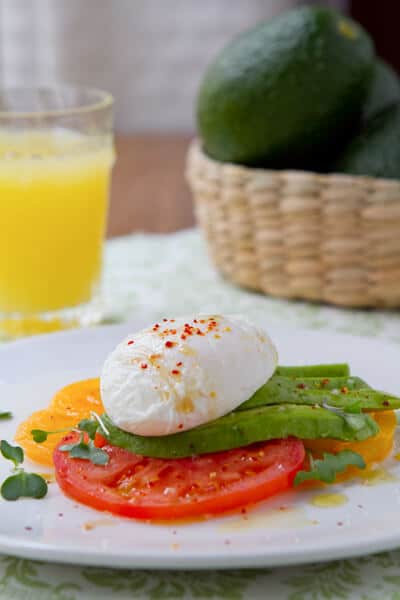 Yes, they do. Like the beautiful avocados in this Avocado, Tomato and Poached Egg Salad that  was  inspired by my trip to the Pinkerton's avocado ranch.  Last weekend I joined about 14 other food bloggers on a tour of Dan and Susan Pinkerton's avocado ranch with the California Avocado Commission to learn about California Avocados.
We started the tour with a fabulous brunch featuring…you guessed it, lots and lots of  avocados!
Over brunch Dan and Susan gave us an introduction to the art of  growing avocados as well as the  story of how they started their ranch back in the 1960's. Dan spoke about soil evaluation, USDA certifications, leaf scorching and harvesting and Susan spoke about helping Dan survey the rocky hills surrounding their ranch for the first batch of avocado seedlings they planted.  With smiles and laughter, they talked about growing their ranch, about  fires and rain and drought, about good harvests and not so good ones.  Clearly, growing avocados is not for the faint of heart – for the Pinkerton's though, it is about love – and a deep passion for growing the highest quality California avocados.
After brunch we headed to the groves for an opportunity to learn more about avocados… and to try our hand at picking them. After 4 or 5 tries I decided that being an avocado harvester was not in my future – it is much harder than it looks!
After numerous photo ops and numerous questions we were on our way to Mission Produce where the avocados are cleaned, sorted, packed and shipped. Dave Fausset, Sales Manager for Mission Produce, took our group on a tour of the packing facility. Once the avocados arrive from the groves, they are washed and chilled down in order to preserve the quality that growers like the Pinkerton's work so hard to achieve.   Once washed the avocados are sorted and packed…and now for a little secret. Have you ever wondered how it's possible to find a perfectly ripe avocado for guacamole or for this Avocado, Tomato and Poached Egg Salad?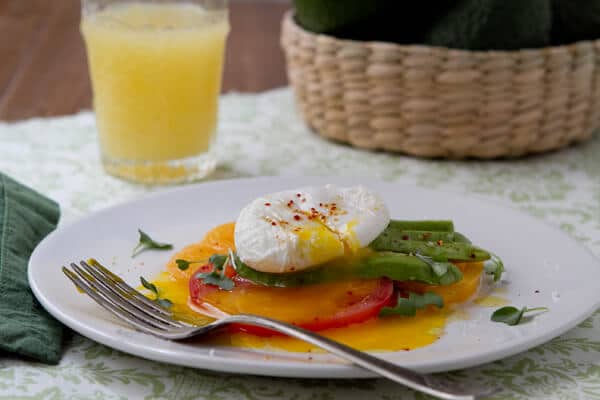 The "secret" is the "ripening" room – where avocados are kept for a few days to ripen before being shipped. So, you no longer have to plan days in advance to enjoy a California avocado – and considering how good they are, who doesn't need a little instant gratification?
Like the Pinkerton's, Mission Produce is just as obsessed with providing the highest quality California avocados. During our tour, I was struck by how immaculate the packing facility was and the care that was taken to insure the safety and quality of every avocado shipped to consumers. So, the question is "why buy a California avocado"? For me, the answer is easy. California avocados are grown and harvested under the highest quality and safety standards which makes these avocados not only delicious but easy to peel and eat so I know I am getting a terrific value for my money. But there is another reason. As my husband and I drove home from the tour and I told him about all I had seen and learned he looked at me and said " From good people come good things".. and California Avocados are definitely a "good thing".
Want to see what some of the other bloggers had to say? Check out the blogs  from some of my fellow tour mates!
Shockingly Delicious – California Avocado Season Begins Now
The Jolly Tomato – Real Food: Avocados from grove to grocery
Want a little more avocado inspiration?? Follow my Avocado love board on Pinterest!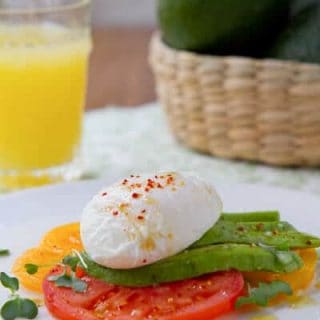 Avocado, Tomato and Poached Egg Salad
A simple summer salad featuring heirloom tomatoes, creamy avocado and poached eggs dressed with sherry wine viniagrette - perfect for breakfast, brunch or lunch!
Print
Pin
Rate
Add to Collection
Go to Collections
Ingredients
2

California avocados

2

large heirloom or other large tomato

4

eggs

1/2

cup

vinegar

optional

1 1/2

Tbsp.

sherry wine vinegar

2

tsp.

good quality extra virgin olive oil

pinch

of salt

pinch

of ground white pepper

Fleur de sel or flaky sea salt

1/4

tsp.

piment de espelette or smoked paprika

micro greens or chopped parsley

optional
Instructions
In a small bowl combine the sherry wine vinegar and the olive oil. Season with a little salt and white pepper. Set aside. Thinly slice the tomatoes and set aside, blotting with a paper towel to absorb excess juice.

Peel and pit the avocados and thinly slice and gently rinse with COLD water to prevent discoloration. Set aside.

Fill a large saucepan halfway with water and bring to a boil. If using the "vinegar method" place 2 tablespoons of vinegar in each of 4 small bowls and crack an egg into each bowl. When the water is boiling, use a choptick or a large spoon stir the water rapidly, creating a well in the center. Carefully slip the egg into the center and continue to stir. Cook egg for 2 - 3 minutes. Remove egg with a slotted spoon to a plate lined with a paper towel. Set aside.

On 4 plates, assemble a few slices of tomato, a few slices of avocado, evenly dividing all the slices between 4 plates. Give the sherry vinegar/olive oil mixture a quick whisk to combine and drizzle over each plate. Sprinkle the fleur de sel or sea salt and the piment de espelette or smoked paprika on top of each each each and over the tomatoes and avocados. Garnish with micro greens or chopped parsley if desired. Serve!
Nutrition
Calories:
264
kcal
|
Carbohydrates:
11
g
|
Protein:
8
g
|
Fat:
21
g
|
Saturated Fat:
3
g
|
Cholesterol:
163
mg
|
Sodium:
73
mg
|
Potassium:
693
mg
|
Fiber:
7
g
|
Sugar:
2
g
|
Vitamin A:
1050
IU
|
Vitamin C:
18.5
mg
|
Calcium:
43
mg
|
Iron:
1.5
mg