Friday has arrived and here is the third Appetizer installment and more Madness Survival tips!!!
You've made your list and you've checked it twice… and you completely forgot that you said you were going to bring an appetizer to the work get together… which is in an hour. Not to worry – you've  stocked your pantry, refrigerator and freezer, right? So, what can you make? Lots of things, here are a few ideas to get you started!!
1. Cheese Straws: Roll out the puff pastry and sprinkle with grated parmesan, gruyere or cheddar cheese. Fold pastry over to enclose cheese. Roll out until about 1/8 inch thick. Cut lengthwise into 1/2 inch strips. Twist strips and place on a baking sheet. Bake according to package directions. When cool, stand cheese straws up in a tall glass or vase.
2. Arrange crackers, cheese, nuts, dried fruits in individual attractive containers. Place containers on a tray for guests to nibble on.
3. Make gougeres.
4. Place olives in a small saucepan with a good drizzle of olive oil. Add dried basil, oregano and a little red pepper. Heat over low heat until warmed. Serve with crackers.
5. Make spiced nuts. Pre heat oven to 350.  Combine one egg white with 1 tsp. water, 1/3 cup granulated sugar, 1/3 cup brown sugar, 1/2 tsp. salt and 1 tsp. cinnamon and 1/8 tsp. cayenne pepper.  Beat egg white and water until frothy and stir in sugars, spices and salt. Stir in 4 cups of nuts and place on a greased baking sheet. Bake about 20 minutes, stirring half way through the baking time.
Now, on to the recipe!!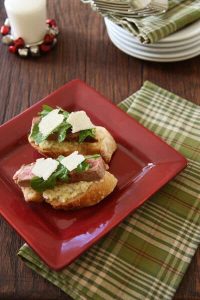 These Artichoke, Roast Beef and Arugula Brushcetta's are easy to put together and are substantial enough to serve when appetizers take the place of dinner!!
Ingredients:
1 baguette, sliced into 1/3 inch slices
1 8 oz. jar  marinated artichoke hearts, pureed
1 8 oz. rib eye or tenderloin steak
2 cups arugula, washed and dried
1 cup  shaved parmesan
3 Tbsp. extra virgin olive oil
1 lemon
Directions:
Pre heat oven to 400 degrees. Place baguette slices on a baking sheet and brush both sides with 2 Tbsp. olive oil. Bake for approximately 5 – 7 minutes until golden. Remove baguette slices from oven.
Place meat on a rack on a baking sheet. Season with salt and pepper. Broil meat until medium rare (125 – 135 degrees) about 3 minutes per side. Remove from oven and let cool – refrigerate.
Toss arugula with remaining Tbsp. olive oil and drizzle with juice from 1/2 of the lemon. Season with salt and pepper.
Slice meat into thin slices. Set aside.
To assemble – Spread each baguette slice with some of the artichoke puree. Top with a slice of meat. Top with a few leaves of arugula and garnish with parmesan shavings.
Arrange on a platter and serve.
Notes: Baguette slices and meat can be prepared 1 day ahead. Place baguette slices into an airtight container and store at room temperature. Refrigerate meat.