The last few weeks have been a whirlwind –  a full round of parties celebrating the graduation of not only my oldest but of  all his friends.   At one of these parties some friends mentioned that their apricot tree was overflowing with fruit.  I casually mentioned that I would be more than happy to help them with that problem – because, you know, I am always willing to  lend a hand – LOL!!! Anyhow, low and behold, when I got home there was a bag of absolutely gorgeous apricots waiting for me – woo hoo!!!
Now of course some people would be tempted just to eat them as is – which is a perfectly good idea – but I had plans for these beauties – big plans.  An idea for a  grilled summer  dessert  had been rolling around my brain for a while and I  I knew the apricots would be perfect for it – and I was right – they were!!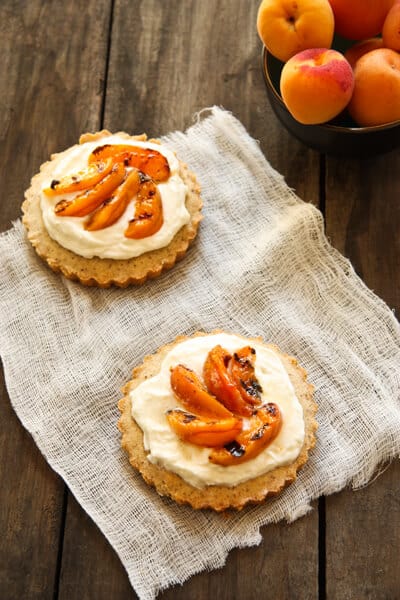 This recipe could not be easier to make. I know many people make this claim about lots of recipes…. but I have proof!
So, when I say that these tarts are easy to make, I am not kidding.  If I can make 'em with this hand, well… you have no excuse. .
Ok, so about this dessert. The tart base is cross between a cookie and a cake and topped with a combination of sweetened  marscapone and whipped cream and then topped with grilled apricots  that I glazed with a vanilla syrup.
Vanilla syrup?? Yeah, I've got plans for that too…..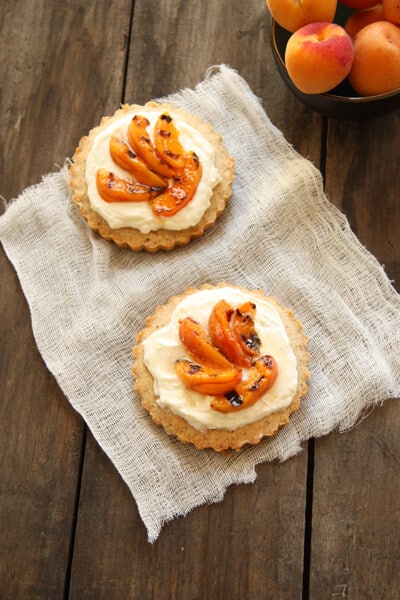 "Get Grillin' with Family Fresh Cooking and Cookin' Canuck, sponsored by Ile de France Cheese, Rösle, Emile Henry, Rouxbe and ManPans."
[print_this]
Almond Tarts with Grilled Apricots
For this recipe you need to use a tart pan(s) with a removable rim. The tart bottoms can be made 2 days in advance. Wrap well in plastic wrap and store at room temperature. The vanilla syrup can also be made several days in advance but store that in the fridge. This makes a great dessert for entertaining –  everything but grilling and glazing the apricots can be done in advance – just spread the tarts with the marscapone cream, grill the apricots and then glaze with the syrup!
(Makes 4 – 4 1/2 inch tarts or 1 – 10 inch tart)
Tart:
1/2 cup almond meal
1/2 cup sugar
1 tsp. salt
1 cup flour
1/2 cup unsalted butter, cut into 1 inch chunks
1 egg
1 egg yolk
1 tsp. almond extract
Marscapone topping:
1/2 cup marscapone cheese, softened
1/2 cup heavy whipping cream
2 Tbsp. sugar
Grilled Apricots with Vanilla Syrup
8 apricots
1/2 cup water
1/2 cup sugar
1 tsp. vanilla bean paste or 1/2 of a  vanilla bean
Directions:
For Tart:
Pre heat oven to 350 degrees. Spray tart pan(s) with cooking spray and set aside.
In a food processor, combine almond meal, sugar, salt and  flour. Pulse to combine. Add butter until the mixture resembles wet sand. Add egg, egg yolk and almond extract and process until a soft dough forms.
Press dough into prepared tart pan(s).
Bake until cooked through and golden brown – about 25 minutes. Remove from oven and cool. Remove tart from pans and set aside.
For Marscapone topping"
Begin beating the whipping cream. Sprinkle with sugar and continue to beat until stiff peaks form.
In a medium bowl, combine the marscapone and whipping cream. Set aside. (mixture can be made up to 2 hours ahead – refrigerate).
For Apricots and Vanilla Syrup
Combine sugar and water in a medium saucepan. If using vanilla bean, split bean and scrape seeds into water/sugar mixture.  If using vanilla bean paste, add it to the water/sugar mixture. Bring mixture to a boil. Boil until sugar is dissolved and mixture has thickened slightly – about 4 minutes. Remove from heat and cool.
Cut apricots into slices about 3/4 inch thick. Pre heat grill to medium heat –  make sure grill is clean and well oiled.  Grill apricots for about 1 minute per side until just beginning to soften.
To assemble the tarts, spread a layer of the marscapone and whipping cream on the tart. Top with some of the apricot slices and brush with some of the vanilla syrup.  Serve and enjoy!
[/print_this]