This shop has been compensated by Collective Bias, Inc. and it's advertiser. As always, all opinions are mine alone. #SweeterTogether  #CollectiveBias
Longer days and warm nights are tailor made for parties. Creating fun new memories with family and friends is one of the best things about summer… and yes, it can be fun even for the hostess! Over the years I've developed an easy plan for hosting parties that balances my love of cooking and decorating with the realities of my life. Read on for my 5 Tips for a Simple and Social Summer Party!
Tip #1 is  "keep it simple". Which  for me means not spending days in the kitchen much as I'd like to!! So while I do make some things, the bulk of the menu is made up of things I can use "as is" – no complicated  prepping or cooking required!   I've developed a list of items that I can use "as is" and this summer, my list  includes DREYER'S SLOW CHURNED® Caramel Delight and Vanilla Light Ice Creams (but more on that in a bit).
So, Tip #2 – riffs on Tip #1 … shopping. Again, keep it simple. Plan your menu around things you can get at one store. One store people!  This makes an huge difference in terms of time and definitely lowers the stress factor.  For one of my last parties, I went to our local Walmart and was able to find everything I needed. From the drinks, to appetizers to the main dish… and of course dessert – which in this case was DREYER'S SLOW CHURNED Caramel Delight and Vanilla Light Ice Creams.
Bonus? While picking up the ice cream in the frozen section I found some other things I needed… I loooove "one stop shopping"!
Tip #3 – Food and drinks.  I approach the food for these parties the same way I do my wardrobe. I focus on simple dishes with one standout item.  Grilled steaks and veggies with a homemade chimichurri sauce and baked potatoes is pretty much a standard summer menu.   All I have to do is cut up the veggies, make the chimichurri sauce and set out a variety of toppings for  the baked potatoes. Simple, easy and delicious!
As for dessert I find that I don't need or even want heavy, complicated desserts and a simple and delicious bowl of ice cream is absolutely perfect "as is"! Made with fresh cream and milk and no artificial colors or flavors DREYER'S SLOW CHURNED Caramel Delight and Vanilla Light Ice Creams are my  "go to" summer desserts. I just fill a large bowl with ice and nestle a couple of containers in and set out some bowls and spoons  and let everyone serve themselves!!
Drinks!  Setting up a cooler filled with water, juices, sodas, etc., etc. is a no brainer. but I like to make it a little extra special so I always set up a little beverage station. Since I don't own a variety of pitchers, I recycle bottles to use as decanters. Filled with unsweetened iced tea and lemonade, I make an easy mint syrup  so guests can assemble their own drinks. Not only are these better than canned sodas, but it also leads to some fun conversations!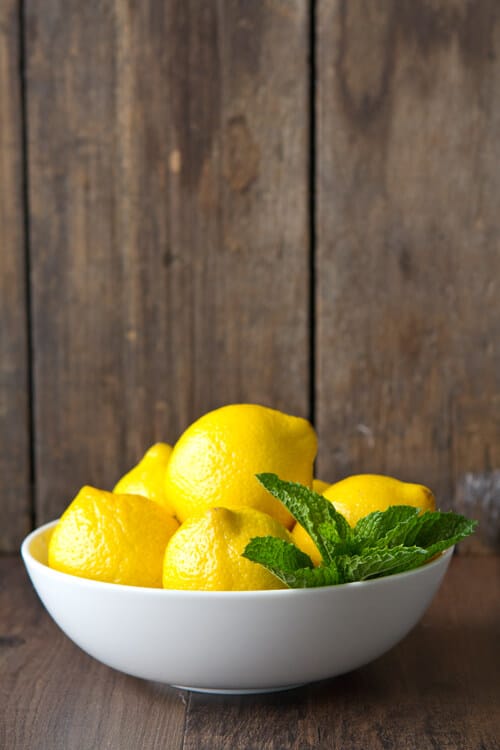 Tip #4 – Decor! Fresh flowers are beautiful – but if you aren't a gardener they can get expensive! So instead of flowers, set out bowls of beautiful fresh produce! For this party, I used bowls of fresh lemons with a few mint sprigs tucked in. Not only do they smell fantastic (and don't compete with the food) but after the party, I can use them in other dishes! But don't limit yourself to lemons –  peaches, plums, nectarines or strawberries  piled into a bowl would look gorgeous!!!
Lighting – I love the look of candlelight in the garden so there are always lots of votive candles on tables and tucked into the garden beds. If you don't have a lot of votive candle holders – use glasses!!!
Tip #5 -Last but not least.  Relax and enjoy! Keep it simple and focus on what parties are all about – spending time with friends and family.  Remember that who is around your table is always more important than what's on it!!!
Interested in learning more about DREYER'S Ice Cream? Check here for a list of local Walmart's that are hosting live demos of this product!
Save
Save
Save
Save
Save
Save
Save
Save
Save