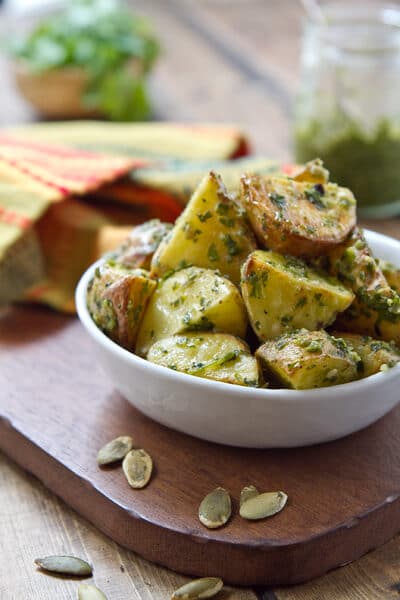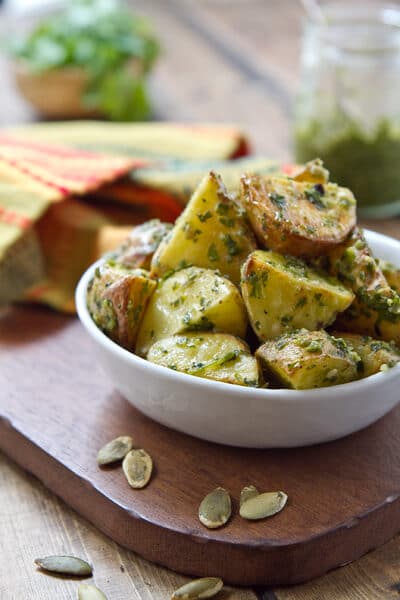 They're coming!!!!!!  The date is now circled on my calendar and I am counting down the days.  You see, my "stash" is almost gone… I feel a little (ok, a lot) like Charlie in the Chocolate Factory with his Wonka bar… I've been doling out miserly bits in order to stretch my supply out as long as possible.
So, what exactly am I talking about??? HATCH CHILES!!!! Thanks (or not!) to Melissa's Produce, I was introduced to these amazing chiles a couple of years ago…. and well, my life has just not been the same since.  After laying in what I thought was a sufficient supply, I was down to one baggie… ONE!!
But as always, Melissa's Produce came to the rescue!!! I recently attended the launch party for Melissa's new book – The Hatch Chile Cookbook!!!! Not ONLY did I get to feast on Hatch chiles (ahem… it seems some people are better at planning ahead than I am!!) , get my very own copy of the book,  but I also received a "care package " to tide me over until the chiles arrived – a fabulous bag of roasted, peeled and frozen Hatch Chiles!!!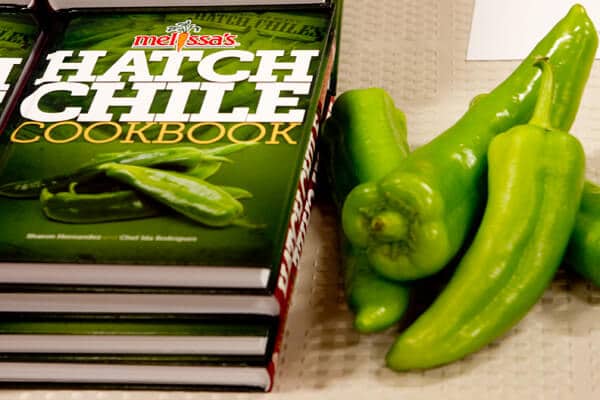 Be still my beating heart. Crisis averted.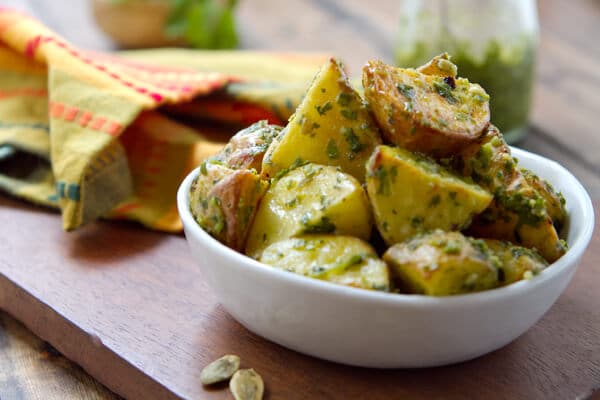 Well, the bag is now over half gone… I've been putting them into casseroles, eggs, salads and into this Hatch Chile Pesto. Yup, pesto… and according to one taster, it was "the best pesto they'd ever had!!! I don't know if I'd go that far but I have to tell you it was amazingly good!! So good in fact that I was sneaking small spoonfuls and getting a bit carried away by adding it to sandwiches (divine with roasted chicken), thinning it out for salad dressing (which was a hit with the guys) and tossing it with roasted potatoes!
I know what you are thinking – " we know you love Hatch Chiles Nancy, but isn't this going a bit too far??" Nope. Not even close. One of the best kept "secrets" about Hatch chiles is that you can only use them all kinds of dishes – like Hatch Chile Pesto! One of the things I love about Melissa's Hatch Chile cookbook is that it explores all kinds of delicious uses for Hatch Chiles… everything from Flash Fried Pizza Nibbles to Chicken Lettuce Wraps and even S'Mores!!
In a little over two weeks, Melissa's will be celebrating with Chile roastings and as soon as I have the schedule I will be posting it here at the Table!
The wait is almost over!!!
Hatch Chile Pesto Potatoes
Ingredients
Pesto
2 cups, packed, fresh cilantro leaves
2 cups, packed, fresh italian parsley leaves
2 scallions, cut into 3 inch pieces
3 garlic cloves, roughly chopped
2 - 3 roasted, peeled Hatch Chiles
Juice of 1 - 2 limes
2 Tbsp. corn oil
¼ cup roasted, salted pepitas
2- 3 Tbsp. grated parmesan
1 - 2 Tbsp. water
1 lb. Melissa's small dutch yellow potatoes
1 Tbsp. corn oil
Instructions
Pre heat the oven to 400 degrees. Wash and dry the potatoes and cut in halves. Spray a sheet pan with cooking spray. Put the potatoes on the pan and toss with the 1 Tbsp. corn oil. Season lightly with salt and pepper or Tajin. Place potatoes in the oven and roast for 20 - 30 minutes or until tender and golden brown.
For the pesto combine the cilantro, parsley, scallions, garlic, 2 Hatch chiles, juice of 1 lime, corn oil and pepitas in the bowl of a food processor. Process until a chunky paste is formed. Taste. Depending upon the heat of the chiles (and your own tastes) you can add another chile is the pesto is not spicy enough. Add more lime juice if desired. Add the parmesan and mix. Taste and adjust seasonings. If the pesto is too thick, you can thin it with a little water. If not using right away, cover and refrigerate. You can store the pesto for 2 - 3 days in the refrigerator.
Toss ½ of the pesto with the warm potatoes and serve.