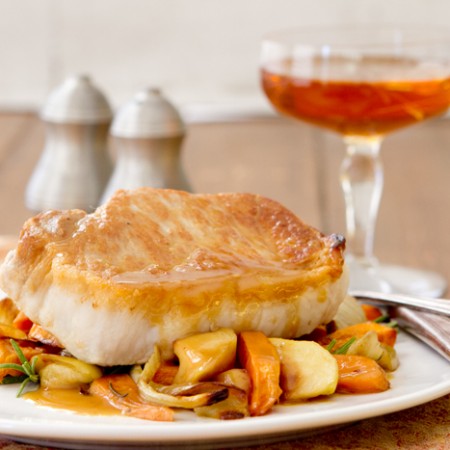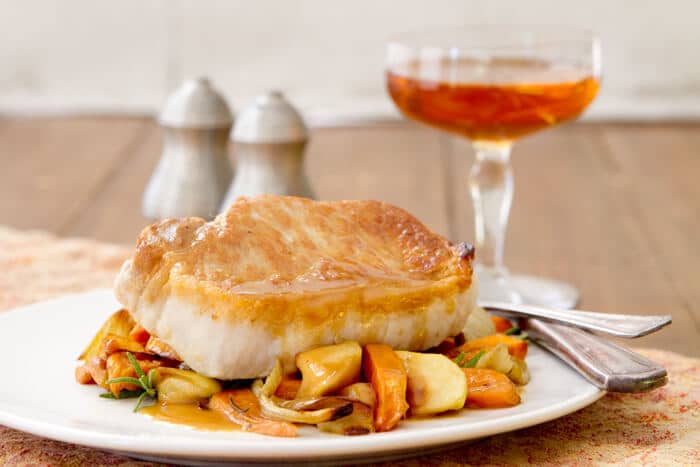 Oh my goodness… I didn't think it would happen. But it did. The temperature has dropped below 80 degrees!! WOO HOO!!
Ok, for some of you, this is no big deal. But for me… this is huge.. we might (gasp!!) actually be heading into fall!
Which means – apples, pumpkins, soups, stews, casseroles and all sorts of yummy goodness – and yes, I said "yummy" – this is, after all a food blog and not the New York Times.
So to celebrate, I am making Pork Chops with Sweet Potatoes, Apples and Fennel. And this is definitely a dish you should add to your fall food line up – because it is yummy!!! Ok, and it also has bourbon in it… need I say more???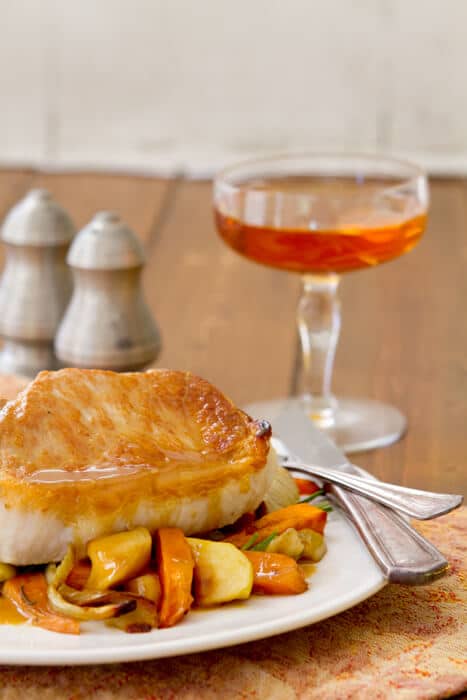 I probably don't need to, but I will. First off, apples and sweet potatoes are naturals with pork – this is a no brainer. Fennel however, may not seem quite so intuitive – but when it's roasted it's anise flavored earthiness works beautifully with all the other components and keeps the dish from being overly sweet.
The best part though? You've got everything you need for a full meal right in this dish – and you can get it on the table in under an hour with 2 pans to wash – and no one needs to be the wiser that this did not involve multiple  pans and hours of prep.
Which means of course, more time for whipping up something else "yummy" – and here are some ideas to get you started!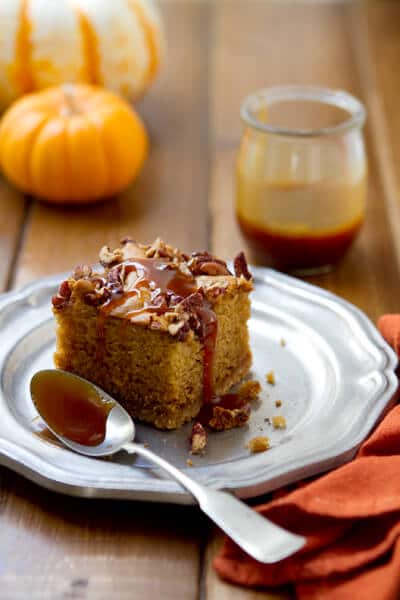 Nutmeg Cake with Salted Caramel Sauce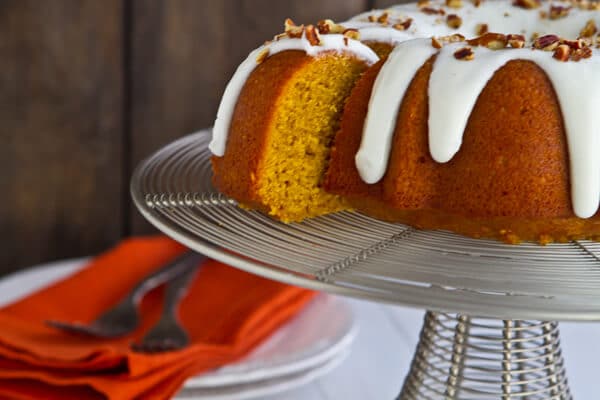 Bourbon Pumpkin Bundt Cake with Bourbon Cream Cheese Glaze
Pork Chops with Sweet potatoes, apples and fennel
Ingredients
4 boneless pork loin chops - about 1 inch thick
2 Tbsp. canola oil
2 Tbsp. bourbon (optional)
1 cup apple cider
2 tsp. dijon mustard
2 tbsp. unsalted butter
1 large sprig rosemary
Vegetables:
1½ Tbsp. canola oil
1 lb. yams, peeled and cut into 2 inch by ½ pieces
3 granny smith apples, cored and cut into ¼ inch slices
1 fennel bulb, trimmed and cut into ¼ inch slices
Instructions
Pre heat the oven to 400 degrees. Scatter vegetables onto a sided sheet pan and drizzle with the oil. Season with salt and pepper and toss to coat the vegetables. Place the sheet pan in the oven. Roast for 15 minutes and then stir the vegetables and continue roasting for another 10 - 15 minutes.
Meanwhile, blot the pork dry. Add the oil to a cast iron or other oven safe skillet and heat over medium high heat. When the oil is just shimmering add the pork. Season with salt and pepper. Sear on one side and then flip the chops. Sear on the other side. Place skillet in the oven to finish cooking the chops. Cook for another 10 - 15 minutes or until the internal temperature reaches 145 degrees. Remove pan from oven and transfer chops to a plate. Add the bourbon (if using) to the skillet. Place the skillet over medium high heat and cook, scraping up the browned bits. Add the apple cider and cook for 5 minutes until the cider is slightly reduced. Stir in the dijon mustard. Cook until incorporated. Turn off the heat and add the butter - stir until the butter is melted. Divide the vegetables among 4 plates. Top each with a pork chop and divide the sauce between the chops and serve.