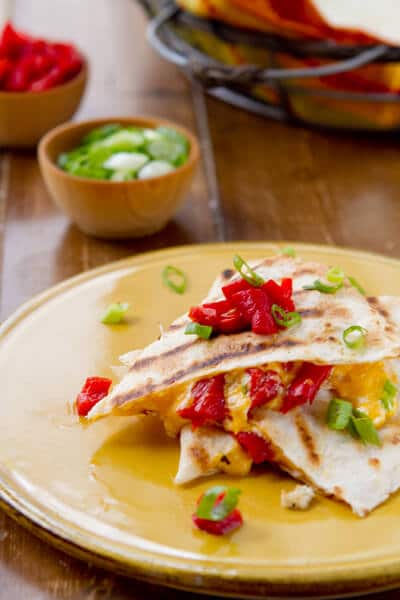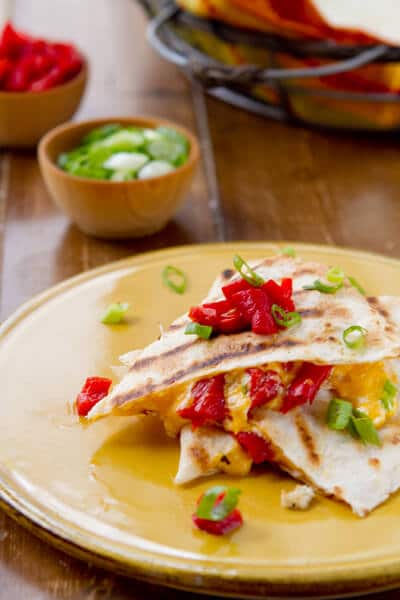 Fall has arrived. The leaves are turning, the weather is getting cooler and the days are shorter – but my schedule isn't – is yours?
Which means I'm not eating as well as I could – grabbing whatever is quick and easy… and while I'm covering the basics (carbohydrates, proteins and fat) I know I am falling short on a number of vitamins and minerals including calcium. How about you? Are you getting enough calcium in your diet? Chances are that you probably aren't either.  Most adults need about 1,000 – 1,200 mg. of calcium a day – that's about 4 cups of collard greens, 6 cups of black eyed peas or 2.5 cups of tofu – and I don't know about you, but I know I am nowhere close to consuming those amounts on a daily basis!
Fortunately, consuming dairy products is one of the tastiest ways to meet your daily requirement for calcium – just 3 servings a day is all you need!  The 2010 Dietary Guidelines for Americans lists calcium as one of the nutrients of concern and recommend Americans consume more dairy, whole grains, fruits and vegetables to  provide more calcium in their diet. However, many people who are lactose intolerant think they need to eliminate dairy from their diet – but this is not the case! In fact, health experts agree lactose intolerant doesn't mean dairy avoidance!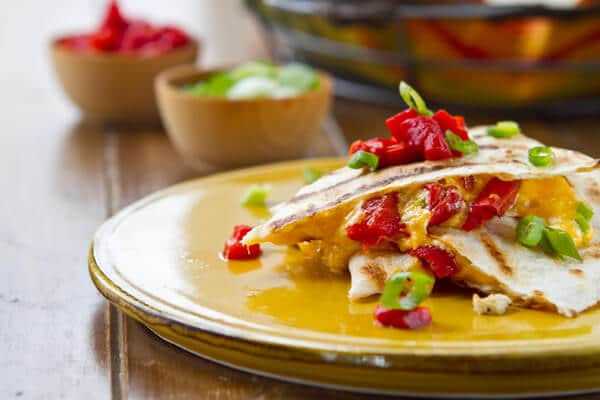 At about 20 cents a serving for milk, dairy products are both a budget and nutritional bargain – providing 9 essential nutrients. Plus they are incredibly versatile. One of the things I love about dairy is that it's ideal for quick and easy eating  – like these Cheddar and Roasted Red Bell Pepper Quesadillas.  Sharp cheddar cheese is a great choice for those with lactose intolerance because hard cheeses contain minimal amounts of lactose. The addition of Greek yogurt not only mellows the sharpness of the cheese but the active cultures in the plain Greek yogurt can help with the digestion of lactose. Combined with some jarred,  roasted bell peppers, these Cheddar and Roasted Red Bell Pepper Quesadillas make a calcium packed and full flavored lunch, dinner or snack! These Cheddar and Roasted Red Bell Pepper Quesadillas can even be assembled ahead of time – and how quick and easy is that!
This post was written while participating in my partnership with the National Dairy Council but as always, the opinions expressed are my own.
Looking for more information on lactose intolerance? The National Dairy Council Website is a fabulous place to start! I really like the
Lactose Intolerance Educational Materials from the National Dairy Council as well!
Cheddar and Roasted Red Bell Pepper Quesadilla
Ingredients
8 8 inch flour or corn tortillas
1 cup grated sharp cheddar cheese
½ plain greek yogurt
1 cup roasted rell bell pepper, cut into strips
2 Tbsp. chopped, roasted green chiles (optional)
Instructions
Combine cheese and yogurt in a medium bowl and mix. Spread onto 4 tortillas. Top each tortilla with ¼ of the red bell pepper strips and ½ Tbsp. green chilis if using. Top with remaining tortillas. Heat a griddle over medium high heat. Add quesadillas and cook for 3 - 4 minutes until tortilla is browned. Flip and cook for another 3 - 4 minutes. Serve with salsa and additional plain yogurt if desired.