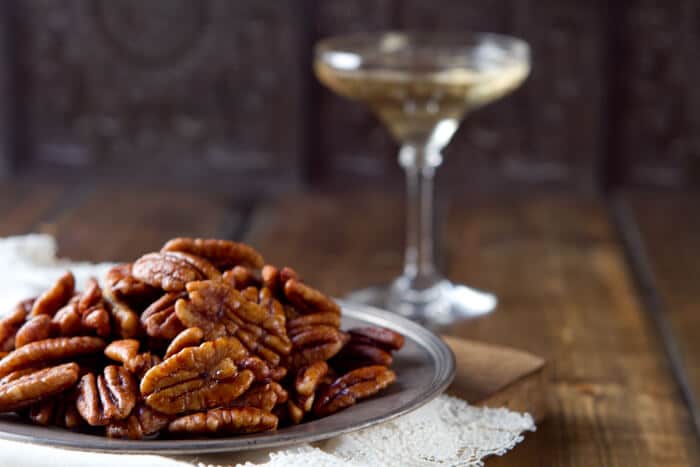 "On the second day of Christmas my true love gave to me – two turtle doves…" Ok, no turtledoves (thank goodness – don't know how I'd deliver those… but another easy appetizer… with a little kick! As promised, here are those "boozy" pecans I was talking about! So first, a little disclaimer – I've never been a fan of the overly sweet, sticky "candied" nuts… which is probably why there is not a recipe for them on my blog.
That is until now –  because these Bourbon Maple Pecans are not overly sweet, or even sticky and I don't know if I'd even classify them as "candied" – the flavor is much more subtle than that.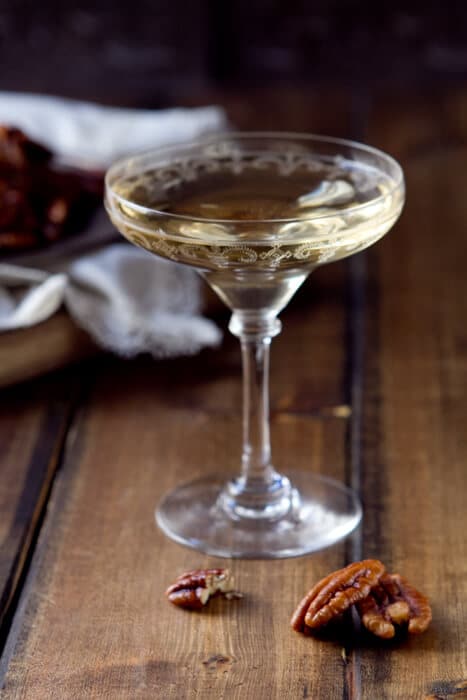 So what exactly makes these Bourbon Maple Pecans different? The key  is the preparation – the nuts are actually brined and then roasted – no egg whites involved! Yes, brined. and "yes" I was a little skeptical – but after the first bite, I was sold on the technique – and so will you.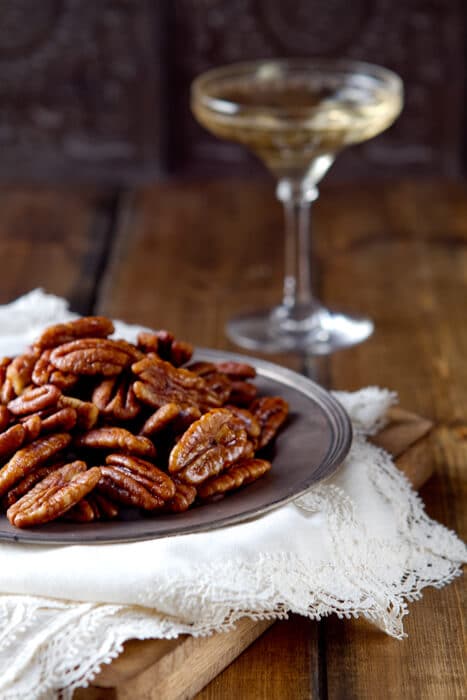 As I sat "sampling" a small bowl  of these Bourbon Maple Pecans, I decided what I really loved about them (aside from the fact they are dead simple to make)  was that the maple and bourbon flavors  didn't overpower the flavor of the pecans –  they are a little sweet, a little salty and almost buttery with just the merest hint of heat at the end –  making  them ideal for nibbling with a favorite beverage.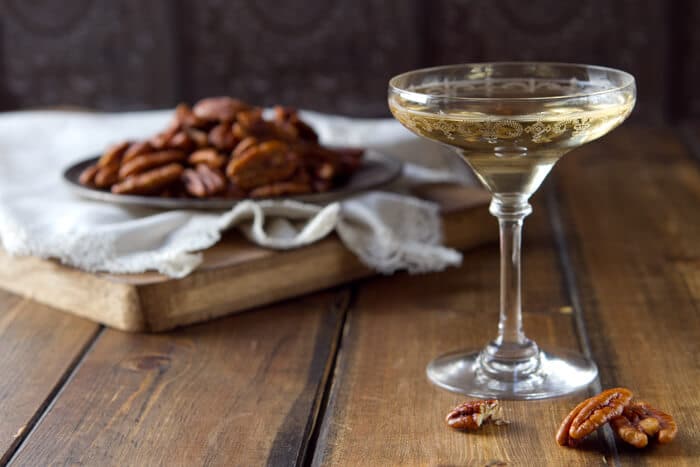 These Bourbon and Maple Pecans would also make a wonderful hostess gift and  you can whip up multiple batches of these nuts in a couple of hours – and since they require little in the way of "hands on time" you can make these while watching your favorite holiday movie…. preferably while sampling your favorite holiday beverage of choice… cheers!!!

Bourbon Maple Pecans
Ingredients
¼ cup pure maple syrup
¼ cup good quality Bourbon (I used Wild Turkey 81)
⅔ cup water
2 teaspoons salt
¼ teaspoon cayenne pepper
3 cups pecans
Instructions
Pre heat the oven to 325 degrees. In a medium saucepan combine the maple syrup, bourbon, water, salt and cayenne pepper. Bring to a boil. Reduce heat to a simmer and simmer for 15 minutes and then turn off the heat. Add the pecans and let them sit in the brine for 30 minutes. Remove the pecans to a parchment lined sheetpan. Roast the pecans for 15 minutes or until dry and lightly browned.
link