"So, what's for dinner tonight Mom"?
This is a daily question in my household. Fortunately, my answer is generally greeted with "sounds great".
But not always. Like when I announced we were having "Mushroom Succotash".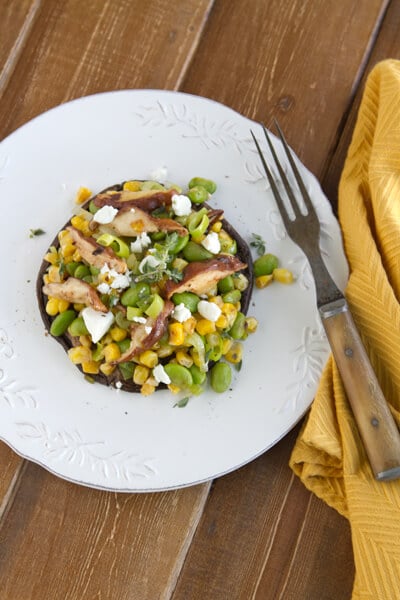 You see, the members of my family are   bona fide card carrying members of the carnivore's club – beef, pork, lamb, buffalo, elk, venison, chicken, turkey, ostrich, duck and… anything from the ocean – they eat it all, and with the boys, in large quantities – thank you very much.
So, when the meal does not prominently feature anything from the above mentioned list… well, things can get a bit dicey.
Me? I love meat in all it's forms as well.. but I can also happily skip it – but since I am outnumbered and "out gunned", purely vegetarian fare is rare around here.
But, on occasion, it does happen.. and did, with this Mushroom Succotash.
The verdict? "Pretty good Mom.. but I  still think it'd be better with meat in it" – but coming from a dedicated carnivore, that was high praise indeed.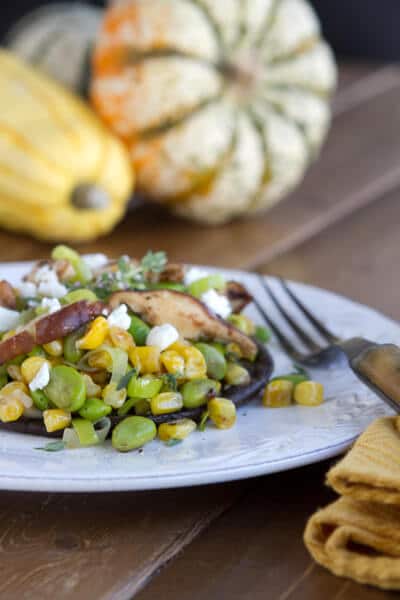 Ingredients
3 Tbsp. Sherry wine vinegar
1/2 cup olive oil plus 2 Tbsp.
3 Tbsp. fresh thyme
4 cloves garlic, minced
4 - 5 inch portabello mushroom caps
1 lb. assorted wild mushrooms, cleaned and sliced
1 cup corn (fresh or frozen)
1/2 cup edamame or lima beans
1 leek, split lengthwise and washed
1/2 cup feta or goat cheese
salt and white pepper
Instructions
In a small bowl combine the sherry, minced garlic, 1 Tbsp. thyme and olive oil. Season with salt and pepper. Whisk and set aside.
Using a small spoon, scrape out the dark gills of the portabello mushroom caps.
Line a sheet pan with foil and spray with cooking spray.
Brush portabello mushroom caps with the sherry vinegar mixture. Place on the sheet pan. Broil mushroom caps for 3 - 5 minutes per side until tender.
Remove from the oven and set aside.
In a large saute pan, heat 1 Tbsp. of the olive oil. Add the mushrooms and cook over medium high heat until golden brown. Remove mushrooms from pan and set aside.
Heat remaining 1 Tbsp. olive oil in the pan and add the corn. Cook corn over medium high heat until starting to turn golden brown. Add the edamame and the leeks. Continue to cook for another 3 - 5 minutes until the vegetables are tender. Stir in 2 Tbsp. of the sherry wine mixture and 1 Tbsp. of fresh thyme.
Remove from heat.
Make sure portabello mushrooms are rounded side down and spoon corn and edamame filling on top. Sprinkle with crumbled feta or goat cheese. Place mushrooms under the broiler for 2 - 3 minutes until hot.
Remove from oven, season with salt and pepper and garnish with remaining fresh thyme.
http://www.acommunaltable.com/mushroom-succotash/
Copyright A Communal Table - www.ACommunalTable.com