My baby is back!!!!!
Unfortunately ( or not, depending on how you look at it…) I am not talking about my first born but about… "ahem" my laptop. It's been almost a week and we were finally reunited late yesterday.
I could not believe how much I missed this little guy… and all of you!! So, in honor of our happy reunion, I have a fabulous little cake to share with you today.
A Grape Olive Oil Cake.
Yup, you heard me right.. a grape olive oil cake. Now, before you click away thinking…"hmmm maybe getting her laptop back is not such a great thing after all" let me state for the record that even people who typically DO NOT think fruit belongs in cake loved this one, grapes and all.
So,  you might be wondering whatever possessed me to make a cake with grapes in it??
So glad you asked.
You might remember a few weeks ago (eek!!) I posted about a trip I took with Melissa's Produce to the Central Valley to visit some grape growers and to visit the peach and nectarine orchards of David Masumoto… well, I can blame this cake on Melissa's Black Muscato grapes. These grapes  were unlike any grapes I'd ever had before. They are dark and rich and sweet and are perfect just by their little ol' selves. But you know me – I honestly can't help myself… I am always thinking "well, what else can I do with them besides just eat them?". So I experimented and found that there were LOTS of things I could do with them other than just eat them plain.. which of  course is perfectly ok.
IMO, these might just be the perfect cheese pairing grapes.. they have enough depth of flavor to balance any cheese… and given how quickly they disappeared from my cheese tray I would say I am not wrong. They also, believe it or not, are terrific as a side to pork – just  roast them with a little bit of balsamic vinegar…..
Ok, ok, enough rhapsodizing on these grapes… time to get back to the cake!
During the summer and late fall, if there is a cake in my house, chances are very high that it won't be frosted. Not that I don't like frosted cakes, but they just seem a bit too heavy and well, melty to me when it's hot… and here in Southern California our "summer" is really late summer and fall. so, the cakes I serve typically feature fruit… and in this case, grapes. Although I've made quite a few "olive oil" cakes, I've never been a huge fan.  So many of them I've tried require large amounts of really, really good olive oil.. which is expensive… and if the olive oil isn't really good? You'll know it right off the bat. Which is why I've pretty much avoided them… until now. This one has, IMO the perfect balance of fats … it not only tastes delicious but it also doesn't break the bank and after having my firstborn home this summer… well, you can imagine the state of my food budget!
This Grape Olive Oil Cake makes the perfect ending to a late summer/early fall  Harvest dinner alfresco -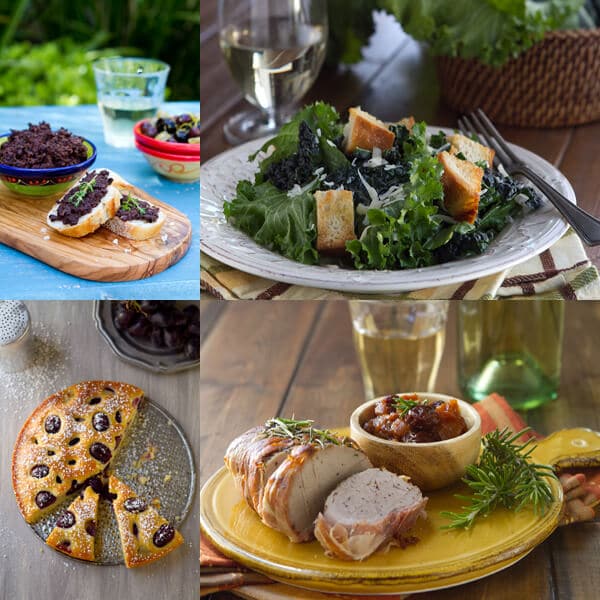 Mustard Greens with White Wine Vinaigrette and Homemade Croutons
Lemon Roasted Potatoes (Recipe coming!!)
Prosciutto Wrapped Pork Tenderloin with Nectarine Chutney
Grape Olive Oil Cake
Olive Oil Cake with Muscato Grapes
Adapted from Sunset magazine
Ingredients
1 1/2 cups flour
1 tsp. salt
3/4 tsp. baking powder
2 eggs
2/3 cup sugar
1/3 cup milk
1/4 cup good quality extra virgin olive oil
4 Tbsp. unsalted butter, melted
1 tsp. almond extract
finely grated zest of 1 lemon
finely grated zest of 1 orange
2 cups black muscato grapes
powdered sugar for dusting
Instructions
Pre heat the oven to 350 (325 if using a convection oven). Spray a 9 inch springform pan with cooking spray and dust with flour. In a small bowl, combine the flour, baking powder and salt. Set aside. In a large bowl whisk the eggs with the sugar until the mixture is pale yellow and slightly thickened. Whisk in the milk, olive oil, melted butter, zests and almond extract. Fold in the flour mixture, mixing just until the ingredients are combined. Stir in 1 1/2 cups grapes. Pour batter into the prepared pan. Bake for 15 minutes and then carefully place the remaining 1/2 cup grapes on top of the cake. Continue to bake for approximately 40 minutes or until the cake is lightly brown and a cake tester inserted in the center of the cake comes out clean. Remove cake from oven and let cool on a cooling rack. Lightly run a knife around the inside of the cake pan and release cake. Dust with powdered sugar just before serving.
Notes
This cake tastes best on the day it's baked. If baking ahead, cover the cake and place in the refrigerator. Let cake come to room temperature before serving.
http://www.acommunaltable.com/grape-olive-oil-cake/
Copyright A Communal Table - www.ACommunalTable.com