"$8.00".
On one of my recent "recon" missions (that is shopping to get ideas for holiday menus) I spied these  great looking crackers. Thinking I'd scored a great find for some parties I have coming up I perused the different flavors and tossed one into my basket. Then I spied the price – $8.00. Despite  my  reputation for having no qualms about splurging for high quality ingredients (just ask my husband, he still hasn't gotten over the shock of how much I paid for last years Prime Rib Roast!) I just couldn't quite bring myself to shell out $8.00 for a box of crackers. They were from  a small producer, had high quality ingredients and am sure were quite delicious – and I am sure that given all the above, that in order to make a decent profit, they had to be priced at $8.00 a box.
But I just couldn't spend that on crackers – especially when its something that can make.
So, armed with  some flavor combination ideas I headed back to the kitchen to experiment.  I remembered a cracker  we'd  made in culinary school –  a savory one flavored with parmesan and  toasted pine nuts  and I figured it would adapt pretty easily.  I dug out the recipe, made a couple of small changes and voila – fig and pistachio crackers!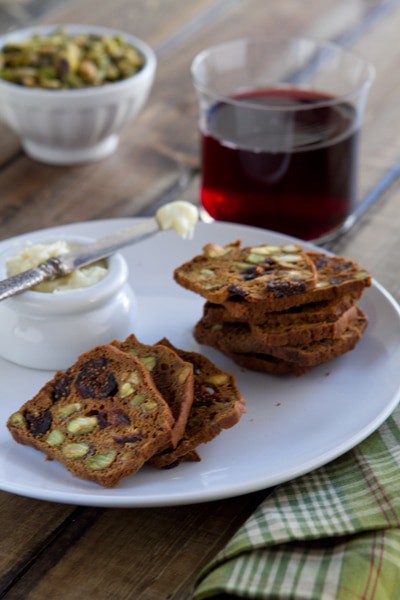 [amd-zlrecipe-recipe:21]