So what do you get when you combine a salad with an appetizer?
You get what I call a "Saladtini"!!   I know most of us think of salads as pretty much limited to lunch and dinner – but they make wonderful appetizers too – and are a great change from the usual crudite platter! Salads have been on my mind quite a bit lately since this  week I  will be  heading up north to Monterey to attend Dole's Salad Summit – a whole day devoted to learning all about salad !! In case you didn't know, May is National Salad Month  – so what better time to talk about salads and why they make such a great appetizers!
If you think about it,  salads as appetizers makes perfect sense – salads are colorful, just about everyone eats salad, and (depending upon what you put in the salad)  salads are perfect for those with a variety of dietary restrictions and provide a great balance to the usual  "protein heavy"  appetizers we all love.  Here are a few things to keep in mind when serving a salad as an appetizer:
Keep it contained – use glasses, small plates or other vegetables like endive leaves, baby bell peppers, or even lettuce leaves to hold the salad.
For salads with tender leaves, place the dressing on the side in either a decorative bottle or a small bowl with a spoon – that way everyone can dress their salad right before eating.
Set out a small dish or glass with small forks for scooping up the salad!
Don't be afraid to "mix it up" -  you can also serve pasta and whole grain salads this way too!
This salad is a riff on the standard American salad with tender romaine and iceberg lettuce, shredded carrots, red cabbage, radishes and tomatoes with chili lime flavored croutons and an avocado dressing and is perfect for an appetizer party or even as a buffet dish – the croutons and dressing can be made ahead and then all you do is portion out the salad greens and top with tomatoes and croutons – easy!!!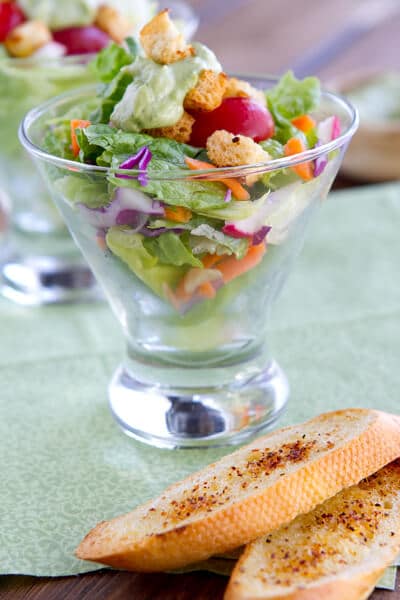 So what would be your favorite salad to serve as a Saladtini??
Avocado, Tomato and Chile Lime Crouton "Salad-Tini"
Ingredients
1 small container pear or cherry tomatoes
1/4 baguette cut into 1/4 inch dice
juice of 1 lime
2 Tbsp. extra virgin olive oil
1 tsp. tanjin OR 1 tsp. chile powder
dash of salt
Avocado dressing:
1 ripe avocado
1/4 cup mayonnaise
juice of 1 - 2 limes
2 garlic cloves
1 Tbsp. chopped green onion
1/2 cup cilantro leaves and stems
1 tsp. jalapeno tabasco
1 tsp. salt
2 - 3 Tbsp. water
Instructions
For croutons: Pre heat oven to 400 degrees. Combine olive oil, lime juice and tanjin or chile powder in a small bowl and whisk to combine. Spray a sheet pan with cooking spray and place baguette pieces on sheet pan. Drizzle with dressing and toss to combine. Bake in the oven for 12 - 15 minutes until croutons are golden brown. Remove from oven and let cool. If making ahead, store in an airtight container for up to 3 days.
For dressing: Combine all the ingredients except water in the bowl of a food processor or blender and blend until the mixture is smooth. Add water by tablespoonfuls until desired consistency is reached. Taste and adjust seasonings. Dressing can be made 1 day ahead.
To assemble salads, divide lettuce among 8 glasses or small plates. Top with 3 or 4 sliced tomatoes and then top with a few croutons. Place salad glasses or plates on a serving platter. Spoon or pour the dressing into a decorative container and place next to the salads. Enjoy!
http://www.acommunaltable.com/avocado-tomato-and-chile-lime-crouton-salad-tini/
Copyright A Communal Table - www.ACommunalTable.com